The Top 30 Places to Visit in New Jersey this Summer
Summer is the most awaited season of the year! Everyone is looking forward to the warmer weather and longer days ahead. Start the summer by visiting New Jersey's most beautiful lakes, exploring the botanical gardens near Jersey City, or simply going for a picnic with family and friends. If you are looking for a more riveting experience, have a peek at the list we've put together of some of the trendiest and most breathtaking attractions in New Jersey.
Disclaimer: Please call and check the websites of these activities before you go; some of them require reservations or may change hours depending on the weather. 

Breakwater Beach and Casino
800 Ocean Terrace, Seaside Heights
Something for both the parents and the kids, Breakwater Beach and Casino is the perfect spot to visit in NJ this summer. Explore the water park or hit the casino when the kids are busy playing in the water! Find directions here.

Six Flags Hurricane Harbor
Route 537, Jackson
This outdoor water park is super close to the city, it's only an hour's drive away, and it is one of the best indoor and outdoor water parks around Jersey City. It is located in Jackson, NJ. This outdoor water park has a lazy river, tons of water slides, boogie boarding, water rafting, and more.
There is a baby pool, water swings, fountain, and treehouse for the young kids. There is an excellent combination of features for parents, more youthful kids, and babies, which is perfect for families of many different ages.

Cape May
Cape May, NJ
Considered one of the most beautiful historic towns in all of NJ, a visit to Cape May this summer is a must. It's the southernmost tip of NJ and worth the drive from wherever you reside. It has gorgeous beaches, delicious restaurants, and the cutest and most colorful Victorian-style houses you will ever see. In addition, you can check out the Cape May Zoo, go on a whale and dolphin watching sunset cruise, hit the beach, shop, or indulge in crab fries from The Ugly Mug. You will never be bored in Cape May, which makes it one of the most exciting places to visit in New Jersey this summer.

Thomas Edison State Park
211 Main Street, West Orange
You can easily spend a few hours exploring this park rich with history. It's a great educational day trip for the kids. You can tour the home and lab of the great Thomas Edison, see vintage movies, and get close and personal with some super old artifacts. In addition, they provide guided audio tours for those who want even more information while touring the park. This park is one of the most historically rich places to visit in New Jersey this summer.

Grounds for Sculpture
80 Sculptors Way, Hamilton
Grounds for Sculpture might be one of the most incredible places in NJ for artists or people who love cool works of art. This is an excellent and whimsical place for the whole family to enjoy!

Battlefield State Park
500 Mercer Rd, Princeton
Princeton is one of the most beautiful small towns in NJ. It's rich with history, is home to the Ivy League college Princeton University, and is filled with fun things to do. At the park, you can check out the battlefield, the Clark House Museum, Mercer Oak, the Ionic Colonnade designed by Thomas U. Walter (who was also the architect of the US Capitol Building). This stone patio marks the grave of 21 British and 15 American soldiers killed in the battle. For another historical visit to NJ, Battlefield State Park is one of the best places to visit in New Jersey this summer.
Paterson Great Falls
72 McBride Avenue, Paterson
Who knew this giant 77-foot and stunning waterfall could be located smack dab in the middle of Paterson, NJ? Well, it's there, and it's worth the visit. You can take a guided tour or check it out on your own with the family and walk around the grounds. A pedestrian bridge takes you right over the massive waterfalls – it's an experience like no other. Please note that the pedestrian bridge is often closed for repairs, so check their website for closures and current conditions. However, even if the bridge is closed, you can still see great views of the falls.
Troy Meadows
Troy Meadows, East Hanover
Could this get any more stunning? We don't think so! So, plan your trip to Troy Medows today since this is one of the most beautiful places to visit in New Jersey this summer. This meadow is a freshwater marsh in the Whippany River Watershed in the Passaic River Basin. If you are lucky, you will get the chance to see tons of beautiful lavender blooms.

Newport Green
14th St, Jersey City
Sink your toes at Newport Green and have the kids build a sandcastle and dig in the sand! They even have a water play area in which the kids can splash around, so make sure you pack their bathing suits, sunscreen, and beach toys. No need to drive a few hours in traffic to a crowded beach on the Jersey Shore when you can get the beach experience right in your backyard.

Hoboken Cove Boathouse
Frank Sinatra Dr, Hoboken
The Boathouse is a must-do activity in Hoboken, especially during summer. It is an excellent way to get active and spend some time on the beautiful river all at a very budget-friendly cost…because it's free! Of course, anything free makes it one of the most budget-friendly places to visit in New Jersey this summer. This is great if you have a large family and don't want to spend tons of money on pricey events and activities throughout the city.

Sandy Hook
Sandy Hook, NJ
Sandy Hook is a stunning stretch of beach that runs for 7 miles. There are so many things to do in the park that the whole family will love. First, of course, you can hang on the beach and play in the water and sand. But you can also walk or bike the bike path down to the tip of the park, where you will have fantastic views of the NYC skyline. You can rent kayaks and paddleboats or bring your surfboard and parasail to ride on the calm bayside. Sandy Hook is also home to an abundance of unique birds, wildlife, flora and fauna – perfect for the nature lover. Located at the very end of the park is Fort Hancock. Visit the Fort Hancock Museum, and explore the hidden battery buildings, officers row, lighthouse, and tons more. It will feel like you are thrown back in time.

Red Bank
Red Bank, NJ
Super charming and quaint, Red Bank has been awarded one of the top small-town main streets in the US. There are many delicious restaurants, adorable clothing shops, bakeries, and much more. In addition, you can hit the antique shops, stroll along the waterfront, and get some famous Italian Ice at Strollo's Lighthouse (be prepared to wait in a line!
Liberty State Park
200 Morris Pesin Dr, Jersey City
With maybe the most incredible view of the NYC skyline in all of NJ, Liberty State Park is a must. The park is excellent for walking, throwing or kicking a ball, or having a picnic near the water. They also have an excellent playground for kids to enjoy.
Keansburg
275 Beachway Ave, Keansburg
A trip to Keansburg Amusement Park and Runaway buy soma overnight FedEx Rapids is a summer must for many families on the Jersey Shore. With affordable prices, tons of water rides, and regular rides, this is a perfect place for smaller and bigger kids.

Adventure Aquarium
1 Riverside Drive Camden
Adventure Aquarium is one of the best and biggest aquariums in NJ; your kids will love this fantastic aquarium. Visit hippos, sharks, fish, and penguins. They even have special touch exhibits where you can get up, close, and personal with some cool sea creatures.

Land of Make Believe
354 Great Meadows Rd, Hope
Pirates Plunge water slide, Jumping Frog rides, haunted Halloween houses, and talking scarecrows are some cool attractions at this incredible amusement park. The park has 9 food areas, an accessible picnic area, and much more.

Storybook Land
6415 E Black Horse Pike, Egg Harbor Township
In operation since 1955, Storybook Land is a magical park for kids and families. The timelessness of childhood will ring true as your family walks through its all-time favorite stories and nursery rhymes at Storybook Land. Children's classics are interspersed with exciting new family rides and attractions in an immaculate and enjoyable park setting!
Luna Parc
22 Degroat Rd, Sandyston
This private home and art studio of Ricky Boscarino is like something out of a fairytale. It is only open a few times per year. With over 6 acres of lush NJ woods, you will find all kinds of artwork scattered throughout the house and property. It's truly something the whole family will love.
Location: 22 Degroat Rd, Sandyston, NJ 07827
Seaside Heights
Seaside Heights, NJ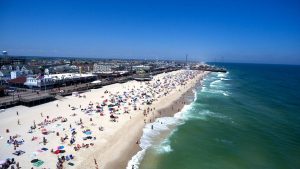 Whether you are looking to lay on the beach while your kids play in the water and sand, or you want to stroll along a boardwalk, check out this great seaside town. There are many restaurants and ice cream shops to try, rides, and places to walk.
Diggerland Construction Theme Park
100 Pineridge Ct, West Berlin
Have a little one in your life that loves digging, dirt, and construction cars? Then take them to the fantastic Diggerland. You can drive and ride in actual machinery that is diesel-powered, full-sized pieces of equipment. However, they are modified a bit to make them safe for the general public. When you are finished driving the construction machinery, you can take a ride on their military vehicles, play arcade games, climb a rock wall, or one of the most extensive rope courses.

State Fair Meadowlands
This is the biggest fair in NJ for the whole summer. There are endless games to play, food to eat, and rides to ride! Your kids will be in heaven at this considerable state park!
Location: 1 MetLife Stadium Dr, East Rutherford, NJ 07073
Six Flags Safari
1 Six Flags Blvd, Jackson
Want to see elephants, giraffes, tigers, lions, and tons more? Look no further than Six Flags Wild Safari! It has over 1,200 animals. You can take a safari car and drive right through the safari fields to get super close to these majestic animals. It's one of the great off-road excursions you can take in NJ this summer.

RPM Raceway
99 Caven Point Rd, Jersey City
Indoor go-kart racing is always a super fun for the whole family…even dad! Go-karts can go up to 45 mph! This is an activity for your older kids, and they are sure to love it.

Amish Market
108 Swedesboro Road, Mullica Hill
A trip to this delicious Amish Market will leave you and your family's bellies happy. They feature fresh baked goods and doughnuts, fresh fruits and veggies, a smoothie stand, fresh meat at the butcher counter, an Amish restaurant, and tons more! Check out this unique market as it is one of the most incredible places to visit in new jersey this summer.

Jenkinson's Family Amusement Boardwalk
300 Ocean Avenue, Point Pleasant Beach
Jenkinson's has many shops, candy stores, restaurants, rides, and so much more. In addition, they have fantastic clean beaches to spend the whole day playing and relaxing. Check out Jenkinson's, as it's one of the most fun places to visit in new jersey this summer.

Wild West City
50 Lackawanna Dr, Stanhope
This is the perfect place for the little cowboy or cowgirl in your life! This is one of the best places to visit in new jersey this summer. Wild West City is a town rooted in traditional family values where history and entertainment create an unforgettable moment in time. Wild West City's shows and activities have at their very core the important, ageless theme of the triumph of good over evil, where justice prevails, and the good guys still win! Wild West City stands as a testimony to that unflinching, unwavering, courageous frontier spirit that shaped America

The Twin Lights
Lighthouse Road, Highlands
With its amazing views of the forest, NYC, and the Atlantic Ocean, Twin Lights is a must-visit place this summer. You can climb to the top of the lighthouse, check out their museum, and climb on the enormous cannons out front!

Lakota Wolf Preserve
89 Mt Pleasant Road, Columbia
Want to take a wild wolf tour? Luckily, you can look at Lakota Wolf Preserve. You must schedule a tour in advance. During the tour, you and the kids will also learn about wolf habits, wolf packs, their interactions with humans, and much more. This is a fantastic experience with the whole family, making it one of the places to visit in New Jersey this summer.

Happy Day Farm
77 Iron Ore Rd, Manalapan Township
This Happy Farm is a must to have in our list of 30 Places to Visit in New Jersey this Summer. Whether you want to go raspberry or blueberry picking (through August), run through the sunflower maze, climb the tire mountain, ride on a tractor, or so much more, Happy Day Farm has something for everyone. It is a perfect place to take the whole family, and there is no shortage of things to do.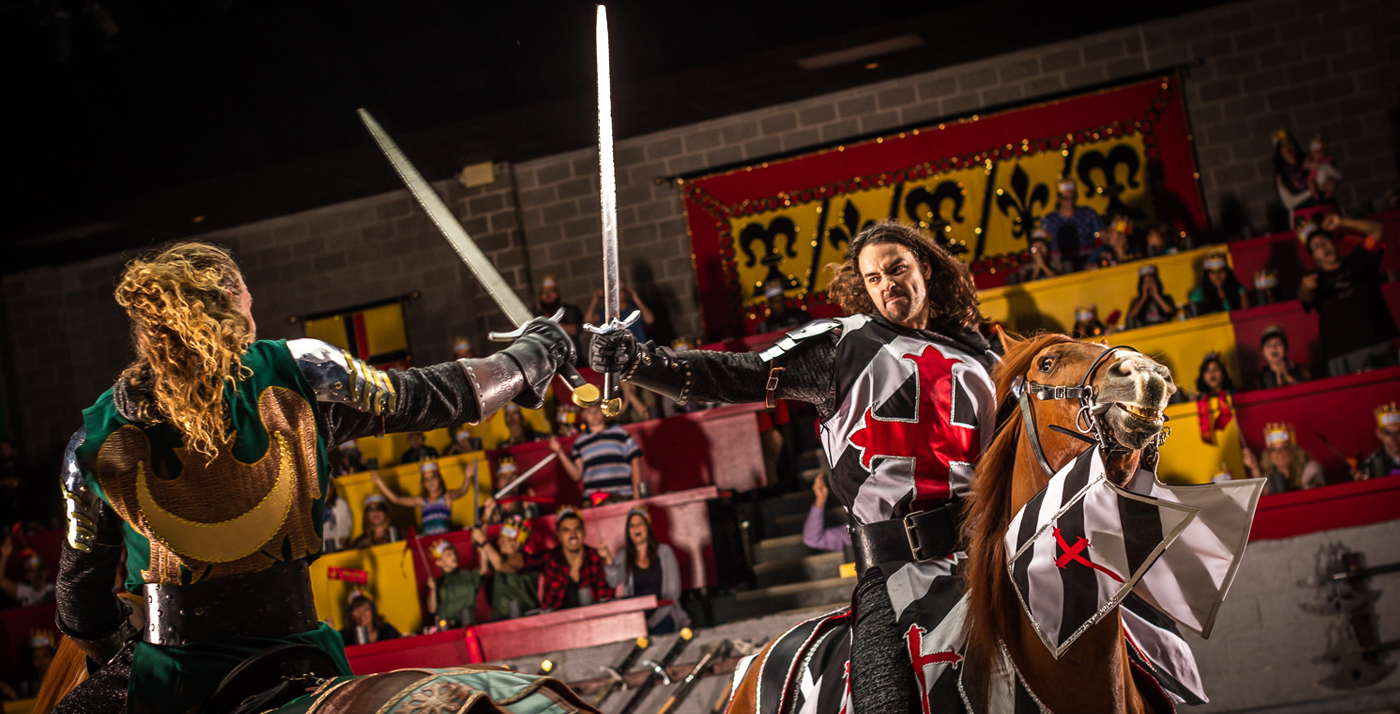 Medieval Times
149 Polito Ave, Lyndhurst
Cheer on your knight while sinking your teeth into some delicious food! Medieval Times will take you back to the time of kings, queens, knights, and jousting!
Summer is all about having fun in the sun! So, cool off with one of the fantastic pools or sprinkler parks in and around Jersey City! Also, don't forget to check out the Best Indoor and Outdoor Water Parks Around Jersey City!
Other Places To Check Out:
Turtle Back Zoo
560 Northfield Ave, West Orange, NJ 07052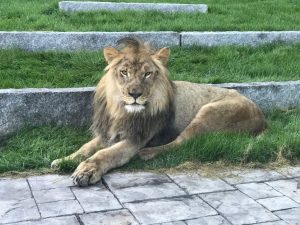 Turtleback Zoo is open daily from 10 am-4 pm! It is around 30 minutes from Jersey City and is one of the oldest zoos in the area. They are offering timed tickets right now if you would like to visit. Tickets are only valid for the date and time specified. You have a 30-minute time frame to enter the Zoo after the time specified on your ticket. So please do not get in line to enter until we are within your time block. Read more here. The zoo features a significant number of exhibits and also offers various events monthly and seasonally to keep visitors entertained and learning. Lions, bears, tigers, and so much more are what you can find here.
Are you looking for something to do outside of New Jersey? Battery Park and Governors Island are two of New York's most popular tourist attractions. A day with loved ones at these top destinations would be well spent, as there are many locations to indulge in picture-perfect landscapes, mouth-watering cuisine, and unique activities.
Updated July 25th, 2022
89 Mount Pleasant Road, Columbia, NJ 07832