Best Beaches Near Jersey City:
It's summer, and let's be honest, all we want to do is sit on the beach. Although living in a city makes it hard to get a beach day in, it's easier. In addition, we live relatively close to some of the best beaches around. So forget what you've seen on reality TV and get down to one of these glorious New Jersey gems for a day trip. It's fun in the sun for the whole family! Here are some of the best picks.
Check the websites and call about passes before you visit the beaches as they can vary depending on the weather. 

Sandy Hook Beach
Sandy Hook is a great day trip for our area. It takes just over an hour by car from downtown Jersey City or 40 minutes by ferry (from Manhattan). There is so much to do because it's a beach and national park! Besides the beaches, Sandy Hook offers fishing, bike riding, trails, and even camping now! The beaches are vast and very clean.
There are parking lots near each beach and bathhouses offering bathrooms and showers. There are even food trucks at some of the beaches. You can also bring your cooler and do a beach picnic, but you must take your trash when you leave. A word of caution: Sandy Hook is a popular destination on weekends; once the park is full, they close the gates, so be sure to get there early and call ahead to make sure the park is still open to visitors.
The beaches are accessible, but you must pay to enter the park. Luckily, you pay per car so that it can be more economical than some Jersey Shore beaches. The fee is $15 per car from 7 am – 5 pm, and if you have a Golden Access or Senior Pass (for national parks in the US), the fee is $7.50 per car.
Getting There: Sandy Hook is located just outside the Highlands via the Garden State Parkway at exit 117. Ferry service is provided by Seastreak and takes about 40 minutes from East 35th Street and Pier 11 in Manhattan. The cost is $45/Adult 13 and over roundtrip and $17/Child 5 – 12 on weekends. Kids are free Monday – Friday! Bikes are an extra $5.

Asbury Park 
Asbury Park is more fun now than ever before! There's so much to do, including lovely beaches to play on. The infamous Asbury Park Boardwalk offers many events, activities, and great restaurants. Some great eating options include Pop's Garage, McLoone's Asbury Grille, etc. There is even Asbury Splash Park, which you can access all day for $9/children and $5/adults. Parking is available in either metered spots or in paid lots. Meters are $2/hour with a maximum of three hours on Ocean Avenue. Other numbered spots (off of Ocean Avenue) are $1/hour without any time limits. There is even an app for "Pay-By-Cell Parking." Check out their website for more information. Beach badges are sold on the Boardwalk between 1st and 2nd Avenues, and it is cash only.
Getting There: Asbury Park is about an hour away by car via the Garden State Parkway at exit 102. You can also take an NJ Transit train and get off at the Asbury Park Station, which is located on Cookman Avenue. See below for NJ Transit Shore deals information.*

Belmar

The beaches of Belmar stretch for more than a mile and offer something for everyone in the family. Kids will love the beach playgrounds peppered around every few blocks along the beach. There is even a surf camp with classes for all ages! If you are feeling more into a beach volleyball game, there are nets on the beach, too. There are beach activities like a natural beach with signs that describe various types of plants and birds nearby, and 9th Avenue boasts the wreck of SS Malta, which crashed during a storm in 1885, and the sternpost is still visible.
The 10th Avenue beach offers umbrella and beach chair rentals – so you don't have to lug all your gear! For an excellent post-beach lunch, check out 10th Avenue Burrito and if you are traveling by car and have some time, take the short ride over to Pete & Elda's in Neptune for some excellent pizza.
Beach badges are required for admission to Belmar's beaches from 9:00 a.m. to 6:00 p.m., seven days a week, from Memorial Day weekend until Labor Day.
The fee for daily badges is $9 per day (children 15 and under are free).
Seasonal badges are available for $70 and $30 for seniors aged 65 and over with identification verifying age.
An additional processing fee will apply to all seasonal badges.
Getting There: Belmar is about an hour's drive from downtown Jersey City via Garden State Parkway at exit 98. You can also take an NJ Transit train there and get off at the Belmar train station, but take a cab to the beach because it's a bit of a walk. See below for NJ Transit Shore deals information. *

Point Pleasant Beach 
Point Pleasant Beach has been a favorite in my family for years! You get the beach here, but you get a great boardwalk, too. Jenkinson's Boardwalk has something for everyone. The amusement rides are a blast, and there are many geared toward the younger set, so this is a kiddie favorite. On Tuesday and Friday, enjoy wristband days for $18/person and ride as many as you like.
Jenkinson's Aquarium is also right on the boardwalk, and it's small enough to be very kid-friendly. There are arcades aplenty, mini-golf, and tons of excellent boardwalk food choices (think funnel cakes, pizza, ice cream, etc.) Parking is sometimes a challenge. There are metered spots along Ocean Avenue and a large metered lot on Ocean and Arnold Avenues. Otherwise, Jenkinson's offers four paid parking lots along the boardwalk. In addition, there are free street parking spots on the side streets off the boardwalk, but they can be hard to find.
Daily rates for the beach do not include use of the bathhouse facilities – it will cost you $4/adult and $3/children. Everyday badge prices are $2.50 for children 5 – 11 on weekdays and weekends, $8.50 for adults 12 and up on weekdays, and $9.50 for weekends. In addition, you can rent beach chairs for $8/day and umbrellas for $10/day.
Getting There: Point Pleasant Beach is a little over an hour's drive from downtown Jersey City via Garden State Parkway at exit 98. You can also take an NJ Transit train and get off at the Point Pleasant Beach train station. It is a bit of a walk from the beach, but there are usually cabs waiting there, but plan and have a number for a cab service with you. See below for NJ Transit Shore deals information. *
Island Beach State Park

Island Beach State Park is located in Berkeley, just passed Seaside Park at the end of the barrier island. This is a great place to go on a day trip. You can bring a cooler and grill and have a full-day beach day. There are main beach areas with bathhouse facilities and parking lots. There are also more remote beach areas with parking spots along the main road, to which you have to hike a little bit out. Lifeguards are only present at the main "swimming" beaches.
There is much wildlife to be seen, which the kids love! The park boasts almost 10 miles of beach for you to explore. It's also a great place for bike riding, hiking, surfing, kayaking, and fishing. The park opens at 7 am during the summer months, but get there early because once the parking spots are filled, they close the gates, and vehicles will no longer be able to get in.
During the summer, the entrance fee is $10/car for NJ residents and $20/car for non-residents on weekends and $6/car for NJ residents, and $12/car for non-residents on weekdays. If you walk or ride your bike into the park, it is free.
Island Beach State Park is most easily accessible by car. It is about a 1.5-hour drive from downtown Jersey City via Garden State Parkway at exit 82. This ride takes much longer in the summer months, so plan accordingly. There is also a bus service to Island Beach State Park via Bus Route 137 from Port Authority Terminal, NYC, but you must let the driver know to continue from Seaside Park during the summer weekends.
Atlantic City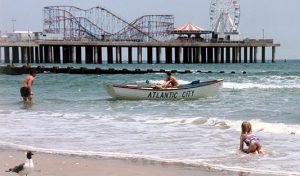 Sun, sand, towering resort hotels, the bustling Boardwalk, the awe-inspiring Atlantic — this is one beach party you don't want to miss. The Atlantic City, New Jersey beaches are famous, and rightly so. Everything you could want is within walking distance, from shops to five-star restaurants to casinos, attractions, and great shows — all benefits of being one of the few American beaches with boardwalks. What better way to cap a shopping day, concerts, and gourmet dining than a pleasant sunset walk on the shore? And should you want to venture into the waves, you can surf, fish, parasail, or embark on a relaxing cruise.
Allenhurst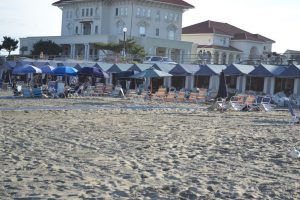 The Borough of Allenhurst owns and operates the Allenhurst Beach Club, which features a large saltwater pool filled with the ocean every night during summer. The beach at the ABC is open to the public for a daily fee with handicap access found at the east end of Allen Ave and Cedar Ave.
Seaside Park
This almost two-mile-long beach has a small section of boardwalk to the north devoted to games, food operators, and the Funtown Pier Amusements. Dunes covered with tall grass line the entire oceanfront, primarily residential and south of the Funtown Pier. This is the place for sunbathers who want a quiet spot on the beach. There are plenty of metered parking spaces along Ocean Avenue. The borough owns a small concession stand on Ocean Avenue, a snack bar, and restrooms. Lifeguards designate special beach sections for fishing south of H Street between the lifeguard stands. The boardwalk is perfect for quiet strolls. The planks run the entire length of the borough and have benches.
Seaside Heights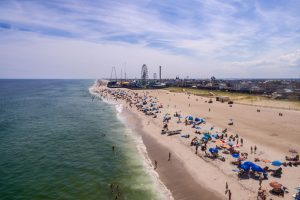 The beach is famous for its soft white sand and has received numerous awards and accolades, including being voted the 2016 New Jersey Sea Grant Consortium "Favorite Ocean County Beach." Seaside Heights provides seasonal lifeguard services between Memorial Day weekend and Labor Day. The public may enter the ocean and swim in protected areas only when lifeguards are present.
Seaside Heights charges a beach fee to help defray expenses related to providing visitors with one of the cleanest and safest public beaches on the East Coast.
Daily fee – $10 (ocean beaches)
Weekly badge – $35 (Sunday through Saturday)
Season badge – Pre-season rate is currently $45. However, the pre-season rate will increase to $50 on April 1st.  The regular rate of $60 is effective May 16th.
Senior Citizen season badge – $15 for persons 65 years of age and older. Two badges are $25 if purchased simultaneously, and both persons are present when purchased.
Children 11 years of age and under – free every day
Active and retired military personnel and their dependents – are free every day with the appropriate Common Access Card, Uniformed Services ID Card, DD Form 214, or Veterans Benefit ID Card issued by the VA.
City of Wildwood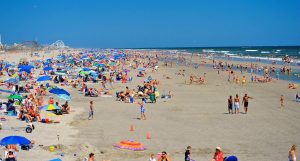 Everyone's got something to sing about when it comes to a Wildwoods vacation. Everything you could ever want in a vacation experience is right there, on one 5-mile island, from relaxing on their spacious, FREE white-sand beaches to exploring the 38-block world-famous boardwalk. From fine dining to sweet treats you dream about all year long—the Wildwoods have the best of the Jersey Shore and more. Of course, this is a bit of a drive from Jersey City, but it is perfect if you want a weekend away.
Updated May 16th, 2022