Top Must Go Beer Gardens in Jersey City
Sometimes there is nothing like sitting outside, drinking a beer, and enjoying an awesome view on a warm summer day or evening. Luckily, we have quite a few Beer Gardens in Jersey City to choose from. Each has some great beer, delicious foods, and most are even kid and family-friendly!
Let's explore New Jersey's top must go beer garden in Jersey City.
Jersey City's newest beer garden certainly does not disappoint. People are flocking to this water front hotspot for the delicious foods, craft beers, and cocktails. With breathtaking views of NYC, you can sit back and enjoy the view or partake in some of their fun games. Best of all your kids and fur babies are welcome to tag along too! This definitely makes Lutze a must go beer garden in Jersey City.
Location: Harborside, 15 Second St., Jersey City, NJ
With over 100 types of beer, plus wine and cocktails, this Biergarten has a little something for everyone. They serve up some tasty American and German foods, plus some awesome smokey BBQ that customers absolutely love. Live bands play on Friday nights and Saturday's are dedicated to DJ's and tons of dancing. Parking is free and children are more than welcome before 9 pm. Check out this must go beer garden in Jersey City.
Location: 88 Liberty View Dr, Jersey City, NJ 07305
Although Pier 13 is not technically a Biergarten and not in Jersey City, that doesn't mean they don't have tons of beers to drink and fantastic places to sit and drink it. You can order canned and draft beers and take them and sit on the beautiful lawn overlooking the water. They also have tons of food trucks to choose from, places to walk, and games to play. This is the perfect place for a family to hang out on Saturdays or Sundays, making this a must go beer garden in Jersey City. (Actually in Hoboken:))
Location: Pier 13 – 1301 Sinatra Dr. N, Hoboken, NJ 07030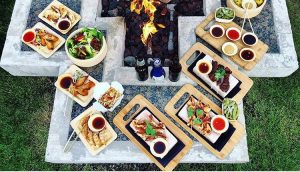 Is there anything better than a Biergarten and Dim Sum? We don't think so, and this is why you need to check out Baozi Brew and Biergarten. They have extremely good foods like Dim Sum, spring rolls, dumplings, satay, and more! Of course, they have some great cold beers, cocktails, and regular non-alcoholic drinks. For a unique Biergarten experience, Baozi is a must go beer garden in Jersey City.
Location: 76 Audrey Zapp Dr, Jersey City, NJ 07305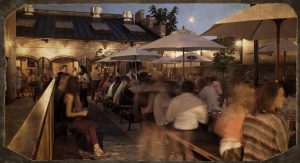 Even though this Biergarten is located in Hoboken, we felt it deserved a spot on the list. Customers are in love with their grilled sausages and bratwurst. Also notable is their huge Bavarian style pretzels, and saurkraut.
"Welcome to Hoboken's Pilsener Haus & Biergarten, an authentic Austro-Hungarian Biergarten with some of the best dining in the region. Set in a turn-of-the-century bier hall with an adjoining, sunny Biergarten, it's the perfect place to spend the day with good friends and good cheer."
Location: 1422 Grand Street, Hoboken, NJ 07030
Although not technically a Biergarten, this is a great place to hang out and have a beer with friends and family.
One Yelper says, "This is my favorite bar in Jersey city and not because I live a block away from it 😉 It's got a great vibe with wonderful views of the marina! It does get super packed on the weekends so expect long lines and slowed service. Come here, relax and soak in the summer sun all you can."
Location: 1 Marin Blvd, Jersey City, NJ 07302