Top 25 Outdoor Dining Restaurants in Jersey City
If sipping a martini, or eating Lobster Mac N' Cheese while surrounded by panoramic New York City views and a cool summer breeze sounds like an ideal parent's night out to you, look no further than Jersey City. From standard American fare to Mediterranean culinary delights, you are bound to find the perfect outdoor dining experience and some of the best food you can find in the state! Additionally, these spots are great to check out for a date night or a night out with friends. Whether you are steps away or visiting just for a day, here are the best outdoor dining experiences in Jersey City.
485 Marin Blvd, Jersey City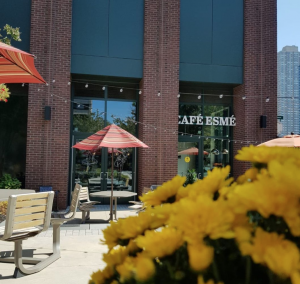 Café Esmé has been designed to bring a piece of Parisian taste to downtown Jersey City. Every aspect of the café has been thought of with the customer experience in mind. From the chic interior to the delicious menu to the music that fills the space, Café Esmé hits all the senses and makes people feel transported and completely at home, all at once.  They offer delicious sandwiches, pastries, coffee, lattes, and so much more. They have a beautiful outdoor seating area in the park where you can enjoy a meal with the family.
299 Marin Blvd, Jersey City, NJ 07302

Located in Downtown Jersey City. Latham House is a contemporary spot offering American plates. They are great for brunch or dinner with family. They have a beautiful outdoor dining setup. Additionally, you can enjoy dishes like cast iron truffle mac & cheese, chicken pot pie, seared scallops, or shrimp gnocchi pasta. They also have some delicious desserts.
264 Grove St, Jersey City, NJ 07302

Frankie is the dream turned reality of the hospitality and design duo Rowen And Rebecca. It is a bar and eatery with Australian influences, specializing in natural wine located in Downtown Jersey City. Their inspiration comes from their travels and Rowen's background in Sydney. Besides, they also have some amazing brunch and dinner options and various dishes on their menu, from steak and onion pie, fish, and chips to a whole Bronzino. Their outdoor setup is perfect for the spring and summertime!
292 Barrow St, Jersey City

Franklin Social – Tavern & Garden is a new restaurant and bar, inspired by Ben Franklin, offering a modern take on the American Tavern. A seasonally driven menu will offer classic dishes, highlighting local ingredients, and be complemented by a cocktail program inspired by Colonial drinking culture. Additionally, they have a ton of delicious cocktails as well as wine and beer. Their menu has a ton of variety, from seafood dishes to steak and also vegetarian options. Their outdoor patio is perfect for enjoying your meal.
145 Newark Ave, Jersey City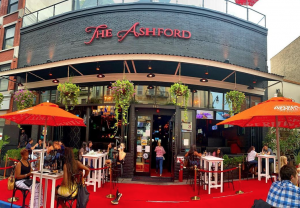 The Ashford is the perfect spot to enjoy brunch, lunch, or dinner. Not only does it have a great ambiance, but it also has the perfect menu because of its options. Also, they have an outdoor seating area and a rooftop where you can grab food and some refreshing frozen cocktails.
500 Jersey Ave, Jersey City, NJ 07302

The Kitchen Step, is a neighborhood modern-American bistro in the downtown Van Vorst section that celebrates Jersey City's rich history and delivers thoughtful market-inspired cuisine and craft cocktails in an intimate and inviting atmosphere. Just as appropriate for an after-work drink as it is for a full-course dinner, The Kitchen Step offers a market-inspired modern American menu marked by executive chef Ryan DePersio's creative, flavorful interpretations of classic American cuisine. They have these beautiful cozy greenhouses where you can enjoy your meal!
351 Grove St, Jersey City, NJ 07302

Here in the heart of Jersey City, you'll find delicious food and drink in a beautiful setting to be enjoyed with friends, both old and new. Mathews has the perfect selection of brunch and dinner options, from a short rib ragu to juicy chicken sandwiches. They also have some unique cocktails. Their outdoor patio has plenty of space for you to enjoy your meal in the sunshine.
135 Newark Ave, Jersey City
Porta Jersey City resides in a former pharmacy located right off  Newark Avenue's pedestrian walkway. Opened in 2014, the three-story restaurant includes one of the few rooftop spaces in the city, spanning an entire block with two full bars and dining. With ovens made in Italy specifically for the restaurant, the wood-fired Pizza is a kind in Jersey City and arguably in the country. If pizza is your passion and your craving for a unique outdoor dining experience, this is your place. Oh, and not to mention there are two full bars! They have an outdoor seating setup as well as a rooftop.
279 Grove St, Jersey City, NJ 07302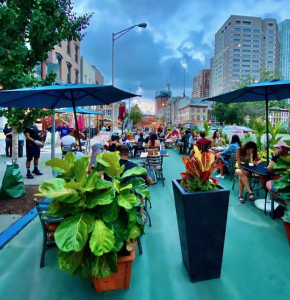 Located in the heart of downtown Jersey City, Luna is great for brunch, lunch, and dinner if you are in a group or even by yourself. Their menu items were individually crafted to have a homemade feel and taste. From pasta, salads, sandwiches, seafood, burgers, and soups, they have it all! Additionally, they also have some great vegetarian and vegan options. The bartender also makes some yummy cocktails that are worth checking out. They have a beautiful outdoor dining setup.
339 Communipaw Ave #4072, Jersey City, NJ 

Harry Daughter is a gastropub in the Bergen-Lafayette neighborhood of Jersey City. Threading a fine line between relaxed and refined, the food elevates the flavors of Caribbean home cooking in unique and thoughtful ways, and for the drink menu, tropical flavors with the latest trends in cocktails. The decor is absolutely stunning with the hanging chairs, lush tropical wallpaper, and lots of plants. Additionally, they have a huge sizable bar with many drink options, but their tropical cocktails are a must-try, especially their best-selling rum punch. They have a backyard as well front with outdoor dining.
125 Newark Ave, Jersey City

Roman Nose, Downtown Jersey City's authentic Italian food destination, is the culmination of Maria & Ruggero Fiore's journey from a small farming village in the Lazio region of Italy to the heart of JC's blossoming culinary scene. They have many options on their menu that include pasta, pizzas, eggplant parmigiana, salads, and soups. This is also a perfect spot for a family or if you are on a romantic date! They have outdoor seating on the pedestrian plaza.
289 Grove St, Jersey City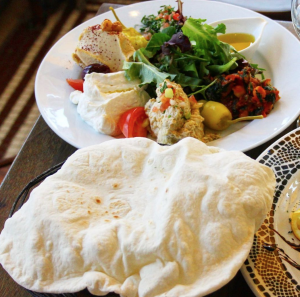 Uncle Momo is known for its Lebanese and French cuisine. The best part of Uncle Momo is its service and variety of options. There is something for everyone! Try their momo meze, fatoush salad, shawarma sandwiches, moussaka, mixed grill entree, and the ouzi. They also have crepes! They have plenty of outdoor seating.
708 Jersey Ave, Jersey City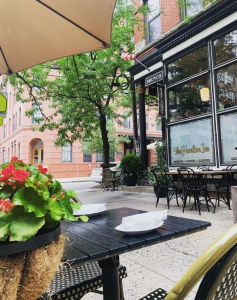 Awarded as one of OpenTable's best 100 brunch restaurants in the country, Hamilton Inn is located in the heart of Jersey City. Hamilton Inn is the perfect restaurant if you want to go in a group as they have lots of options. From salads, sandwiches, burgers, oysters, soups, and even a kids' menu. Their outdoor seating is adorable for brunch, lunch, or dinner.
290 Grove Street, Jersey City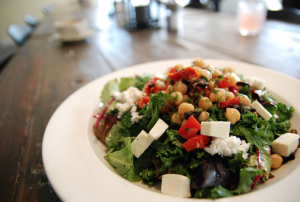 Beechwood Cafe is located on the very popular Grove Street in downtown Jersey City. They offer great food from sandwiches, salads, bowls, burgers, and tacos. They are perfect for a delicious lunch or brunch with outdoor seating.
3 Second Street, Jersey City 

Hudson & Co. stands on the waterfront within the rapidly evolving Harborside district in Jersey City. The entire establishment boasts views of the Manhattan skyline across the historic Hudson River, making it perfect for outdoor seating. Besides having a beautiful view, you can indulge in a wide variety of food options, including; crunchy tuna tartare rice cakes, sashimi/sushi roll selection, artisanal wood-fired pizzas, wild-caught arctic char, a 40-day dry-aged NY Strip, and homemade delicata squash ravioli with sage.
1 Marin Boulevard, Jersey City, NJ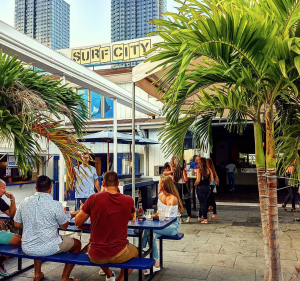 One of the best outdoor dining options in Jersey City is Surf City if it's one-of-a-kind views you are seeking. With panoramic views of New York City, how could you go wrong? Featuring seaside favorites such as Lobster Rolls and rare creations such as Fried Clam Sandwiches. For those inclined more to the 'turf' than the 'surf,' there are various burgers Chicken Tenders, and French Fries. With live music and a lively bar, this of your all-in-one parent's night out! This place is not to miss the next time you crave an outdoor dining experience in Jersey City. As of May 25th, 2023, it is open 7 days a week!
 212 Washington Street, Jersey City, NJ
Food-wise, this may be one of the best outdoor dining spots Jersey City has to offer: while it may not have spectacular views, the fact that Zagat described their food as"to die for" makes it worth the trip. With delicately crafted, rare selections like "Seared Arctic Char, with Apricots, Piquillo Pepper Sauce, with Sundried Tomato Couscous," who would not want to make the trek to this Paulus Hook gem? The ambiance both inside and out is as charming as, but not as crowded as a West-Village Café, making this restaurant one of the best for outdoor dining in Jersey City.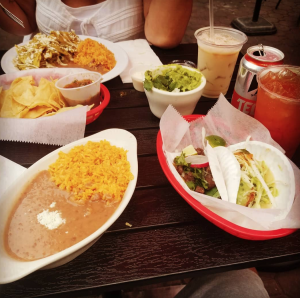 Looking for delicious tacos in the perfect outdoor dining in Jersey City? Check out Taqueria. Rather than judging the restaurant by the way it looks, judge by the line you will see most evenings outside of its doors. Both the inside and the outside can be crowded, but take this as a sign of food quality; it's worth bearing with the crowd. If you want tasty food for a good price, make this your next outdoor dining adventure in Jersey City.
101 Hudson St, Jersey City, NJ 07302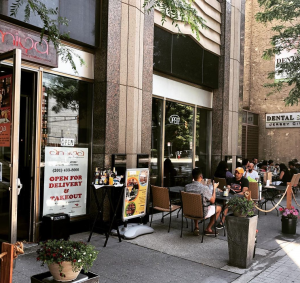 The food at Amiya coupled with its bustling outdoor patio is what ranks it among the best outdoor dining in Jersey City. If the exquisite food is not enough for you, Amiya offers an outdoor and indoor ambiance that rivals that of any restaurant across the river; surrounded by downtown sights and sounds, you can watch the crowds passing by while sampling their unique blend of modern Indian and Chinese cuisine. With just a hint of contemporary style, this restaurant stands out among Jersey City's plentiful selection of Indian cuisine.
187 Warren St, Jersey City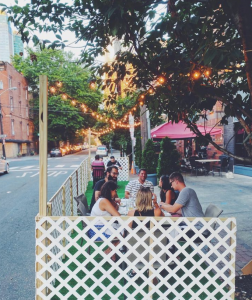 Take your taste buds on a delightful journey at Amelia's Bistro located in Historic Paulus Hook in Jersey City, making it the perfect spot for brunch, lunch, or dinner. Enjoy a refreshing cocktail or tantalize your appetite with original New American cuisine. This is another great spot for a group as they have a ton of options for food. From fish, chicken, salads, steak, and more, they have everything for you to enjoy a meal outdoors.
185 Hudson St, Jersey City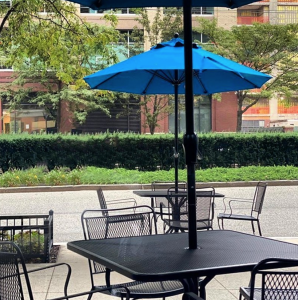 Porto Leggero is an upscale, chandelier-filled venue serving Italian fare in a high-ceilinged space with tall windows. Located on the waterfront, you will find a ton of delicious Italian options. They have two menus, "Signature and Traditional," which have unique options. From pasta to ravioli and a great wine list, they have everything you want from an amazing Italian restaurant. Additionally, this restaurant is perfect for a date night as it's super romantic and the food is delicious.
200 Greene St, Jersey City, NJ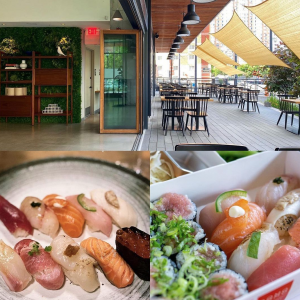 DOMO DOMO first started as the First Hand Roll Bar in NYC in 2015, now known for its signature tasting course called DOMOKASE and other Asian-inspired dishes. They have now expanded over the Hudson into Jersey City! DOMODOMO's menu is created, and Brian Kim runs its kitchen, a Culinary Institute of America graduate with over 15 years of experience. Additionally, the menu is constantly updated as Chef Brian experiments with new combinations, using the season's freshest ingredients. They have plenty of outdoor seating!
235 Pavonia Ave, Jersey City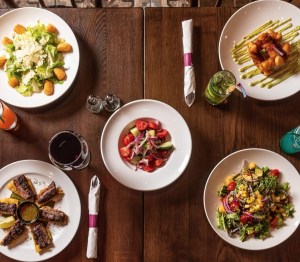 Rumba Cubana is located right off Hamilton Park, and this place will definitely fill your craving for Cuban Food.  The restaurant takes pride in its Cuban-style dishes and beverages that are sure to satisfy what you are longing for. Whether you want a heavy dish or something easy on the tummy, they've got what you want.
247 10th St, Jersey City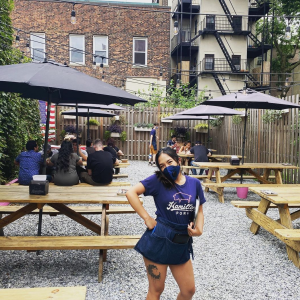 If you are craving a BBQ brunch, Hamilton Pork is open! They are offering lunch and lunch in the front and a backyard to enjoy your meal outside. Choose from their long list of meats brisket, pulled pork, ribs, and sausage. They even have tacos and sandwiches that are a must-try.
682 Bergen Ave, Jersey City
ITA Italian Kitchen is Jersey City's gastropub from talented Chef Dylan Golden, known for his work at Upland in Manhattan. Inspired by the best Italian bistros, ITA Italian Kitchen honors old-world Italian roots, lifestyle, and food with a modern touch. Specializing in Neapolitan-style pizza, House Made Pasta and local seasonal produce. ITA's full BAR offers a selection of 20 draft beers, a thoughtfully selected wine list, and classic cocktails. Also, gluten-free pasta and vegan pizza are available and very popular. They have a little outdoor seating area, but it's worth the wait!
Jersey City is full of life when it comes to its food, just like Hoboken! Are you looking for places that are more specific to your dietary needs? No problem, there are plenty of vegetarian/vegan and gluten-free options!
Updated May 30th, 2023