Vegetarian and Vegan Restaurants in Jersey City and Hoboken
Whether you're vegetarian/vegan or not or simply looking to drop a pound or ten, we all can use clean eating and vegetables from time to time. Jersey City and Hoboken offer some of the best food to sink your teeth into for vegetarians, vegans, and carnivores alike. So how can you find the true neighborhood gems instead of ending up in just another neighborhood falafel or wilted salad joint? Read on!
After enjoying a nice meal, there are some fun activities near Jersey City like strawberry picking, going to a park, hiking, or heading out to a petting zoo.
Gaia And Loki
346 Grove St, Jersey City
View this post on Instagram
Gaia & Loki is a full-service restaurant, and they take the time to prepare every dish artfully. So whether you're looking for vegan food in Jersey City or just searching for a delicious meal, their marble tabletops and velvet barstools are open for you Wednesday through Sunday.
Every ingredient in our kitchen is 100% plant-based, and our chef continually updates their revolving menu to capture the vibrant, natural flavor of what's currently in season.
Plant Base
370 Pacific Ave, Jersey City, NJ
Vegan Restaurants in Jersey City and Hoboken
View this post on Instagram
A new animal-free and waste-free business have come to Jersey City! Plant Base has a selection of great vegan food options and coffee, juices, and more! In their effort to reach a genuinely zero-waste goal, they offer a rotating dinner and lunch menu that ensures all of their fresh produce will not go to waste. Also, Plant Base is a unique concept by owners Dhruva LaTorre and Andy Hertz. This new place tops our list of Vegetarian and Vegan Restaurants in Jersey City and Hoboken because they just opened in our city, and also their mission is zero waste.
Subia's 
506 Jersey Ave, Jersey City
Vegan Restaurants in Jersey City and Hoboken
View this post on Instagram
This Van Vorst neighborhood staple has been around for over ten years with great success. It is the only TRUE vegan restaurant and pure vegan kitchen in Jersey City. The sister duo team that owns the place is exceptionally knowledgeable and helpful, and they will navigate you through any vegan questions you have. The menu is comprehensive, and there is something for everybody. Even my carnivore meat-eating husband was impressed by the vegan rib sandwich. Subia's also has a fantastic dessert selection and a thorough juice list for those seeking something on the lighter side – the beet & spirulina combo is a real winner. We recommend this café style restaurant for anybody seeking a delicious, filling, nutritious, comfort food-style meal. Additionally, the home-style, casual atmosphere, and food make you feel genuinely welcome the second you sit down to read the menu, ideal for the entire family.
Vegan AF
291 Central Ave, Jersey City, NJ 07307
Vegan Restaurants in Jersey City and Hoboken
View this post on Instagram
Order delivery or take out from Vegan AF in the Heights for all the vegans out. They have many options like pancakes, sandwiches, hot dogs, breakfast items, and more.
Pet Shop 
193 Newark Avenue, Jersey City
Vegan Restaurants in Jersey City and Hoboken
View this post on Instagram
Pet Shop is a kitschy, fun, trendy local watering hole offering strictly vegetarian food. There are vegan options on the menu as well. Sundays, they offer half-off glasses on open wine bottles, get there early to avoid disappointment, and score a great bargain on some delicious wines. The bar staff is highly knowledgeable on pairing wine and drinks with the food menu. The kitchen offers up the fun, modern and diverse fare. The Buffalo Cauliflower starter is a must, and the Chili is sure to fill even the hardiest of bellies.
Salt + Seed
210 Hudson St, Jersey City
Vegan Restaurants in Jersey City and Hoboken
View this post on Instagram
Salt + Seed is perfect for the vegans out there. They are proud to offer you daily the highest quality of elevated vegan cuisine. In addition, they take great pride in all their homemade specialty menu items. Salt and Seed is ALL vegan ALL the time. They have a variety of food options on their menu, from mini crab cakes to mini burritos and vegan desserts.
Rositas. Yah
203 Academy St
Vegan Restaurants in Jersey City and Hoboken
View this post on Instagram
Rosita's Yah is located near McGinley Square. They sell many plant-based options from tasty breakfast and lunch dishes like wraps, bowls, smoothies, sandwiches, yogurt bowls, and more. Therefore, they are a must-try on our list.
Vibez Juice Cafe
82 Hutton St, Jersey City
Vegan Restaurants in Jersey City and Hoboken
View this post on Instagram
Vibez Juice Cafe is a high-end Juice Bar & 100% Vegan Cafe located in the Heights, Jersey City. They serve delicious, innovative, healthy, and soulful vegan cuisine conceived and prepared with love, mindfulness, gratitude, and full intention to nurture body-mind and soul. They also offer fresh organic juices, soul vegan food, veggie patties, scrumptious Pastries baked daily, and retail health-related products.
Tidal Poke
Harborside Financial Center – District Kitchen, 210 Hudson St, Jersey City, NJ 07311
Vegan Restaurants in Jersey City and Hoboken
View this post on Instagram
A testament to the popularity and success of the only actual Poke "POH-keh" and Acai place in town. The menu offers both vegetarian and non-vegetarian options. For Poke and Acai bowl virgins, here's a quick low down – Poke is an old Hawaiian dish that's a relatively new phenomenon to non-Hawaiian cities. It is a combination of fresh cubed raw fish, seasoned and served on a bed of vegetables and a base of typically rice or noodles, served cold, think of like a sushi salad of sorts. Poke is delicious and very healthy. Additionally,
Tidal Poke
offers vegan and vegetarian Poke bowls. Acai Bowls are equally healthy, light, and refreshing and are comprised of fruit and added crunchy goodies – basically thick smoothies topped with granola and fruit, then wolfed down with a spoon.
Brick Lane Curry
136 Newark Ave, Jersey City
View this post on Instagram
Brick Lane Curry is a London-style Indian restaurant offering spicy curries and delicious Indian dishes! Additionally, they also have Indian-inspired cocktails. They also have some great options for vegetarians.
Busy Bee Organics
451 Palisade Ave, Jersey City, NJ
View this post on Instagram
Busy Bee Organics is an established, unique meal delivery company and cafe serving the Hudson County Area. With a staff of nutrition professionals and natural food chefs, their fully prepared meals are designed with your health and busy schedule in mind. Busy Bee was established in 2014 and focused on making your life easier through "peace of mind" organic, nutrient-dense ingredients meant to help you power through your day. All of our meals are plant-based, gluten-free, and dairy-free to start with your choice to add on a responsibly raised meat or cheese to any dish!
The Power Plant Cafe by BoyceMode
336 2nd St, Jersey City, NJ 07302
View this post on Instagram
The Power Plant Cafe is a plant-powered cafe offering smoothies, juices, baked goods, coffee & espresso, and meals from BoyceMode ~ meal prep service. They opened in Jersey City in the fall of 2021 and have since been providing clean energy to help live a healthy life!
Best Vegetarian and Vegan Restaurants in Hoboken
Are you looking for delicious and hearty vegetarian/vegan meals outside of the home? Check out our pick of the five best vegetarian and vegan restaurants in Hoboken.
Simply Juiced
262 1st St, Hoboken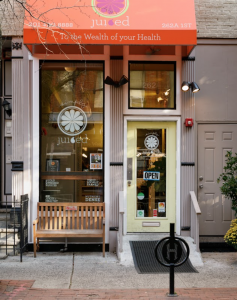 Simply Juiced tops our list of the best vegetarian restaurants in Hoboken. Everything here is vegan except for honey, and it is all organic and made from locally farmed produce. The owners and entire staff are all vegan and full of helpful tips on what to get. It is a juice and raw food bar with an extensive menu with a great variety of main dishes, salads, sandwiches, desserts, juices, smoothies, and nibbles. I think it would take several visits to get through every menu option, and they all sound amazing. Of particular note are the No Harm No Cow (Beef/dairy-free burger) and Pad Thai Coconut Noodles.
Honey Grow
120 Washington St, Hoboken
View this post on Instagram
This is a casual dining place that offers meat and vegan options. Service is quick, and the food is consistently good. It primarily consists of create-your-own stir fry or salad, acai bowls, and pressed juices using local and organic produce. Everything down to the egg noodles is freshly made. Also, the staff is flexible, and you can create your stir-fry or salad to meet your exact dietary requirements, tastes, and specifications. The vegan options are limited, but they are happy to fix variations and modifications to existing dishes. Also, the freshly pressed juice is super zesty and refreshing, ideal for washing down healthy food.
Karma Kafe
505 Washington St, Hoboken
This is an Indian restaurant offering meat and several vegetarian options (nothing was labeled as strictly vegan). The best value for the menu is hands down, the buffet. The food is fresh, with several lighter and veggie options, and an entire menu section is vegetarian. Karma Kafe also has a decent cocktail menu, perfect for a date night or when the kids are getting out of hand to help the dining experience go by a bit easier!
Acai Later
203 Washington St, Hoboken, NJ
View this post on Instagram
The Acai berry, a superfood, is small yet excellent. Their blended acai is naturally packed with antioxidants and creates the perfect base for your Instagram-worthy bowl. Acai Later is ideal for trying an acai bowl, smoothies, and other vegan options.
Alfalfa
1110 Washington Street, Hoboken
View this post on Instagram
Everything they do – from serving a locally roasted fair trade coffee and selecting the highest quality products for their salads to experimenting with Southern California-inspired breakfast burritos and creative doughnuts – is done to provide their guests with a premium experience. Alfalfa has a variety of healthy foods like salads, wraps, breakfast burritos, and more.
Quality Greens Kitchen
227 Washington St, Hoboken
View this post on Instagram
The menu at Quality Greens Kitchen has a little bit of everything, including house and signature salads that all feature homemade dressings. Their customizable Chef's Plate consists of protein options which include vegetarian and vegan options grilled organic tofu, which come with hot and cold side dishes that include roasted sweet potatoes, maple sriracha brussels sprouts, curry cauliflower, quinoa tabbouleh, and Caprese salad.
Other options in Jersey City:
Porta Jersey City
Porta resides in a former pharmacy located right off of Newark Avenue's pedestrian walkway. Opened in 2014, the three-story restaurant includes one of the few rooftop spaces in the city, spanning an entire block with two full bars and dining. Porta also specializes in Neapolitan-style pizza and yummy cocktails but is also has great vegan and vegetarian options if looking for pizza. They usually have two vegan options on the menu that change seasonally. Therefore they are on this list.
Kitchen Step
Kitchen Step is a neighborhood bistro in the downtown Van Vorst section that celebrates Jersey City's rich history and delivers thoughtful market-inspired cuisine and craft cocktails in an intimate and inviting atmosphere. They also have a few vegan and vegetarian options on their menus.
Orale
Orale is a fun and unique space as you enter from downtown Jersey City to enjoy authentic Mexican cuisine with a bar that includes some of the best-handcrafted cocktails. On weekends, enjoy our $6 happy hour brunch. Orale has some of the best Mexican food in Jersey City and luckily some vegan tacos too. They also have a bunch of vegetarian options that are a must-try.
Koro-Koro
Koro Koro is a café in downtown Jersey City that serves Japanese style onigiri or rice balls. They are small balls of rice stuffed with a wide variety of cooked fillings served with or without nori or seaweed paper. Additionally, another great place to find a vegetarian and vegan fix with options like Umeboshi, Morrocan, Indian and Mediterranean.
Updated January 9th, 2023