Hoboken hosts a wide variety of vegan-friendly restaurants for plant-lovers to try. The city is coveted for its bustling streets, breathtaking waterfront views, and mouthwatering culinary scene that caters to all taste and dietary preferences. In recent years it has become a hub for vegan dining, with entirely plant-based eateries as well as more places offering vegan options.
Whether you are hunting for a hearty bowl of ramen, a juicy burger, or a refreshing smoothie, Hoboken has got you covered. Curious about what places can satisfy your vegan cravings? Keep on reading for recommendations from our writers and editors below!
Purely Juiced
262 1st Street, Hoboken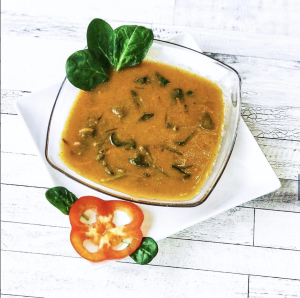 Purely Juiced is a popular health store in the heart of Hoboken. It offers a plethora of cold-pressed juices, smoothies, and wellness shots with specific health benefits such as immunity boosting, detoxifying, and anti-inflaming. The menu also acai and quinoa-based bowls, homemade soups made fresh daily, toasts, sandwiches, raw meal entrees and salads, and "guilt-free" desserts. It also offers juice cleanses, bundle savings, supplements, to-go snacks, and pre-packaged drinks. Delivery and pick-up options are available.
Honey Grow
120 Washington Street, Hoboken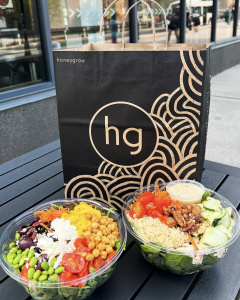 Honeygrow is a favorite fast-casual restaurant chain. It offers a diverse selection of stir-fry, salad, and desert dishes with make-your-own options from its extensive selection of proteins, vegetables, and sauces. Stir-fry options range from pesto chicken to spicy garlic to red coconut curry. Salads include but are not limited to asian sesame ginger, greek, cobb, and kale chicken caesar. There is something for everyone at the coveted health chain! Delivery and pick-up options are available.
Acai Later
203 Washington Street, Hoboken

With exception of the occasional honey drizzle, acai bowls are usually 100% vegan. Acai Later makes acai-based bowls topped with fresh fruits, granola, nuts, seeds, nut butters, and coconut flakes. You can get their signature bowls, including Bring Me To The Beach, Berry Me Baby, or their Hoboken-inspired Washington Street Bowl, or customize your own bowl. It also has smoothies that are made with non-dairy milk and fruits, as well as grab-and-go snacks and cold-pressed juices. It is a plant-based lover's paradise!
Alfalfa
1110 Washington Street, Hoboken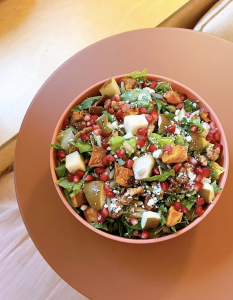 Salad options abound at Alfalfa's! Starting as a farmer's market pop-up shop in 2019, it now has four locations across two states.  It offers salads, burritos, homemade gluten-free doughnuts, and drinks. You can also create your own salads from their bountiful base, toppings, and dressings selection. Plant-lovers rave about their Beyond Far East and Sunflower salads, as well as their select vegan dressings. In addition to its flagship Hoboken store, it also has a Jersey City location on 160 1st Street.
Quality Greens Kitchen
227 Washington Street, Hoboken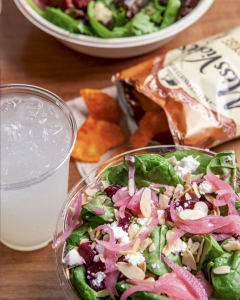 Quality Greens Kitchen bills itself as "fast fine-dining" with vegan, vegetarian, and gluten-free salad and quinoa/rice-based bowl options. Its seasonal menu features signature salads, including the Avo and the G.O.A.T, and bowls, including its Grilled Organic Tofu bowl. It also offers vegan sides including carrot fries, sauteed broccoli, roasted sweet potato, Moroccan beets, three bean ceviche, and avocado. Customers can also customize their meals by choosing from a wide range of vegetables, grains, and dressings.
Jerrell's BETR BRGR
324 Washington Street,
Hoboken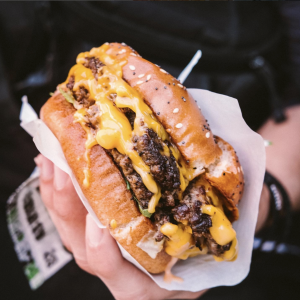 Looking for a vegan-alternative to a McDonalds or Wendys? Jerrell's BETR BRGR will be your new favorite burger joint! Offering 100% plant-based burgers, fries, chili, milkshakes, and soft serve, it is the perfect place for plant-based eaters looking to satisfy their late-night junk food cravings.
Overall, Hoboken is a great city for vegans with its abundance of delicious and diverse plant-based options. Make sure to check out some of the spots we recommended in this blog and keep an eye out for other up-and-coming spots, too! There are, of course, many vegan spots in Jersey City as well. To get started, you can check out our Jersey City vegan bakeries guide.
Updated April 28, 2023