20 Vegan or Vegetarian Spots In NYC
Are you a vegetarian ready to venture across the pond searching for the best offerings?
Restaurants are plentiful in NYC, much like mushrooms after the rain. Like it or not, plant-based food is here to stay, so you might as well sample. So how do you find the best needles in the haystack? We compiled a list of the 20 best vegan and vegetarian restaurants in New York City. So whether you are a hard-core vegetarian/vegan, aspiring, or simply looking to eat clean, consider our recommendations.
86 Allen St, New York, NY 10002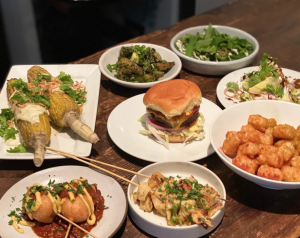 Dirt Candy's goal is that people who eat at their restaurant enjoy vegetables. They serve nothing but vegetables, and they always want to make sure they taste better than anything you've ever had before. Their kitchen is essentially a laboratory for our award-winning chef, Amanda Cohen, and every day she pushes vegetables further than anyone else in the world. Their menu changes regularly in a beautiful open kitchen setting.
38 E 19th St, New York, NY 10003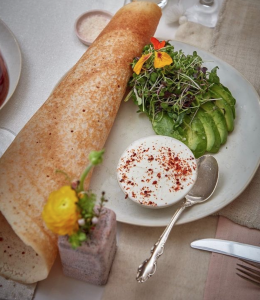 This is definitely a more upscale vegan/vegetarian spot. Jean-Georges Vongerichten's first meat-free venture is one to not miss though if you are a foodie and want to experience something unique. Each menu arrives with a chart that details the health benefits of various vegetables. One of the most popular items on the menu are the dosas.
130 E 7th St, New York, NY 10009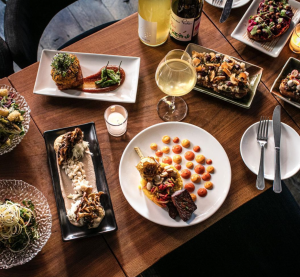 Avant Garden opened its doors in 2015 in the East Village. Since then, they have been creating delicious plant-based options. Addtionally their 28-seat space with a petrified-wood counter and raw tree branches above an open kitchen are not one to miss. Pair a quartet of toasts topped with items like crimini mushrooms with the house-made spaghetti and sip beer, wine and cider.
Various Locations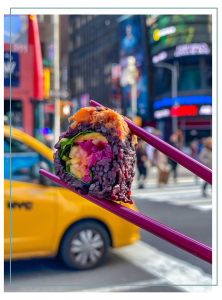 If you are looking for some vegan or vegetarian sushi, Beyond sushi is definitely a spot to check out. Beyond Sushi in New York City's leading vegan restaurant chain, reimagining plant-based food one plate at a time. They are a vegan and kosher haven, known for our unconventional sushi, globally inspired flavors, and indulgent desserts and cocktails. They have five locations across Manhattan, offering up full-service dine-in, takeout, and delivery options.
185 Bleecker St, New York, NY 10012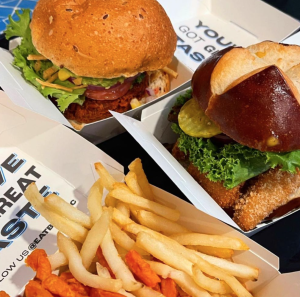 Beatnic was once known as By Chloe. but was rebranded by the owner after a legal battle.  They have a ton of options on their menus from began burgers, salads, sandwiches, chicken tenders, mac and cheese, and fresh juices! Of course all vegan or vegetarian. The reason this spot is so popular is that you can find healthy options but if you are craving some junk food, they have that too!
15 W 27th St, New York, NY 10001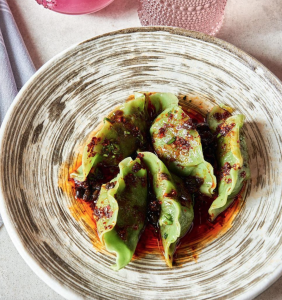 Led by Founder and CEO Steven Salm and Co-founder and Executive Chef David Lee, PLANTA was born in 2016 to expand the accessibility and acceptability of plant-based dining; dining as it should be an unguilty pleasure. PLANTA puts Asian fare on the table with a food menu is divided into five sections sushi, chilled & raw, dumplings, small plates, and wok & noodles. Additionally, the cocktail menu incorporates a variety of fruity Asian flavors as well, like the Herb Your Enthusiasm, made with thai chili-infused tequila; Lych Please, made with hibiscus-infused gin and lychee liqueur; and the Kombucha Mojito! 23.
581 Hudson St, New York, NY 10014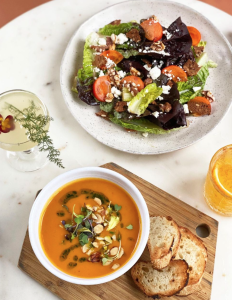 The Butcher's Daughter is a plant-based restaurant, cafe, juice bar and "vegetable slaughterhouse." They treat fruits and vegetables as a butcher would meat hence the name. They constantly change their menu, serving breakfast, lunch and dinner, is 100 percent vegetarian and non-dairy. The cafe was created in 2012 by Heather Tierney, who also owns cocktail bar Apotheke. Soon after opening, this place became immensely popular.
Various Locations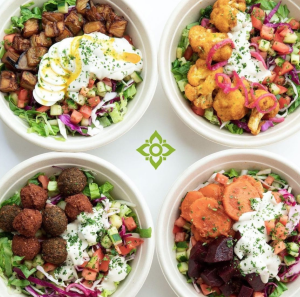 Taïm is a legendary West Village falafel spot that pretty much everyone in this city has been obsessed with for a decade. A falafel sandwich at Taïm is the best thing that you can get in New York City for less than $10. They have 3 locations in NYC. Oder a falafel sandwich or a sampler platter, and you won't be disappointed.
122 E 7th St, New York, NY 10009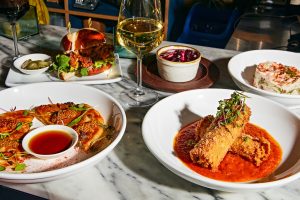 Cadence is a new soul food spot from vegan restaurant group Overthrow Hospitality. At Cadence, the simple menu from executive chef Shennari Freeman manages to hit all the spots. They are popular for their redefined classics like Southern fried lasagna with red wine "Bolognese" and pine nut ricotta; a fried Buffalo oyster mushroom sandwich enclosed in a pretzel bun; expertly seasoned smoked grits; and a housemade fruit cobbler. Addtionally, the wine menu features bottles from Black-owned wineries too. They are located in the east village.
Various Locations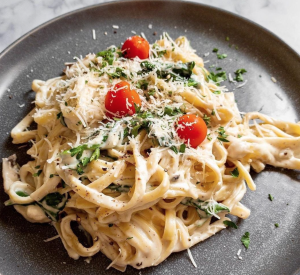 Blossom is a vegan restaurant group in New York City that was established to creatively bring vegan dining to a fresh, new and delicious level. Starting in 2005, they bring animal-caring, health-conscious cuisine to food lovers everywhere. They have two locations. One in Upper West Side hub with a full-service bar and a newer Greenwich Village eatery. The menus span several categories of cuisine, the atmospheres lean toward classy.
111 E 7th St, New York, NY 10009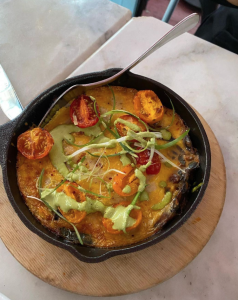 First opened in 2016, Ladybird is a tapas and wine bar—a convivial environment for dates and good conversation. Ladybird offers an assortment of small plates to enjoy if you're interested in eating something on the lighter side. Try their popular Buffalo Maitake Buns and our Fondues! Yes, they are vegan too and absolutely delicious.
328 E 6th St, New York, NY 10003
This Szechuan restaurant is the perfect spot if you are a fan of spicy Chinese food. Spicy Moon is located in East Village. With spicy grilled eggplant, dan dan noodles, dumplings, you have a ton of options to choose from.
12 E 32nd St, New York, NY 10016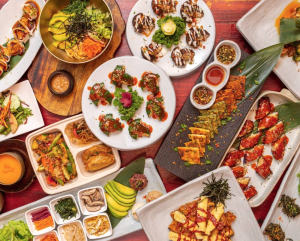 HanGawi is a vegetarian restaurant that aims to incorporate traditional Korean vegetarian dishes into Western culture. If you like Korean food or are looking for a place with a lot of flavors, definitely check them out.
41 E 11th St, New York, NY 10003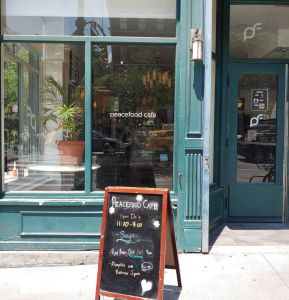 This vegan gem is located in the Upper West Side. This is a great spot to stop by for a healthy and delicious lunch. They have salads, sandwiches, soups, and more. They also have a bakery section that is fully vegan. If you are stopping by with the little ones, they also have a kids menu to choose from.
405 E 6th St, New York, NY 10009
Caravan of Dreams was founded by Angel Moreno in 1991 as the place where the Spanish expat could combine his passions for food, health, music, arts, and community. Since then it has served the East Village with all organic, all vegan, kosher verified, and extensive live food options, plus a fully stocked bar, nightly entertainment, and occasional educational seminars and events.
Built plank-by-plank and brick-by-brick by Angel, Caravan of Dreams became the vanguard of a new mode of living, and has since become one of the established stalwarts of the East Village scene and a symbol of the Zeigeist. Their menu is filled with vegan options from salads, sandwiches,  paella, ravioli, and so much more.
5 Mott St. New York NY, 10013
Situated in the heart of Chinatown, Buddha Bodai has been serving magnificent vegetarian meals since its inception in 2004. Buddha Bodai is committed to achieving and maintaining the delicate flavors of China's deep culinary history. Chef Dong has been doling out plant-based versions of Peking duck, turnip cake and vegetarian sesame chicken for over 45 years so this place is definitely not one to miss!
50 Washington Square S New York, NY 10012
NY Dosas is a very well-known street vendor in NYC. This Washington Square food vendor usually has a long line of eager, hungry customers who love their food. The Indian food truck specializes in all things crunchy dosas that are 100% vegetarian.  If you are in the area or park, stop by and enjoy a dosa!
250 Broome St New York, NY 10002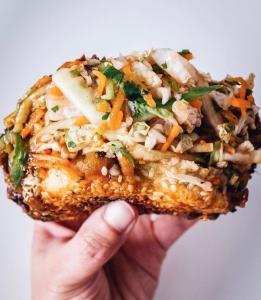 Fat Choy is the type of Chinese food spot that is a fast-casual one that focuses on a variety of small plates. There's a play on the sloppy Joe made by stuffing mushroom ragu inside a sesame pancake, as well as salt and pepper cauliflower and sticky rice dumplings that are so unique and full of flavor. They also have rice rolls, a green salad, smashed cucumber and more.
81 Warren St New York, NY 10007
Vegan burgers are a huge craze right now. Lekka burgers are made with only whole, natural ingredients including portobello mushrooms, cannelloni beans, onions, fennel, and garlic. The burgers contain no soy or gluten, and require no added lab made flavors or vitamins to be wholesome and delicious. This is Amanda Cohen's follow-up to Dirt Candy. The menu also has salads as well as several vegan milkshakes or soft serves.
1084 Flushing Ave Brooklyn, NY 11237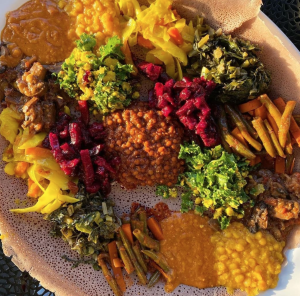 Bunna Cafe is a Bushwick staple. Since 2011, Bunna Cafe has been curating Ethiopian-themed food and music events around NYC. In February 2014 they finally opened up their first brick-and-mortar restaurant on the heels of an inspirational Indiegogo campaign. If you are looking to try something unique and new, Bunna Cafe would be right up your alley. Sample the family-style platters or the red lentils in berbere sauce, mashed split peas simmered with tomato, and a chickpea stuffing with kale.
Updated April 7th, 2022