Things To Do In Journal Square
Journal Square is a business district, residential area, and transportation hub in Jersey City. It got its name from the Jersey Journal newspaper, whose headquarters was located there from 1911 to 2013. The "square" itself is at the intersection of Kennedy Boulevard and Bergen Avenue. The broader area extends to and includes Bergen Square, McGinley Square, India Square, the Five Corners, and parts of the Marion Section.
Prior to its development as a commercial district, Journal Square was the site of many farmhouses and manors. Today, Journal Square has a ton of history but is also a very upcoming area with restaurants, shops, and more.
Parks
Lincoln Park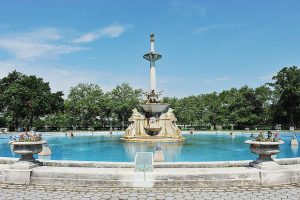 Located at Westside Avenue, this beautiful park is one of the largest in Jersy City. It is close to Journal Square. It spreads across over 250 acres of green parkland and offers twenty-one tennis courts, a golf course, and several sports fields. In addition to that, there are baseball diamonds, basketball courts, handball and racquetball courts, and a running track.
You can enjoy jogging, walking or cycling. It even has a pond for recreational fishing! What's more, there are three playgrounds suited for children of different ages and lots of slides and climbing frames.  Vast picnic areas and beautiful scenery make this park an ideal place for the whole family to enjoy.
Restaurants 
810 Newark Ave Jersey City
Indian eatery with a lunch buffet also serves authentic Northern-style fare by the plate. Rasoi is a favorite for a lot of the locals. They have a lunch buffet and a vast dinner menu that is just mouth-watering. The most popular menu items include garlic naan, chicken tikka masala, chicken makhani, lamb kebabs, and samosas.
795 Newark Ave, Jersey City
Mithaas has been around for a long time in Jersey City. It provides a sleek and casual ambiance serving a ton of Indian snacks and sweets that everyone enjoys. Mithaas only serves vegetarian food so keep that in mind before visiting. They are known for their delicious Indian fast food and variety of sweets. Don't forget to try their yummy chaat, pao bhaji, masala dosa, chole bhature and pani puri.
737 Newark Avenue Jersey City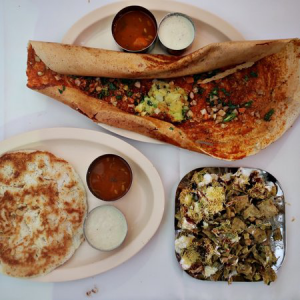 If you are looking for some amazing authentic south Indian cuisine you have to stop at Sapthagiri. They do offer northern and southern Indian food but their giant dosas are worth trying! They only have vegetarian options. Additionally, they use only the best fresh ingredients and it's definitely one of the places you will receive an authentic Indian taste and ambiance.
213 Sip Avenue, Jersey City
This is a hidden gem. It is located in the Journal Square neighborhood and is close to the JSQ PATH station. Taqueria Mi Mariachi makes classic authentic dishes like tacos dorados, chilaquiles, tamales, fajitas, and lots more. Additionally, they also offer catering.
665 Newark Ave, Jersey City, NJ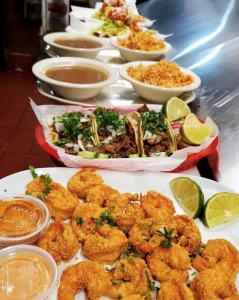 Mezcal Kitchen is a must-try when it comes to Mexican food. They have it all from tacos, burritos to delicious fish mains. The owner of Mezcal Kitchen grew up in Mexico City and wanted to bring a piece of it here. This fun spot near not only has fantastic food, great drinks, and a DJ, but they also have mariachi.
586 Newark Avenue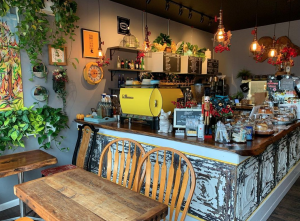 Cafe Peanut is a funky little place located in the heart of Journal Square, Jersey City. Dedicated to quality, the charming artistic cafe is the closest to Coffee Heaven you will get. Their yummy coffee is locally hand-roasted in small batches, blending and creating a never-ending passion for exploration.
Come on in and try their famous House Made Rose or Lavender Latter while being surrounded by a relaxing and friendly atmosphere.
741 Newark Avenue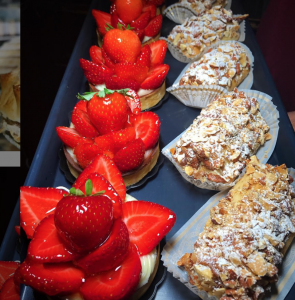 This bakery has been running for 60 years! Monteleone's Bakery has been a staple of the Jersey City community. They have a ton of delicious baked goods from bread to delicious pastries that are definitely not one to miss in Journal Square.
Other Activities

This massive art warehouse located in Journal Square is home to an in-house museum as well as workspaces for local artists and studios. Additionally, there are many events and exhibitions that occur at this space throughout the year featuring contemporary and visual art shows. MANA Contemporary Art Gallery in Journal Square has occasional open houses with a kid's room, and is open to the public Saturdays and for select tours during the week. While younger kids may just like to run around, older kids may enjoy some exhibits. There are a ton of other museums for all ages around the area as well.
54 Journal Square Plaza
If you've never stepped inside this historic and ornate theater in Journal Square, you're definitely missing out. This theater, which opened in 1929 as one of Loew's Corporation "Wonder Theaters". Check their website for special events throughout the year. You won't regret a visit! See their full calendar of events here.
India Square
India Square, also known as "Little India," is a commercial and restaurant district in the Journal Square and Marion Section neighborhoods of Jersey City. If you are looking for a taste of India, you have it right here in Jersey City. One cannot miss the abundance of Indian restaurants with delicious food and Indian sweets. Shopping in Little India is also a unique experience by itself. There are a ton of grocery shops where you can buy a ton of Indian groceries and goods. Addtionally, there are some great shops for traditional Indian clothing, gifts, and jewelry.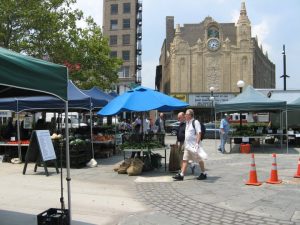 The Journal Square Green Market began over two decades ago. Their mission is to bring fresh fruits and vegetables from the farmer's fields to your table. They operate every Wednesday and Friday from 2:00 pm until 8:00 pm starting May 27th to December 23rd. They are across from the historic Jersey Lowes Theatre next to the PATH station. you can find organic fruits and vegetables from local producers such as Ort Farms and Alstede Farms. More information here.