Things To Do In Bergen-Lafayette
Bergen-Lafayette is a hidden gem in Jersey City. It lies west-southwest of Downtown and Liberty State Park and was the earliest as well as the first permanent settlement in the state of New Jersey. It was named after Marquis de Lafayette, a French aristocrat and military officer who fought on the American side during the Revolutionary War. As its name implies, it's a collection of blocks with a zig-zagging border. It includes Bergen, Beacon, Bergen Hill, Communipaw, The Junction, and Jackson Hill. The "Bergen" portion roughly corresponds to the former town of Bergen City, which existed from 1855 to 1870. In 1870.
Bergen-Lafayette is a ton of upcoming restaurants, shops, bars, and more that you can explore. Therefore, we have created this guide to help you explore this neighborhood.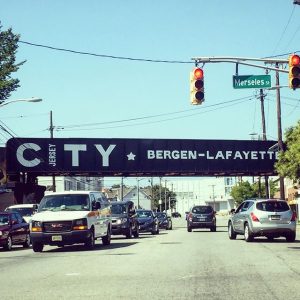 Parks
Liberty State Park

This gorgeous historic park is one of the largest Jersey City parks and playgrounds. It boasts a beautiful, unobstructed view of the Statue of Liberty and Manhattan. What's more, it's connected to Ellis Island by ferry so you can enjoy the short trip while you're there. There are ample grassy areas ideal for picnics and barbecues, not to mention a two-mile riverside promenade with plenty of benches along. If you don't have time to plan a perfect family trip, this park is an ideal place to spend an exciting day for the whole family.
Whether you prefer jogging, hiking, or skating, this park has it all. And of course, it features gigantic playgrounds for children of all ages. Multiple climbing structures, bouncy bridges, and low-sloping slides, as well as a giant sailing ship with a prow and lookout post, will keep the younger children happy and occupied. For older children, there are tunnels, rock climbing walls, and winding slides. It offers multiple activities for every season. What's more, there's a Science Center for children to explore and learn.
Berry Lane Park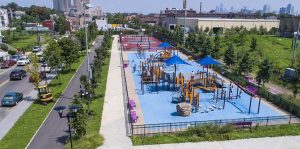 Located in the Bergen-Lafayette part of the city, this park isn't only one of the newest Jersey City parks and playgrounds, but it's also the largest municipal park. If you love being active and doing sports, this one has a lot to offer. There are two basketball and two tennis courts as well as a soccer field and a baseball diamond. Bike paths are great for cycling enthusiasts. Vast green areas and six hundred new trees are ideal if you're looking for some peace and rest from busy city life. It has a great splash pad, one of the most fun places in outdoor parks in Jersey City.
Arlington Park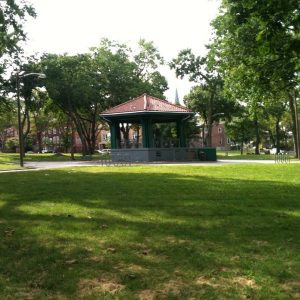 This beautiful park, situated in Bergen-Lafayette, is a peaceful oasis in the urban environment. You can enjoy walking, hiking, and jogging here. Beautiful scenery will soothe you and enable you to get a breath of fresh air when you need it. Whether you enjoy a solitary and relaxing walk or a fun picnic with the whole family, this park is a great place to visit. Also, it's a dog-friendly park, so it's a good idea to take your pet for a walk and a frisbee game.
Restaurants 
339 Communipaw Ave #4072, Jersey City, NJ 07304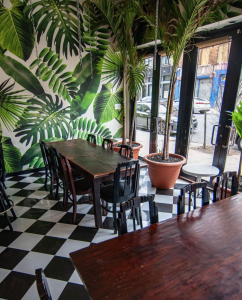 Harry Daughter is a gastropub in the Bergen-Lafayette neighborhood of Jersey City. Threading a fine line between relaxed and refined, the Food elevates the flavors of Caribbean home cooking in unique and thoughtful ways, and for the drink menu, tropical flavors with the latest trends in cocktails. The decor is stunning with the hanging chairs, lush tropical wallpaper, and lots of plants. Additionally, they have a vast sizable bar with many drinks options, but their tropical cocktails are a must-try, especially their best-selling rum punch. This is the perfect spot for dinner in Jersey City. Addtionally, in the summer they have outdoor seating and live music.
320 Communipaw Ave., Jersey City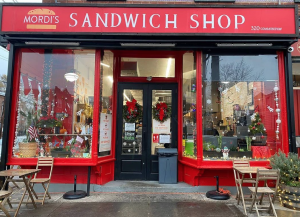 Mordi's Schnitzel Truck opened in April 2014 out of the love of two things—Israeli street food and Jersey City. Both the food truck and the shop have a simple but important goal: to provide excellent customer service and quality homemade food from the freshest ingredients possible. If you want to enjoy delicious sandwiches, wraps, burgers, schnitzel, and salads, stop by Mordis. They also have a kids menu.
318 Communipaw Ave, Jersey City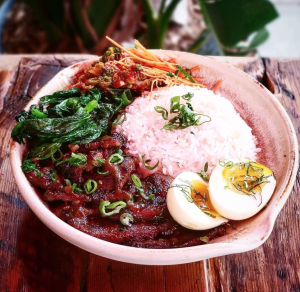 Pinwheel Garden is a FAMILY-owned Restaurant dedicated to serving REMIXED Asian-American food from scratch, bringing together authentic flavors and ingredients from different cultures around the world including Taiwan, Japan, Korea, India, China, Indonesia, Thailand, Italy, France, and America to name but a few. They have a ton of delicious lunch options like their unique dumplings, spicy Thai basil fried rice, kimchi ramen, mushroom drunken noodle and more!
360 Communipaw Ave, Jersey City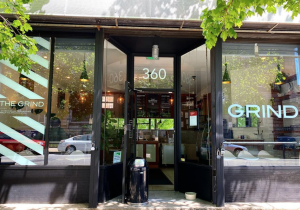 If you're a coffee-lover, The Grind Shop is the spot to check out. This chic coffee shop serves up La Colombe Coffee and offers a range of delicious selections of pastries. Additionally, the Grind is open seven days a week and is definitely a spot to check out for a quick pick me up when you are in the area.
467 Communipaw Ave, Jersey City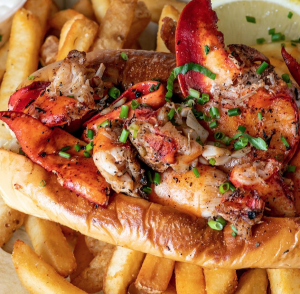 Hooked JC Seafood Restaurant is the perfect spot for seafood lovers.  Catching fresh fish daily, they are able to bring you seafood favorites with a twist to this B.Y.O.B. restaurant. This one is a must-visit because they have a ton of options for everyone. No matter what you pick, you'll get a fresh and delicious meal with a menu that rotates seasonally. Whether you want a full fish or a lobster roll, they have it all.
370 Pacific Ave, Jersey City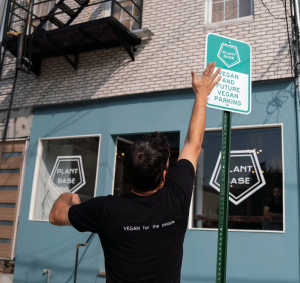 A new animal-free and waste-free business have come to Jersey City! Plant Base has a selection of great vegan food options as well as coffee, juices, and more! In our effort to reach a truly zero-waste goal, they offer a rotating lunch menu that ensures all of their fresh produce will not go to waste. Plant Base is a very unique concept by owners Dhruva LaTorre and Andy Hertz.
237 Randolph Avenue, Jersey City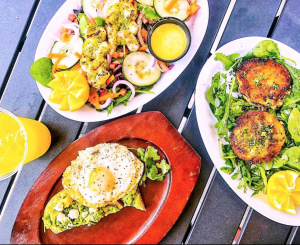 Light Rail Cafe is an American restaurant offering lunch and dinner. Their menu items include delicious wings, burgers, wraps, pasta, and more. It is open seven days a week and is located right off the Garfield light rail stop.
74 Maple St, Jersey City, NJ 07304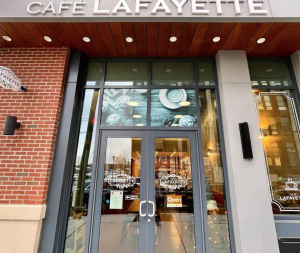 Cafe Lafayette is now open at 74 Maple Street. The cafe offers breakfast sandwiches, omelets, breakfast toasts, pastries, salads, and lunch sandwiches. It will also feature made-to-order smoothies + cold press juices to provide some fresh and healthy options.
Other Activities
321 Communipaw Avenue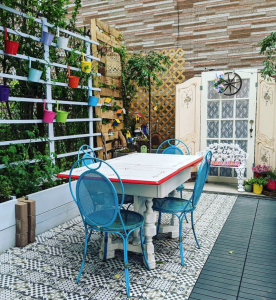 Luna De Papel is the perfect spot to head to for some kid-friendly fun! They offer art classes, after-school programs, mommy and me classes, and more. Luna de Papel is a crafting workshop that offers crafting and DIY classes and workshops for adults and children of all ages. It is a place where all can test the bounds of their imagination in an environment they enjoy.
222 Jersey City Blvd, Jersey City, NJ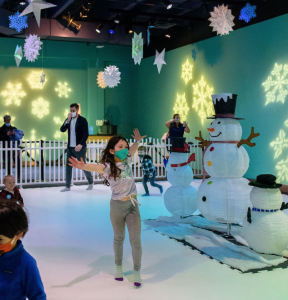 Liberty Science Center is the number one stop to cheer up and do something fun on rainy days. It is filled with literally more activities than you can do in the course of a day.
The Planetarium here is the biggest one in the Western Hemisphere. They also show films and shows for all ages. Some of the best attractions in the Planetarium are trips into space with a Sesame Street character, taking a look into the black hole in the middle of the Milky way, learning about asteroids, and numerous showtimes and films like Planets Tonight. The ticket price is $22.75 for adults, and for children ages 2-12 is $18.75.
And, the Planetarium is just a part of this enormous center. Little ones also love a mini aquarium and zoo with mole rats, lizards, and tamarinds. Furthermore, everyone is welcome to play with blocks of all shapes and sizes and dig for Dinos outside.
Ocean Avenue & Arlington Avenue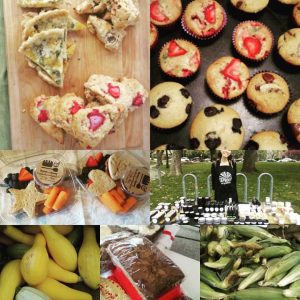 Arlington Farmers Market is a great market to check out that runs from June to November. The market is a lot smaller than others in Jersey City but they always have great local produce, fresh fruit, prepared foods, spices, crafts, jewelry, music, and more! It is every Saturday from 10am-2pm.
303 Van Horne St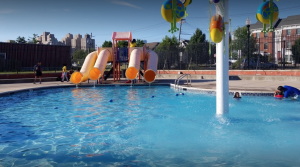 Lafayette Pool's location is very convenient to downtown Jersey City and Liberty State Park. The pool offers a kiddie pool with water features and a slide, a larger pool, and a snack stand. The center is open until September 9th, Monday – Friday, from 7 am – 7 pm. (7 am -9 am for adult/lap swim only, 9 am – 10 am for free swim lessons for kids, and 10 am – 7 pm for everyone). Weekend hours are 10 am – 6 pm. This pool is open only to Jersey City residents. It is right on Van Horne Street between Johnston Avenue and Maple Street.
511 Communipaw Avenue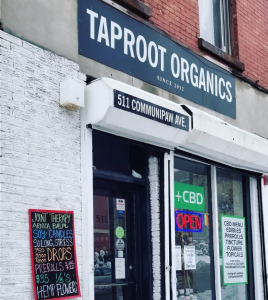 Looking for some self-care and chemical-free skincare products? Taproot Organics is the go-to shop! The store features handmade shampoos, soaps, candles, body butter, face scrubs, and other beauty products. All Taproot Organic products are made using organic ingredients and all-natural products. They also carry a line of high-quality CBD products. Taproot is open seven days a week.