Family-Friendly Spring Break Activities In New Jersey- Family Vacation Ideas
Blossoming trees in the neighborhood and parks, green grass, birds chirping – spring is her. It's time to get ready for some spring holiday fun. Some people find staying at home with their families and enjoying quiet time an ideal option. Others think that having a family vacation is a must. If you belong to the second group, here we are to help you plan some trips and spring holiday adventures for your family. Plan out some tips for stress-free holiday travel and get ready to love the vacation. Here is our pick for Family-Friendly Spring Break Activities In New Jersey.
2022 Spring Break In NJ – Family Vacation Ideas
Firstly, one of the best choices for your family's spring vacation is certainly NJ – the Garden State is ready to offer a variety of opportunities for the whole family to enjoy. From remote lodges to stay away from the crowd to beautiful urban areas where you can find several attractions for each family member. If you are a camping lover, don't worry – you can find some of the best places to go camping in New Jersey.
Having four distinctive seasons, NJ allows you to experience the spring with all your senses – beautiful views to rest your eyes upon, blossoming trees and spring flowers that bring the smell of irresistible freshness in the air,  hear the music of birds chirping in trees along the streets and parks. Depending on your family's likes, you can choose a part of NJ that can fulfill your wishes. Our family vacation ideas include NJ small towns, beautiful nature, zoos, and aquariums for the whole family to have fun and enjoy. 
Appalachian Ridge and Valley region
If you like mountains, rich green forests, and crisp fresh air, go to the Appalachian Ridge and Valley region in the northwest NJ, where you can find hills, mountains, and mountain lakes waiting for you to show you the wonders of nature. You can stay at inviting mountain resorts and organize your hiking trips with kids to get some majestic views.  Here are a few points among many that your family will enjoy:

This is where you can enjoy the scenic natural beauty. It is the point where the Delaware River flows through the Kittatinny Mountains, and along this valley, the children can watch dairy cattle and walk by apple orchards. It's an exciting spot to spend some time in before starting a climbing journey. 
This is the highest point of Kittatinny Mountain ridge. There are different routes to get to the top, so choose one that suits your family best. There is the shortest one for those of you who travel with toddlers. 
It is simply a lovely spot to walk to, sit on the beach, have a family picnic or visit a Nature Center.

Cute little towns
Small towns are natural pearls that NJ treasures, and they seem to be ideal for family vacations. Each of them offers something unique to keep in your memory as they mirror the cultural diversity of NJ. Here are just a few of the many towns you can visit for the coming spring holiday. They are ideal destinations if you travel with a baby. You might need to, of course, you a few more things for the trip, but you can invest some time to pack and organize your baby's room and then enjoy your family vacation trip.
If you are looking for a town with quite a few attractions that can be fun for both you and your children, Haddonfield is a good choice. The children will love a story about the Hadrosaurus foulkii, one of the best-preserved and virtually completed dinosaur skeletons found in 1858. An excellent place to visit is also the Indian King Tavern Museum, where NJ became a state.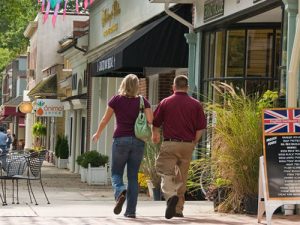 It's worth checking out the Newton Fire Museum  – the children love it, or Spring Street Art Center. In tune with the fun fact that New Jersey has the most diners globally, there is no doubt that you will find one or two restaurants to your taste. 
This town allows you a time travel 19th century as it is a historic town with hundreds of houses and buildings from that period, which adds an irresistible resistant charm to its beautiful, scenic parks ideal for a family walk and photo sessions. 
It carries the title of one of the family's friendliest towns. It's charming and fascinating because of its tradition of porch parties that are organized weekly – neighbors take turns to host small parties on their porches. It is also one of the best-preserved 19th-century villages. If you want to take a fuller glimpse into the past, you can walk down the streets, find a cute restaurant and enjoy a family breakfast. You can finally treat yourself and your children to a book or two – visit a Cranbury Book Worm bookshop.
This small town is ideal for visiting during your spring vacation. You can imagine from its name that the highlight will be a stunning view of blossoming cherry trees. Here are some more places to see cherry blossoms near Jersey City. Cherry Hill also offers attractive historical and educational content. Additionally, there are several spots one must visit there: Croft Farm. This historic center has transformed the art center, the Garden State Discovery Museum, the Barclay Farmstead Museum, and Goodwandst Museum and Education Center nearby.
Zoos and Aquariums
These places are family-friendly and guarantee fun for the whole family. 
Check out a few  zoos:
And some aquariums: 
Amusement Parks:
Diggerland Construction Theme Park
Every season in New Jersey has something unique to offer, but spring seems to provide just a bit more. So have fun with your family and enjoy your NJ adventure. 
Updated March 22nd