Winter Activities for toddlers/kids in Jersey City and Hoboken
Winter Activities for toddlers: It is wintertime and many parents are wondering how to spend some quality time with their children now that it is freezing outside. But if you live in Jersey City or Hoboken, you are lucky since these places offer so much indoor fun for just about anyone. So, take a look at our list of indoor places for kids in Jersey and Hoboken and get ready for new family adventures with your little ones.
Indoor activities can be even more fun than the outdoors
Spending time outside is great, but that is not always an option, especially not in urban areas such as Jersey City and Hoboken. Don't get us wrong, the two places offer many activities for playing outside, but, there are even more options indoors. Plus, there are some cases when the circumstances are such that you'd better stay in. For instance, taking your kid to a museum on a windy day is so much smarter than taking them to the park. Or, if you are in the middle of a home renovation or relocation, while professionals are transporting kids' toys in Hoboken, you can take your little ones to a kid-friendly place that is nearby your new home.
You can take your little ones to the kid's gym
The awarded gym called My Gym has some amazing programs for your energetic little ones. Even if you have one-and-a-half-months old, you can come here and do some guided exercise with him/her. The upper age limit is 10 years. The professional trainers and other staff will do their best to have your child entertained through structured, age-appropriate activities. They often include music, dancing, and all sorts of games. Children practice their strength, balance, agility, coordination, and flexibility while being social with others. Through all those activities, they gain self-esteem and confidence. Isn't these great winter activities for toddlers

Take your kids to a swimming pool
Why would you wait for summer when you can have so much fun at the indoor swimming pools or waterparks? Pershing Field Pool is open all year round and families can stop by for an open swim from 7 am to 8 pm on weekdays. Their working hours during the weekend and holidays are from 12 pm to 6 pm. Other than swimming, your kids can also enjoy a children's playground with water sprinklers. There is one more swimming pool that you can visit any time of year – Newport Swim and Fitness'. Your kids can get swimming lessons there too.
indoor aqua parks might not be just around the corner, but they are worth an hour or two-hour drive, especially if you are looking for a way to spend an entire day having fun with your children.

Liberty Science is a great place for indoor activities
Liberty Science Center is one of the facilities that show why NJ is the best place to raise kids. Kids of all ages where to buy valtrex online will find their entertainment there. Exhibits and fun demonstrations will bring science closer to your kids and, through play, they will learn so much. If your kids are fans of space adventures, they will be thrilled to see the planetarium that is a part of the Liberty Science Center. And, did you know that Jennifer Chalsty Planetarium is the biggest planetarium in the Western Hemisphere? They have programs and activities for all ages. The best thing about this center is that their showtimes and films are often updated, so you can visit them several times within a season and you will always see something new.
Hudson Lanes – great fun for the restless ones
Hudson Lanes is a place perfect for cold winter or hot summer days when you would rather be indoors than outside. This might not be an appropriate place for babies and toddlers, but older children will enjoy it. Hudson Lanes are perfect for families who like to compete. You can even organize a birthday party for your child there.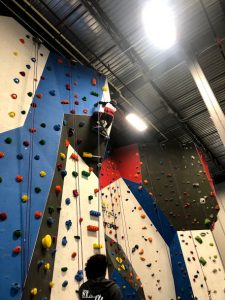 The Gravity Vault Indoor Rock Gym
One of the best indoor places for kids in Jersey and Hoboken is the Gravity Vault Indoor Rock Gym. If your kids tend to climb every single piece of furniture at home, then this is the perfect activity for them. It is so much more fun and far less dangerous than jumping around the house. There are climbing options for little ones, older children and for parents too.
Tiny Greenhouse
Tiny Greenhouse is an art studio for kids who are into painting and arts&crafts. The place is nature-oriented and environmentally friendly. They welcome kids who are 15 months to 8 years old and they offer a three-hour drop-off. Plus, they organize birthday parties! This is also an art event space for adults.
Hoboken and Jersey City Cinemas
Going to the cinema is probably one of the favorite indoor activities for children and their parents. A lot of parents like it more than they would like to admit. Luckily, both Jersey City and Hoboken have state-of-the-art cinemas that offer the ultimate watching experience.
Hoboken Historical Museum
Hoboken Historical Museum has many family-friendly events throughout the year. It is a great place for fun and education. If your kids like listening to stories, then you should take them to the museum on Thursday since that is a free storytime.
These were just some of the indoor places for kids in Jersey and Hoboken. Hopefully, you will have some memorable moments with your little ones at some of those places.

Author Bio: Angie Sims
Angie Sims used to work in the traveling industry for 6 years, and now she works in the relocation industry. For the last 3 years, she has been specializing in helping people with their domestic and international relocation. She is also a full-time mom and a part-time blog writer. From her own experiences, she writes about traveling and moving with children on her blog