Painting and Arts & Crafts Classes For Kids in JC and Hoboken
Art is a way of life; art has no limitations and connects people. There are so many distractions in today's world, like technology which is why art can be perfect to have your children focus and be more creative. So go, let's not limit our kids and start creating their imagination with papers, colors, and paint. Imagination can take you anywhere! Luckily, there are some great options for children in Jersey City.

Luna De Papel

Address: 321 Communipaw Ave, Jersey City, NJ 07304
Luna de Papel (paper moon) is a crafting workshop. They offer crafting and DIY classes and workshops for adults and children of all ages. It is a place where all can test the bounds of their imagination in an environment you can enjoy. They also have a ton of after-school programs.
Vibgyor Creations
Painting and Arts & Crafts Classes For Kids in JC and Hoboken
Address: 121 River Drive South, Jersey City, New Jersey, 07310
At Vibgyor Creations, they inspire artists of all ages to create and learn. Whether participating in a class, hosting an event, or servicing clients' creative and design needs, their highly experienced team provides outstanding service, experienced pedagogy, and individualized attention to detail.
ArtViva Events
ArtViva Events is a unique painting service established in 2018. They specialize in providing the ultimate Paint & Sip experience for all private and corporate events throughout Northern New Jersey and New York City. Have a backyard, patio, community space, or rooftop? Then look no further – they bring the Paint Party to you.
Panache Art Studio
Address: 280 Marin Blvd #6T, Jersey City, NJ 07302
A professional artist who runs painting, quilling, and craft classes with over 20 years of experience in art teaching. The classes introduce sketching and coloring; basic guidance on a scale, tone, composition, and perspective; and experiment with all art mediums. Classes are available on weekdays and weekends, which you can customize as per your availability and convenience.
Craft Monkey
Address: 201 Shearwater Ct W, Jersey City, NJ 07305
Craft Monkey hosts kids' birthday parties, art workshops, and art classes in private homes around Jersey City – Grove Street, Exchange Place, Port Liberte and Hoboken. Classes are specially designed for different age groups – they offer process art and sensory experiences for children between 2-4 years and drawing and mixed media art classes for children 5 – 9 years old. If you have a little artist or want your child to explore the amazing world of art, connect with them today!
Studio 585
Painting and Arts & Crafts Classes For Kids in JC and Hoboken
Address: 585 Jersey Ave, Jersey City, NJ 07302
Started in 2016 at 585 Studios, they offer a variety of classes for artists of all ages.
Tiny Artisan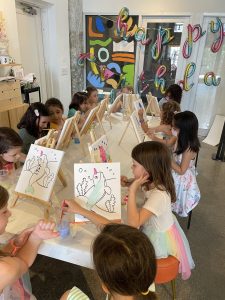 Address: 172 Newark Ave Jersey City, NJ 07302
Based in Historic Downtown Jersey City, Tiny Artisan is a uniquely small but large imagination process art studio dedicated to promoting creativity, discovery, and independent thinking. Guided by an out-of-the-box team of creatives, they fuse unique techniques to create the most exciting experience for kids.
Urban Arts at Monroe
Painting and Arts & Crafts Classes For Kids in JC and Hoboken
Address: 720 Monroe St, suite E206, Hoboken, NJ 07030
Urban Arts at Monroe, located in Hoboken, NJ, offers art classes for children and adults. They are committed to providing a creative and nurturing environment where students use the visual arts for self-expression and discovery. They also honor the creative potential of all students. In addition to quality art classes, Urban Arts curates student art shows yearly.
The Turquoise Cup

Painting and Arts & Crafts Classes For Kids in JC and Hoboken
Address: 155 6th St Hoboken, NJ 07030
Starting in 2009, the Turquoise Cup is a truly unique space. They are both an art studio and a cafe, living together happily under one roof. When you drop by The Turquoise Cup, you can enjoy a selection of locally baked goods, a fresh cup of coffee, or a creative adventure with one of their many DIY projects.
Pinta and Play
Painting and Arts & Crafts Classes For Kids in JC and Hoboken
Address: 1200 Park Ave, Hoboken
They specialize in activating creative energy in kids from Hoboken, Jersey City, and beyond – with classes designed for toddlers and kids ranging from 16 months to 13 years old. Pinta & Play, their popular Spanish-Art Mommy and Me program, introduces little ones to a combination of the Spanish language, art projects, and playtime – en Español – offered in both uptown and downtown Hoboken locations and downtown Jersey City.
PLAYDAY Hoboken
Drawing, Sculpting, Painting, Cartooning Art Classes for Kids in Hoboken
Address: 99 Park Avenue, Hoboken, NJ 07030
PLAYDAY
offers a variety of art classes led by your child's imagination and guided by knowledgeable, friendly, supportive staff. Each class exposes children to their creativity while supporting cognitive development, self-confidence, and problem-solving.
These art classes will help introduce your kids to the art world and boost their creativity. Jersey City and Hoboken have such fantastic art communities; these art & craft classes can build your kid's skills. You never know. You may be looking at a future Picasso! These after-school classes can fit perfectly into your regular schedules. Check out the local museums and libraries to boost your child's creativity even more. If you are looking for some more active classes, you can also check out the soccer, swimming, and tennis classes in the area.
Updated September 29, 2023