Kids' Theater Classes Jersey City & Hoboken | Activity Centers
Let your child step into the spotlight with one of these amazing theater classes! Theater has many benefits for your little one's development including communication skills, confidence, broadening the imagination, memory improvement, and concentration! You don't have to travel to New York to get your big break. There are several local classes that will give your child an amazing acting experience. To help you find the perfect fit, we've created a list of Theater Classes for Kids In Jersey City and Hoboken!
Jersey City Kids' Theater Classes

233 9th St. Jersey City
Phone: (201) 706-3025
Next Step Broadway's mission is to provide an environment where all ages and levels can experience the joy of expression through dancing, singing, acting & much more. Instructors will introduce the knowledge of technical, musical, creative, and performance skills, and will develop these skills for all levels! Additionally, they offer acting classes for children ages 6-9 and a separate level for ages 10 and up!

83 Wayne Street, Jersey City
Phone: (551) 220-8997
The Acting Space is a boutique premier Performing Arts Acting School providing the highest quality theater education in a fun, safe, and creative environment! They offer after-school and Summer Camp programs for any level! Students will master musical theater and acting techniques, song interpretation, and dance while building self-confidence in a collaborative, structured learning environment. Also, classes are perfect in size with a ratio of 5:1 allowing every student to get the help and attention they need from their professional instructor. They have several special offers available when you register!

148 1st St, Jersey City
Phone: (201) 918 6019
Art House Productions sprung from the desire to connect a devastated community through art and dialogue after the events of September 11th which makes it the perfect addition to our list of Theater Classes for Kids In Jersey City and Hoboken. Since then, Art House has established itself as a pioneer of artistic and cultural programming in Hudson County.
The Art House aims to engage, inspire, entertain and challenge audiences with highly intentional visual and performing arts programming; provide arts education to promote lifelong learning to diverse communities; and celebrate the essential power of the arts to illuminate humanity.
Hoboken Kids' Theater Classes

1018 Washington St, Hoboken
Phone: (201) 683-9100
The Garden Street School of the Performing Arts believes in the importance of the arts, not just for those who want to be professional musicians or dancers, but for everyone. They offer Acting Initiative which is a theater ensemble-based exploration of theater arts. See all of your favorite musicals come to life with your child on stage! Additionally, The Garden Street School of the Performing Arts offers musical theater classes!

1400 Clinton St, Hoboken
Phone: (646) 339-8485
Since 2002, the Hoboken Children's Theater offers year-round musical theater and acting classes for ages 4 through young adult and top-quality productions for the public at their 120-seat theater in Hoboken.

1400 Clinton Street,
Hoboken
Phone: (201) 683-7014
Mile Square Theatre was founded in 2003 as a non-profit professional theatre! Their mission is to enrich and engage the region through the production of professional theatre as well as innovative arts education. MST produces professional theatre year-round, including classes for kids and adults. You can search based on class type and age to find your perfect fit!
35 Journal Square Plaza, 4th Floor Jersey City
Phone: 201-503-6194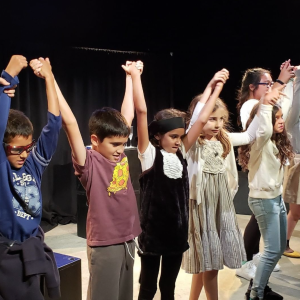 Speranza Theatre Company is a non-profit women's theatre company and a member of the New Jersey Theatre Alliance. Founded to provide an opportunity for artists, particularly females, to share their voices through entertaining and challenging theatre, Speranza presents professional theatrical performances, free readings of new works, and educational programming.
These theater classes are the perfect extracurricular activity for your child whether it's bright or sunny or if there's snow on the ground. Lasting memories and friendships are created on stage and as a parent, you get to watch your little one shine!
Updated Feb 7th, 2023