Nightlife in Jersey City
Nightlife in Jersey City doesn't have to be all about bars and clubs. At night there is the New York City skyline to admire, late-night eats to explore after the sun sets, and places to walk around in especially during summer. For an updated list of weekend activities, check out our weekend events blog.
Here are 10 places to visit as you take advantage of your nocturnal nature.
---
163 Newark Avenue, Jersey City, NJ 07302
It's in the name – a combination of bar and arcade with classic arcade games and crafted drinks, what else can we ask for? Barcade is perfect for late-night eats, drinks, and gaming because from Sunday to Thursday their kitchen is open until 11 pm, while Friday and Saturday until 1 am.

335 Newark Ave. Jersey City, NJ 07302
Best known for their tiki styled cocktails and serves progressive Asian American dishes ideal for sharing. This award-winning restaurant accepts reservations online. With a very warm and welcoming ambiance, people will surely enjoy. Cellar335 is ideal for a family dinner, friendly get together, or a party.
8 ERIE ST, JERSEY CITY, NJ 07302
Serving Asian-American, family-style dishes perfect for sharing located in the heart of downtown Jersey City. After having dinner, you can visit Miss Wongs, a not-so-hidden gem located beneath Talde. Miss Wongs is noted as one of Jersey City's few "true" speakeasies serving carefully crafted mixed drinks. Similar to Cellar335, Miss Wongs is also the perfect venue for a night out as well as private events.

20 Erie St, Jersey City, NJ 07302
Fulfill your late night craving for ice cream because Torico has extended spring/summer hours. With a wide range of flavors, you will surely enjoy. Torico is well known for having a variety of flavor all year round. From tropical flavors to winter flavors, they have them all. Whether you are looking to have a gelato, milkshake or an ice cream cake to celebrate a special occasion, you will find it at Torico.

150 Bay Str, Jersey City, NJ 07302
Speaking of creamy treats, there is also Bucket and Bay that serves some of the most complex and elegant handcrafted gelato flavors. They add their own original twist to gelatos for more mature consumers such as Black Label Vanilla and Bourbon Peach. They also have vegan sorbet flavors such as Pomelo, Lemon Thyme, and Mango Smoked Cardamom. Their hours vary closing at 10:30 pm on Sundays, Monday through Thursdays and 11:30 pm on Friday and Saturday.
All year round, the Hudson River Waterfront Walkway is the best place to see the New York City skyline. This walkway can be enjoyed any time of the day or night, either by walking or running, biking or scootering. The Hudson River Waterfront Walkway has many benches to sit on and is surrounded by restaurants. This stretch can be taken from Hoboken or Jersey City Waterfront.

34 Wayne Street, Jersey City, NJ
Pint is a bar rich in history and famous for its craft beer. Pint is a bar rich in history and famous for its craft beer. If you enjoy themed nights, Pint is the place for you. From Pintini Mondays, Free Rocketbot Tuesday to Big Saturday Night, parents will surely have a fun time. Pint is located one block from City Hall and the Grove Street PATH Station.

135 Newark Avenue, Jersey City, NJ
Opened in 2014, the three-story buy tretinoin cream restaurant includes one of the few rooftop spaces in the city, spanning an entire block with two full bars and dining. Porta serves weekend brunch until 4 pm and known to be one of the best late night spots – serving pizza until 11 pm. This family-friendly restaurant also gives people the chill weekend vibes after the kitchen closes.

195 Newark Ave, Jersey City, NJ
Here's another spot that can satisfy your craving for sweets that is also open late. Aside from freshly bakes cookies and warm crepes, they also serve other specialty desserts such as brownies, cheesecakes, ice cream, and shakes. This late-night spot closes daily at 11 pm and 2 am on Fridays and Saturdays.
1 Marin Blvd, Jersey City, NJ
Surf City is a waterfront vacation style bar and restaurant with incredible views of Manhattan and Liberty Island where you definitely get the best of both worlds. They have indoor and outdoor spaces, unlimited free parking spaces, and a 400-foot dock on the water for individuals who would want to pull up on their boat. Enjoy tropical frozen drinks and seaside appetizers at Surf City all summer long.

128 CHRISTOPHER COLUMBUS DRIVE
JERSEY CITY, NJ
Six26 is a Lounge and Rooftop for the LGBTQ community. They have a lounge and a beautiful rooftop right in the heart of downtown Jersey City. They offer delicious food and cocktails.
145 Newark Ave Jersey City, NJ
The Ashford is located right in the heart of downtown Jersey City. It is a spacious, warmly-lit stop with high ceilings offering New American fare plus cocktails, beers & TVs. They also have an extensive whiskey collection and super unique delicious cocktails. For the summer, the Ashford has opened their beautiful rooftop.

1 Exchange Place, Jersey City, NJ
RoofTop at Exchange Place is made up of multi-level indoor and outdoor spaces – The RoofTop and The Terrace. This cocktail destination tops most of Jersey City's must-see lists due to its stunning views of the Manhattan skyline, Hudson River, Statue of Liberty, Staten Island and beyond. The RoofTop provides year-round comfortable vibes with its retractable glass roof and walls which creates the perfect setting for lunch, happy hour, dinner, and sunset cocktails with a view. On the weekend, it turns into a day and night hot spot featuring live DJs.
One floor below, The Terrace combines its chic ambiance and uninterrupted views to provide Jersey City a new place to start their nights off – featuring spirited cocktails, a swanky self-playing piano and live entertainment on select weekends.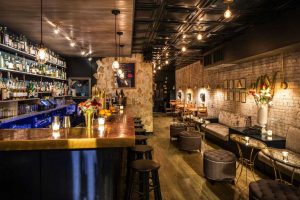 364 Grove St, Jersey City, NJ
Chill brick-walled bar serving unique takes on classic American dishes, plus an array of cocktails. Their cocktails are produced with the highest quality ingredients. Additionally, each evening they feature a daily shaken and daily stirred variety. They offer delicious bites like oysters, coconut crab buns, charred octopus, duck fat tater tots and so much more.

176 Newark Avenue, Jersey City, NJ
Rustic cocktail bar for classic drinks paired with a gamey menu of bar bites in dark wood digs. Archer also offers small bites while you enjoy their unique cocktail selection.
No matter the time or weather, Jersey City is filled with family-friendly options or places for parent nights out. As summer slowly approaches, be on the lookout for fun events for your family.