Free Summer Camps for Kids in Jersey City
Summer is quickly approaching, during which summer camps will be in action. Below, you will find Free Summer Camp for Kids in Jersey City, which are some of the best options for children of all ages, abilities, and interests. Although some of the summer camps we have listed are not free, we also shared inexpensive options available in Jersey City.
You can also find other Summer Camp options through our directory of summer camps serving Jersey City, Hoboken, and the surrounding areas. You will find a variety of camps that offer diverse activities for campers. To find enrollment, programs offered, and other information, please be sure to check their websites.
The City of Jersey City's Department of Recreation
The City of Jersey City's Department of Recreation organizes summer activities for all ages. They offer a variety of activities from summer camps to clinics. Be sure to check their website for when more information about Summer Camps become available. www.jcrec.recdesk.com.
To register in person, or for any registration assistance, please call the Recreation Division (201) 547-5003.
Boys and Girls Club of Hudson County
In addition to the afterschool programs for which Boys & Girls Clubs are known, they offer full-day camps during the summer. There is a variety of engaging programs under the supervision of adult professionals, including field trips to baseball games, water parks, museums, and other local attractions.
The Boys and Girls Club of Hudson County has summer programs specifically designed for children in Kindergarten – 3rd grade, grades 4-8, and teens ages 13-18.
Contact the Club here or stop by their Clubhouses in Jersey City and Hoboken to get registration information.
NJCU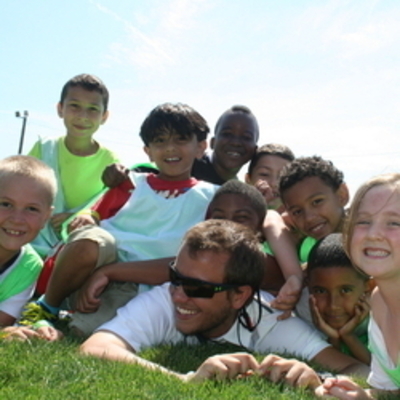 Learn! Play! Grow!
The NJCU Summer Camps are geared towards offering a rewarding experience for children.
The summer camp program by NJCU features facilities both indoor and outdoor, including an indoor pool, 3 hardwood courts, an outdoor athletic complex with collegiate regulation size soccer, softball, and baseball fields and private locker rooms. NJCU offers exciting activities such as swimming, team sports, arts and crafts, and relay/obstacle courses.
To find out more about upcoming events and summer camps, visit NJCU's website
here
.
Primary Prep
Primary Prep offers young campers a wide variety of exciting experiences. In their summer camp program, children are provided with opportunities to expand their academic, artistic, and athletic skills or simply to celebrate the summer season in a wholesome, nurturing environment.
STEM-based lessons are infused with daily activities, such as art, exploration, comprehension, and creativity to ensure a balanced day. For more information, click
here
.
Camp Liberty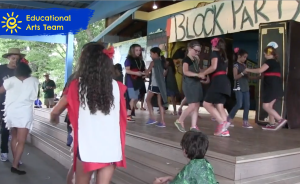 Each summer for over 40 years, EdArts' Camp Liberty's tranquil five acres have offered children a green sanctuary within an urban environment. Camp Liberty offers young people an outlet for artistic expression, a safe space to have social interactions, and structured activities for recreation.
The goal of Camp Liberty is to create a welcoming and safe environment using EdArts techniques grounded in the arts and social-emotional learning, to make positive and memorable experiences and in turn nurture personal growth.
Register here. 
Mosaic – Faces of New York Camp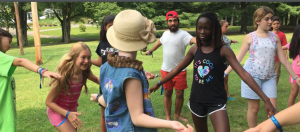 A Unique Free Summer Opportunity for 11- and 12- Year Olds
Summer 2023 Dates: Sunday, August 6 through Saturday, August 12
The New York Chapter's local MOSAIC program brings CISV's values of peace education and global friendship home to our own community – a one-week overnight camp for a diverse group of New York area 11- and 12-year-olds. The purpose of this free one-week residential summer camp is to provide a fun and safe environment for children to learn what it means to be a global citizen and live harmoniously with others – sharing resources and ideas.
Find more info at their website here
Team Wilderness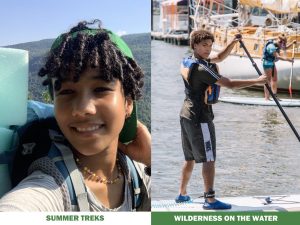 This summer they be running two distinct programs that both offer safe outdoor empowering adventures. For both programs they only have 12-15 spots per session so register today!
They partner with Resilience Paddle Sports to provide STEM infused adventures and teach how to kayak and paddle board while playing games on the Hudson River. They also learn about local marine life, how to conduct water quality tests, and climate change's impact on local waterways. Transportation to and from designated sites in Hudson County to the The Shipyard Marina in Hoboken is provided. Also provided: masks, sunscreen, and snacks.
Wearing a provided life preserver is required and youth do not need to know how to swim to participate.
Will update when dates and more information is announced! So check back for more details when they become available.
Summer Treks
Two weeks of empowering outdoor character-building adventures sessions are Monday through Thursday over a two week period. Each day we meet at Saint Peter's University at 8:30 a.m. and end around 2:30 p.m. depending on that day's trip. Trips include hiking, a yoga hike, and rappelling! Breakfast and lunch is provided for all students.
SESSION ONE
Dates: July 17-20 and July 24-27, 2023 (Ages 12-16)
SESSION TWO
Dates: August 14-17 and August 21-24, 2023 (Ages 13-18)
Summer Treks Registration
Full Registration: $915 (for household incomes over $100k)
Partial Scholarship: $475 (for household incomes under $100k)
Full scholarship: $55 (for household incomes under $70k)
Space is limited to only 12 spots per session, so do not delay registering.
It is always amazing to see just how many students are having a great time with their free summer camp for kids in Jersey City experiences. Most importantly, it is the benefits and the stories of the positive impact summer camps bring that really stand out. If you're a parent with a busy schedule and have a hard time finding the time to fill your kids' free time with activities and fun, why not send them to a summer camp? Sports camps, arts camps, educational camps, there's a summer camp for every child in our Summer Camp Directory.
Updated March 15th, 2023