20 Birthday Party Spots to Celebrate Your Kid's Birthday
Are you looking for a perfect place for party places for a kid's birthday? Birthdays are such an exciting event for a child and their parents, and we know how important it is to celebrate. In and around Jersey City, there are a ton of unique spots where you can celebrate and throw your child's birthday soiree with fun activities, cake, balloons, and more! Therefore, we have created this list of the 20 birthday party spots to celebrate your child's birthday.
My Gym Jersey City
252 9th St, Jersey City, NJ 07302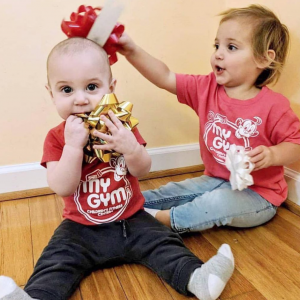 The Little Gym
380 Newark Ave Units 101 & 102, Jersey City, NJ 07302

Why are we among the top birthday party places for kids?  Named Best Gym Party by Parents Magazine, an Awesome Birthday Bash at The Little Gym of Jersey City gives your birthday kid and their friends the full run of the facility, filling the celebration with instructor-led games, music, and fun LEGO® building activities created especially for your birthday boy or girl. And you don't have to worry about setup or cleanup, making it totally awesome for you too!
Liberty Science Center
222 Jersey City Blvd, Jersey City, NJ 07305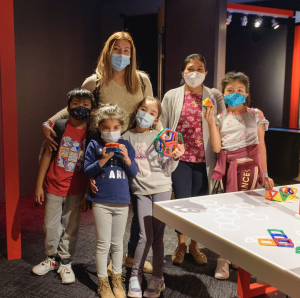 A visit to Liberty Science Center is the perfect way to spend your special day! Liberty Science Center is the perfect option if you are looking for something fun and educational for your little ones. Kids can take part in exploration tours, experiments, crawling through mazes, and more! They are also doing digital parties.
Luna De Papel
321 Communipaw Ave, Jersey City, NJ 07304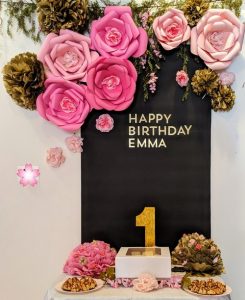 Step into a world of your greatest imagination for your next birthday party or private event. At Luna de Papel art studio, they offer an incredibly customized experience for your celebration or party. Ruth works very closely with families to gather a sense of the goals and desired theme for the event. Together they will help create a craft, decorations, a backdrop for your food and cake display, etc., which all bring the theme to life. Whatever your heart desires, we can help you make your dreams come to fruition! In addition to helping transform the space for your individual theme, they also provide plates, napkins, cups, utensils, and water. They can also help you create individualized invitations, thank-you cards, gift bags, and personalized water bottles.
Urban Jungle Play
1140 Maxwell Ln, Hoboken, NJ 07030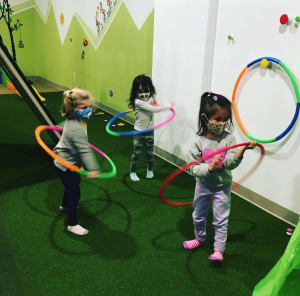 Urban Jungle Play is a fun venue for all the kiddos out there. They have many themes for your kid's parties, from art, music, storytelling, and more. Additionally, they offer pizza, cake, ice cream, and goodie bags for kids. Choice of 2 activities from various activities such as interactive storytime, bubble play/dance party, movement/jumping songs, obstacle course, or Birthday coloring sheet to be developed for your theme.
Tiny Greenhouse 
498 Jersey Ave, Jersey City, NJ 07302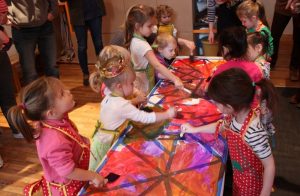 Looking for a fun and creative space to celebrate your child's birthday? DOES YOUR KIDDO LOVE BUTTERFLIES & BIRDS? ROBOTS? DINOSAURS? LEGOS? RAINBOWS? FAIRIES? ANYTHING!!! TINY GREENHOUSE offers 2-hour birthday parties just for you and your friends. Birthday parties held at the studio are for ages 2 and up. Based on your child's chosen birthday party theme, they will adorn our room with a handmade banner, balloons, and other decorations and develop two different art projects. One project is a collaborative art piece created by your child's friends. Each child will create their own masterpiece inspired by your child's chosen party theme for the second project. Isn't this a perfect place for party places for kid's birthdays?
Glitter and Glam
30 Mall Dr. W, Jersey City, NJ 07310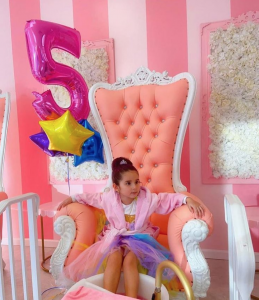 New Jersey's best girl spa party destination specializing in making every girl's dream come true via our themed parties and luxurious day spa services. Glitter and Glam are on a mission to build a generation of confident young children. Their relaxing spa services promote the development of self-care practices at an early age. At the same time, their fun-filled glam parties encourage body positivity and self-confidence. This is a fun spot to celebrate a girly birthday! They have a ton of packages to choose from.
Funzy Play
125 River Dr. S, Jersey City, NJ 07310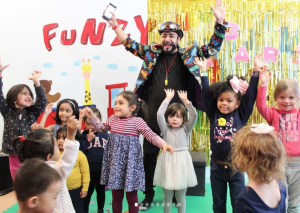 Funzy Play is a ton of fun for all ages! Royal parties have a maximum of 15 child and 20 adult guests since the facility remain open to the public. No charge for a child under 6-months-old. They also have some great packages. Your kiddos will enjoy a day filled with their jungle Jim, playroom,  interactive ball pit, and more!
ArtViva Events is a unique painting service established in 2018, where they specialize in providing the ultimate Paint & Sip experience for all private and corporate events throughout Northern New Jersey and New York City. Have a backyard, patio, community space or rooftop? Then look no further – they bring the Paint Party to you.
Tiny Artisan
150 Bay St. Jersey City, NJ 07302

Tiny Artisian wants to make this birthday just as special as you do! that's why they have curated birthday packages and party themes that'll make this celebration one to remember.
Email [email protected] for more information! The package starts at $550 for a 2-hour party with up to 10 children and 2 activities. The maximum capacity is 20 children.
Gymboree Jersey City
197 Van Vorst St., Jersey City, NJ 07302

Choose your child's favorite theme and we'll create a private, personalized party experience filled with kid-friendly activities guaranteed to be 100% fun with zero clean-up! They specialize in 1st birthday parties all the way through to 5th birthday parties. Gymboree Play & Music Parties are available to members and non-members alike. More information here. 
Tay + Te Imaginative Play
240 Pegasus Ave, Northvale, NJ 07647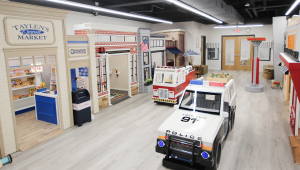 Imaginative play gives children an opportunity to express their feelings, encourages them to explore their surroundings, as well as helps ignite new learning. Therefore, Tay + Te is the perfect spot for kids of all ages. Tay+Te Imaginative Play is an indoor play space for children ages 0-6, focusing on learning through pretend play. In addition, they offer great birthday packages. Their modernized play structures are the first of their kind in Bergen County, from the Organic Market to the Pizza Parlor to a miniature-sized Convention Center!
Hudson Lanes
1 Garfield Ave, Jersey City, NJ 07305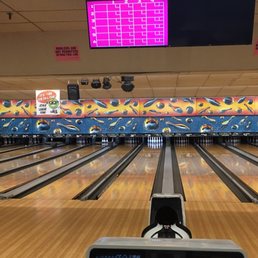 Strike! With over 60 Lanes, a full-service grill, and arcade games, your family will have a great time at Hudson Lanes! This is fun for all the kids and families! They will help you plan your party for the day and time you want, and they can customize YOUR party to fit the budget you have in mind. They have many different packages to choose from, including bowling, food, use of private party rooms, food for your adult guests, music, laser light shows, keepsakes for the birthday child, and more. Does this sound like a perfect place for a party for a kid's birthday?
Urban Air Trampoline & Adventure Park
69 Wesley St, South Hackensack, NJ 07606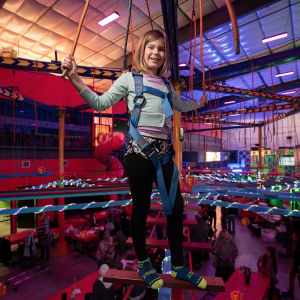 Urban Air Trampoline & Adventure Park is a year-round indoor amusement park! Take your next party into the stratosphere with the birthday party experts at Urban Air Adventure Park. They handle everything from setup and hosting to entertainment and cleanup. Their specialists get the work done, so all you have to do is show up and have FUN.
It's the perfect place for stress-free, indoor birthday parties for boys, girls, kids, and teens – anyone can have a blast here! They've got classic trampolines, climbing walls, basketball, obstacle courses, and more, so bring your birthday boy or girl and all their friends to bounce, climb, dunk, and play the day away. Whether you go with a Classic Kids Birthday Party package or want to make it extra special with their famous Glow Party, they go the extra mile to make your next birthday party special.
Monster Mini Golf
49 East Midland Ave Paramus, NJ 07652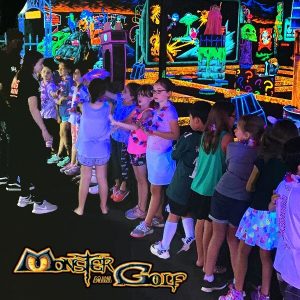 Monster Mini Golf is a unique and quirky type of family entertainment! We love their monster-themed décor featuring fun-loving, animated monsters. Additionally, they also have other activities like laser tag, arcade games, virtual reality, laser maze, and bowling that your kids can enjoy for their birthday party.
iPlay America
110 Schanck Rd, Freehold, NJ 07728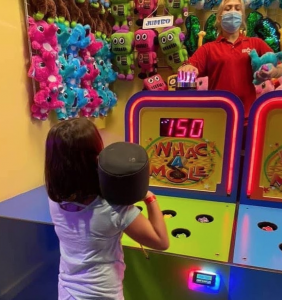 The entire atmosphere is energized by NJ's highest concentration of fun things to do indoors, like rides and attractions, all sized to fit in our nearly 4 acres of indoor family fun. iPlay America is where you can ride go-karts, the Kite Flyer, Skyscraper, Reverse Time, and play 2-level laser tag – all indoors, so the weather is never an issue. So create a memorable and insanely fun experience for your birthday child and their friends — with a simple and stress-free process. From unique party packages and special invitations to private party rooms and delicious birthday cupcakes, birthdays at iPlay America are guaranteed to be memorable.
iFlyWorld
211 NJ-4, Paramus, NJ 07652
Have a memorable birthday at it! Indoor skydiving is a safe experience. Each person in a group will fly next to a word-class instructor who personally guides them through the experience.iFLY BIRTHDAY PARTIES ARE GREAT FOR:
Kids, teens, adults, and seniors
Ages 3-103 (Seriously)
Beginner flyers (No skill required)
Small parties or large groups
Private parties with venue buy-outs
No need to worry about a backup party idea, iFLY ensures that your event will go on, rain or shine!