Birthday Party Resources For Kids in Jersey City
Birthdays are so essential for kids and parents, of course! Entertainment, the cake, food, goodies bags are all a must-have to have a special birthday for your little ones. Therefore, we've created a list of Birthday Party Resources For Kids in Jersey City to help you organize the most fabulous birthday party!
MAGICIANS:
Cisco, The Magician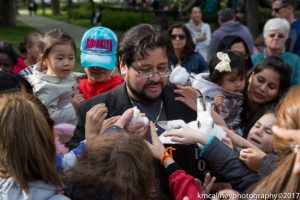 Cisco, The Magician, wows the crowd with the help of his furry bunny friends, Rosie and Snow Flake! He has a ton of different magic sets, and all your kids will be entertained for hours!
Contact Cisco to know more: 201-878-8483 or email [email protected].
You can also check out his FB page: Cisco, the Magician
Jorge G. Mirabal
With over 25 years as a magician, Jorge specializes in children's entertainment, close-up magic, stage illusions, Parlor magic, and escape artist!
Contact Jorge: 201-660-3185 –  [email protected]
Brian McGovern's Magic & Comedy Show

Brian McGovern is a full-time, professional magician who specializes in making people happy with magic! You can see what he offers for children's parties! So plan your kid's birthday party with these resources in Jersey City
Contact Brian:  646-435-4088  / Website: http://mcmagical.com/
Mickey Magic
Micky Magic (Mike Gomez) is a well-loved Professional Magician and Family Entertainer who has been entertaining thousands of children and adults for over 25 years. Micky Magic presents all kinds of events (School Assembly Shows, Birthdays, Communions, Graduations, etc.) in all types of venues (schools, homes, libraries, and senior centers.)
BALLOON ARTISTS & FACE PAINTERS:
Glo Baloon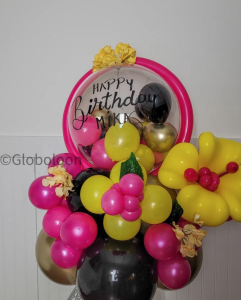 Glo Baloon is a small business that creates balloon arrangements for various occasions like birthdays, holidays, and more.
Revelry Co JC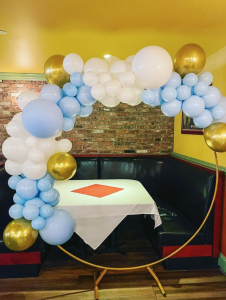 Revelry Co. JC creates beautiful balloon arches and party decor for your child. Email them for more information at [email protected].

SuperNovA
SuperNovA Balloons
is an entertainment company specializing in fantastic balloons, super cool face painting, magic, and music shows. They carefully transform balloons into characters like Spiderman, aliens, giant flowers, wonderful animals, and Wolverine claws! They also offer face painters, magician services, musicians, and more!
Art My Face by Cynthia
Cynthia provides face painting, cotton candy, snow cones and more for her services. Reach out to her on Instagram for more information or contact her at 201-982-5608.
Funny Faces By Jessica

Funny Faces by Jessica provides professional Face Painting, Stuff-a-Teddy Party, Glitter Tattoos and Sand Art for parties and Character Costumes in Hudson, Bergen, Essex and Morris County. Check out the events packages!
Contact Jessica: 201-220-5169 –  [email protected]

Face Art By Jan
Jan loves that her face painting talents can bring joy to families! She is available for Face Painting at parties or corporate events in NJ and NYC. She uses only the highest quality, hypoallergenic, FDA-approved products.
Contact Jan:  973-818-9793 – [email protected]

Bella's Face Painting
If you've spent time at the All About Downtown Street Fair you might have seen Bella's art! She's a true favorite in Jersey City and has a talented eye! You can contact Bella directly through her site.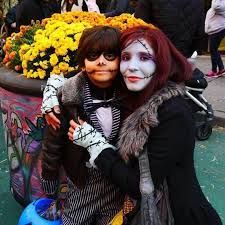 Sil's Face Painting
Sil's Face Painting offers professional and friendly services for children's parties, festivals, and events.
Contact Sil's: 201-344-7290 – [email protected]
MUSIC:

Rockness Music
Rockness Music
has supported the growth of young children through music for ten years! They are experts in the field of early childhood education and will now
teach
young ones as they grow from preschool to high school! It's also an amazing place to throw a
party
! So plan your kid's birthday party with these music resources in Jersey City

Bubble Queen Music
Award-Winning Songwriter ASCAPlus & Unisong,
Carol Lester's
material spans from children's songs with a Mandarin and French version of Twinkle Twinkle to easy listening, country, jazz, and rock! Carol founded ABC Sing With ME! Baby Toddler Music. She teaches and performs locally while writing and pitching music Nationally for TV Film and Artist Placement!
Contact: 551-358-2135

Rockasorri
Singer/songwriter, composer, and teacher, Michael Browne developed the Rockasorri Music program in 2012. Rockasorri is now offering birthday party services!
Contact: 917.658.0520 –  [email protected]
Ron Albanese Polka Dot
Ron Albanese Polka Dot was born out of a leap of faith! In 1999, Ron was the editor of an entertainment newspaper. While interviewing an aspiring singer, Ron found out that a local entertainment company was hiring people to entertain at kid's parties. Ron auditioned and has performed at thousands of events in backyards, schools, fairs, festivals, amusement parks, and many more places – entertaining children, and adults ever since!
Contact Ron: 201-927-6085 –  [email protected]
Cakes
Jam Cakery
Looking for cakes that are beautifully decorated and taste delicious. Check out Jam Cakery. They are a local bakery by a JC mom that offers cakes for all occasions especially birthdays for your kiddos. They also make a ton of treats for local coffee shops like Lackawanna coffee. You can order directly on their Instagram by sending them a DM. So plan your kid's birthday party with these cakes resources in Jersey City
Cocoa Bakery 
This awesome bakery can do both regular birthday cakes and cupcakes. You can completely customize the size, flavor, and shape of your birthday cake. Maybe your little girl is looking for a Minnie Mouse cake or you are looking to celebrate your little boy's first birthday with a #1 shaped cake, whatever it is, they can do it!
Milk Sugar Love
If your kid is looking for a unique cake and they also love their ice cream, look no further than Milk Sugar Love's huge ice cream sandwich cake! What is so great about this option is everything is organic, making it a safer and healthier option to feed your kids, family, and friends. This is a cool way to switch up their birthday cake making it one of the most welcomed cakes among kids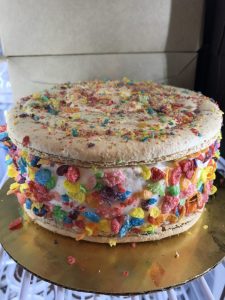 Carmen Rosa's Bakery
This bakery has been in business since 1999, and we can see why. Their cakes are delicious and beautiful. You can choose any cake flavor, filling, and frosting you would like and every layer can be different if you so choose. They do awesome children's cakes, which makes it one of the favorites among parents and kids equally.
Dulce de Leche Bakery
This bakery makes custom cakes and would be delighted to bake your little one's next special birthday cake. You can choose your flavors and your decorations and whether you want your cake covered in buttercream frosting or fondant.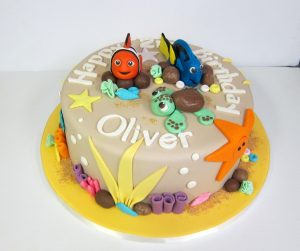 Sweet Bakery
With an endless amount of cake flavors and frostings to choose from, this place has a little something for both kids and adults alike. Maybe try their peanut butter cake with PB frosting and chocolate or vanilla cake! Sweet is a must-try!
The Hudson Cakery
These beautiful cakes from the Hudson Cakery are perfect for birthdays! You can choose from an array of beautiful and fun styles and they also have some amazing cake flavors like red velvet and funfetti! They do gluten-free cakes as well, which is perfect if your child has a gluten intolerance. These gluten-free cake options make this bakery a preferred choice.
Little Daisy Bake Shop
Although this bakery is located in Montclair, it had to go on the list since they have nut-free options and all of their baked goods are nut-free as well. Get a freshly baked cake for your superstar's birthday and make him/her a surprise. Perfect for any bash, this treat will be absolutely mouth-watering.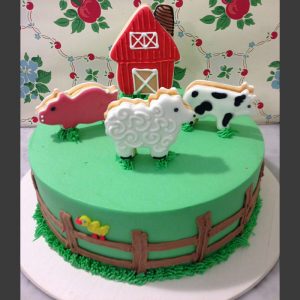 VENUES
My Gym Jersey City
252 9th St, Jersey City, NJ 07302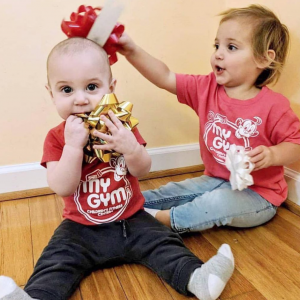 The Little Gym
380 Newark Ave Units 101 & 102, Jersey City, NJ 07302

Why are we among the top birthday party places for kids?  Named Best Gym Party by Parents Magazine, an Awesome Birthday Bash at The Little Gym of Jersey City gives your birthday kid and their friends the full run of the facility, filling the celebration with instructor-led games, music, and fun LEGO® building activities created especially for your birthday boy or girl. And you don't have to worry about setup or cleanup, making it totally awesome for you too!
Liberty Science Center
222 Jersey City Blvd, Jersey City, NJ 07305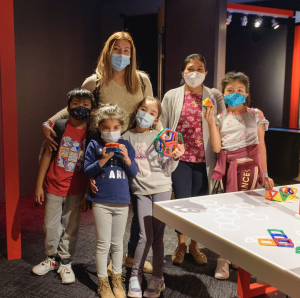 A visit to Liberty Science Center is the perfect way to spend your special day! Liberty Science Center is the perfect option if you are looking for something fun and educational for your little ones. Kids can take part in exploration tours, experiments, crawling through mazes, and more! They are also doing digital parties.
Luna De Papel
321 Communipaw Ave, Jersey City, NJ 07304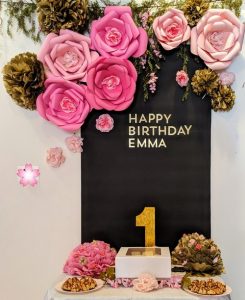 Step into a world of your greatest imagination for your next birthday party or private event. At Luna de Papel art studio, they offer an incredibly customized experience for your celebration or party. Ruth works very closely with families to gather a sense of the goals and desired theme for the event. Together they will help create a craft, decorations, a backdrop for your food and cake display, etc., which all bring the theme to life. Whatever your heart desires, we can help you make your dreams come to fruition! In addition to helping transform the space for your individual theme, they also provide plates, napkins, cups, utensils, and water. They can also help you create individualized invitations, thank-you cards, gift bags, and personalized water bottles.
Urban Jungle Play
1140 Maxwell Ln, Hoboken, NJ 07030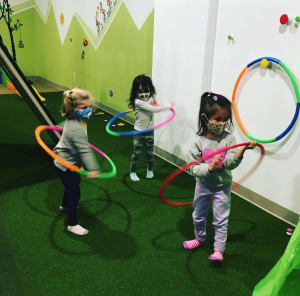 Urban Jungle Play is a fun venue for all the kiddos out there. They have many themes for your kid's parties, from art, music, storytelling, and more. Additionally, they offer pizza, cake, ice cream, and goodie bags for kids. Choice of 2 activities from various activities such as interactive storytime, bubble play/dance party, movement/jumping songs, obstacle course, or Birthday coloring sheet to be developed for your theme.
Tiny Greenhouse 
498 Jersey Ave, Jersey City, NJ 07302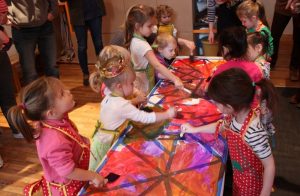 Looking for a fun and creative space to celebrate your child's birthday? DOES YOUR KIDDO LOVE BUTTERFLIES & BIRDS? ROBOTS? DINOSAURS? LEGOS? RAINBOWS? FAIRIES? ANYTHING!!! Tiny Greenhouse offers 2-hour birthday parties just for you and your friends. Birthday parties held at the studio are for ages 2 and up. Based on your child's chosen birthday party theme, they will adorn our room with a handmade banner, balloons, and other decorations and develop two different art projects. One project is a collaborative art piece created by your child's friends. Each child will create their own masterpiece inspired by your child's chosen party theme for the second project. Isn't this a perfect place for party places for kids' birthdays?
Glitter and Glam
30 Mall Dr. W, Jersey City, NJ 07310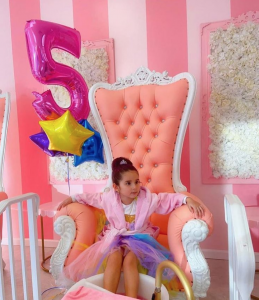 New Jersey's best girl spa party destination specializing in making every girl's dream come true via our themed parties and luxurious day spa services. They are on a mission to build a generation of confident young children. Their relaxing spa services promote the development of self-care practices at an early age. At the same time, their fun-filled glam parties encourage body positivity and self-confidence. This is a fun spot to celebrate a girly birthday! They have a ton of packages to choose from.
Funzy Play
125 River Dr. S, Jersey City, NJ 07310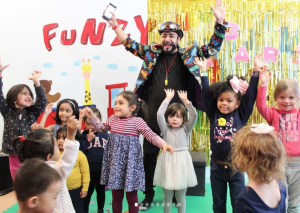 Funzy Play is a ton of fun for all ages! Royal parties have a maximum of 15 child and 20 adult guests since the facility remains open to the public. No charge for a child under 6-months-old. They also have some great packages. Your kiddos will enjoy a day filled with their jungle Jim, playroom,  interactive ball pit, and more!
Hair is Happiness
360 7th St, Jersey City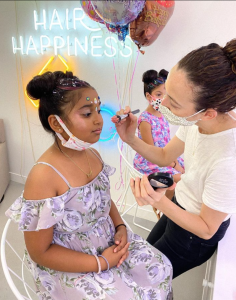 Looking for a fun and perfect place to get a haircut for the little ones? Check out Hair is Happiness. They have a beautiful space and offer a ton of services from haircuts, washes, mini manicures but they also offer packages for birthday parties!
Loradella's Family Pizzeria
126 River Drive, Jersey City, NJ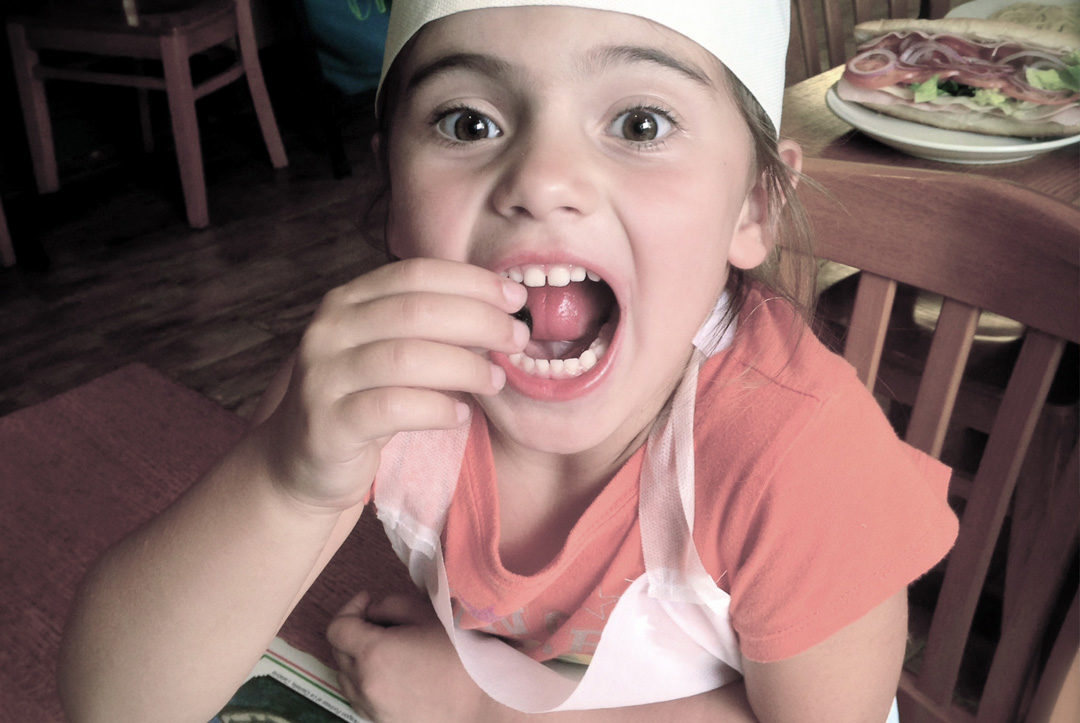 Kids Party Plan: Kids create their own personal pie with toppings, and enjoy our arcade with games, or just a pizza party and arcade game fun. For reservations or inquiries about availability and pricing, please fill the form below, or call the restaurant between 2:00pm – 5:00pm for catering orders.
Tay + Te Imaginative Play
240 Pegasus Ave, Northvale, NJ 07647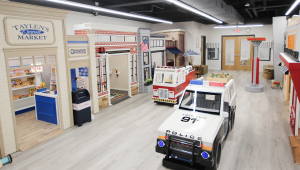 Imaginative Play gives children an opportunity to express their feelings, encourages them to explore their surroundings, as well as helps ignite new learning. Therefore, Tay + Te is the perfect spot for kids of all ages. Tay+Te Imaginative Play is an indoor play space for children ages 0-6, focusing on learning through pretend play. In addition, they offer great birthday packages. Their modernized play structures are the first of their kind in Bergen County, from the Organic Market to the Pizza Parlor to a miniature-sized Convention Center!
Hudson Lanes
1 Garfield Ave, Jersey City, NJ 07305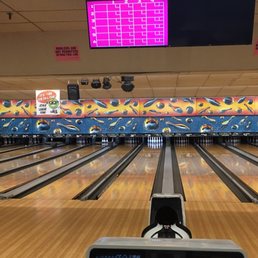 Strike! With over 60 Lanes, a full-service grill, and arcade games, your family will have a great time at Hudson Lanes! This is fun for all the kids and families! They will help you plan your party for the day and time you want, and they can customize YOUR party to fit the budget you have in mind. They have many different packages to choose from, including bowling, food, use of private party rooms, food for your adult guests, music, laser light shows, keepsakes for the birthday child, and more. Does this sound like a perfect place for a party for a kid's birthday?
Urban Air Trampoline & Adventure Park
69 Wesley St, South Hackensack, NJ 07606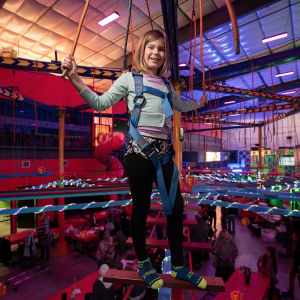 Urban Air Trampoline & Adventure Park is a year-round indoor amusement park! Take your next party into the stratosphere with the birthday party experts at Urban Air Adventure Park. They handle everything from setup and hosting to entertainment and cleanup. Their specialists get the work done, so all you have to do is show up and have FUN.
It's the perfect place for stress-free, indoor birthday parties for boys, girls, kids, and teens – anyone can have a blast here! They've got classic trampolines, climbing walls, basketball, obstacle courses, and more, so bring your birthday boy or girl and all their friends to bounce, climb, dunk, and play the day away. Whether you go with a Classic Kids Birthday Party package or want to make it extra special with their famous Glow Party, they go the extra mile to make your next birthday party special.
Monster Mini Golf
49 East Midland Ave Paramus, NJ 07652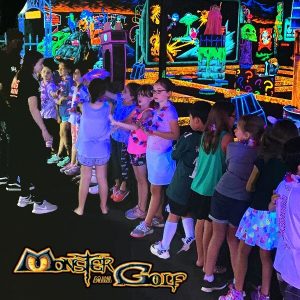 Monster Mini Golf is a unique and quirky type of family entertainment! We love their monster-themed décor featuring fun-loving, animated monsters. Additionally, they also have other activities like laser tag, arcade games, virtual reality, laser maze, and bowling that your kids can enjoy for their birthday party.
iPlay America
110 Schanck Rd, Freehold, NJ 07728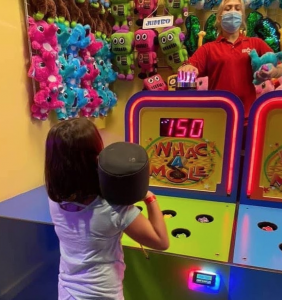 The entire atmosphere is energized by NJ's highest concentration of fun things to do indoors, like rides and attractions, all sized to fit in our nearly 4 acres of indoor family fun. You can ride go-karts, the Kite Flyer, Skyscraper, Reverse Time, and play 2-level laser tag – all indoors, so the weather is never an issue. To create a memorable and insanely fun experience for your birthday child and their friends — with a simple and stress-free process. From unique party packages and special invitations to private party rooms and delicious birthday cupcakes, birthdays at iPlay America are guaranteed to be memorable. So plan your kid's birthday party with these resources in Jersey City
iFlyWorld
211 NJ-4, Paramus, NJ 07652
Have a memorable birthday at it! Indoor skydiving is a safe experience. Each person in a group will fly next to a word-class instructor who personally guides them through the experience.iFLY BIRTHDAY PARTIES ARE GREAT FOR:
Kids, teens, adults, and seniors
Ages 3-103 (Seriously)
Beginner flyers (No skill required)
Small parties or large groups
Private parties with venue buy-outs
No need to worry about a backup party idea, iFLY ensures that your event will go on, rain or shine!
Updated January 10th, 2023