372 9th at Hamilton House Jersey City
Hamilton House stands tall in this low rise area of Jersey City. It's an elegant building that immediately catches your eye. But that's not all! 372 9th At Hamilton House is an amazing addition to the luxurious aesthetic that already exists within the building.
I met the Leasing Agent, Dane Ferber, in the shared lobby, which includes 24 hour concierge, morning coffee bar and co-working spaces.
Along with the unique Townhouse & Penthouse homes, there are three types of apartments within 372. A three bedroom, two bedroom and a single bedroom with a study. The three bedroom was first on the list. Together Dane and I walked the hallways and I couldn't help but notice the modern twist on the art deco-esque decor and colors.
"People come here and are really blown away by the quality."
He opened the door and my jaw dropped. I was met with 1460 square feet of gorgeous white marble, copper, retro-modern furniture, geometric decor pieces and towering abstract art. I've never seen so many styles perfectly blended together in one space.
Let's talk about the kitchen! If you love to cook, honestly if you just love food, this kitchen is a dream!
It comes with a six burner stove with a pot filler.
Wait. A what?
A pot filler is a faucet connected to your stove. Let's say you're cooking pasta. Instead of bringing your pot over to the sink and carrying it back to the stove, your water is on tap right over the stove. The island includes a wine fridge and a digital convection oven/microwave. Miele dishwasher and garbage disposal are included with all of the units.
Winter is coming and if you don't want to come back to a freezing apartment no worries! The unit includes a Nest Learning Thermostat which can be controlled from your phone. The larger units also include a gas fireplace in the main living area.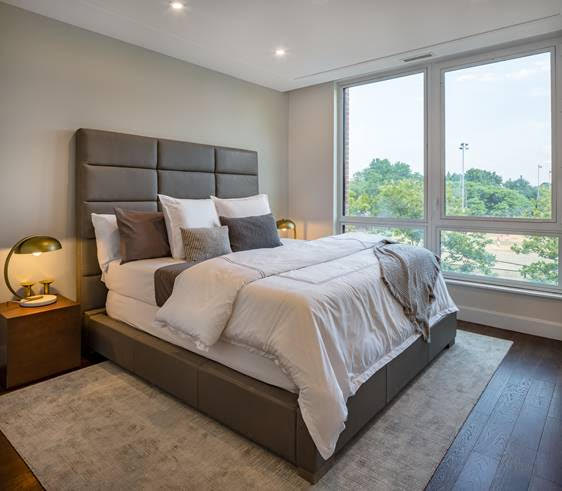 Next we walked into the Master Bedroom. The floor to ceiling windows gives the room amazing natural light. Speaking of lighting, the rooms allow you to customize the light fixture over your bed.
The larger unit includes a marble themed 1 and a half bath. The master bath includes dual sinks and vanities.
If you're like me, you prefer not to freeze after stepping out of the shower so the heated floors are a treat! I've never stepped on a heated floor so I personally had to see what the hype was all about. I've now made a mental note to include heated floors in the bathroom of my future home.
You can take a virtual tour of this unit here.
Starting Price for the Three Bedroom Unit: $5195/month
All leases start as a 13 month lease with 1 month FREE.
Next, I walked through the two bedroom unit. It's slightly smaller but just as beautiful! It's perfect for a couple or a family of three! The kitchen is a similar style however there is no island, wine fridge. No worries! You have room for a dining room table of your choice and a four burner stove and a four burner stove instead of the six!
The master bedroom still comes with amazing windows, a large bathroom with dual sinks and heated floors.
Starting Price for the Two Bedroom Unit: $3750
You can view more detailed breakdowns here.
Dane encourages guests to paint the walls of the apartment if they would like.
"We want people to make it their home. We don't want someone to feel bound by all of these rules."
However, they must be repainted to their original color before you move out. My style hack suggestion would be to invest in removable wallpaper! You can show off your style without the hassle that comes with painting.
Things To Keep In Mind:
All units include washers and dryers.

There are storage locker available on every floor and can be rented starting at around $75/month.

They have an amazing security system. The building buy phentermine from mexico online uses ButterflyMX, which

transforms any smartphone into a mobile video intercom system. Once the app has been downloaded, visitor calls from the intercom, which is located on the outside of the building, it will come through the app as a video call wherever you are so you can view the visitor before granting them access to the building.
Next on our list was the roof. There are two large roof decks. Each building has its own roof deck. There are sinks, what's soon to be a pizza oven and over 4 gas grills that residents can use whenever they want. All you have to do is get the key to open the grill from the lobby. Patio furniture, a giant chess board and enough room to dance to music makes this the perfect spot for a summer cookout or party!
The best part about the roof, in my opinion, is the vantage. You have a great view of Jones Park which is a plus for parents! Your kids can enjoy the bike path, baseball field, BMX park and basketball court! Hamilton park is also a two block walk away. I looked to my right and realized we were right next to the highway. You probably read this and groaned. No one wants to be by a busy highway. However it's super quiet and peaceful. Being so close to the highway makes it easier for those who have to commute to and from work. Speaking of commuting, the building is within walking distance of the PATH station and bus stops! 372 also provides a private shuttle, which runs every 20 minutes to the Grove Street Path.
Last but certainly not least were the amenities. Hamilton House and 372 share amenities. Residence lounges can be reserved for meetings or private parties. There's also a children's activity room which can be reserved for kid's parties.
I followed Dane into the fitness area which is split into two parts. Part one has a regular gym feel with your traditional treadmill and weights. The second part is more tailored to specific workouts. There are spin bikes and if you click the monitor located in the front of the room, you have the opportunity to select types of workout classes to participate in.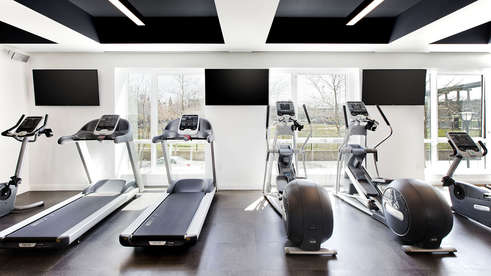 One of the best things about this building, and there are many fine qualities, is the artwork. Each floor is carefully curated with artists from right here in Jersey City! It gives local artists the opportunities to display and sell their artwork outside of the typical gallery environment.
I talked a lot about the treats that await you inside 372, but the outside amenities are a major selling point! Here are reasons why you should consider 372 9th at Hamilton House when planning your next move!
Around Town:
In the market for a new place to live? You can schedule a viewing of 372!