10 Restaurants With Kids' Friendly Menu in Downtown Jersey City
We know how important it is for families to be able to go out for a meal, but also make sure the little ones have some options! Luckily, Jersey City has an abundance of restaurants that are perfect for a day/night out with the whole family. Additionally, Jersey City has everything one can want from burgers, seafood, Italian, Japanese, and don't forget the delicious ice cream after. Therefore, we have created this guide for 10 Restaurants with kids' menus in Jersey City
708 Jersey Ave, Jersey City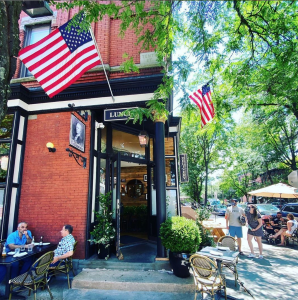 The Hamilton Inn is conveniently located just one block away from Hamilton Park. They have a kids' menu that includes chicken fingers, buttered pasta, grilled cheese, mac and cheese, and more. With high chairs that you can request, you can even bring your toddler and gather the entire family. As a bonus, The Hamilton Inn is one of the restaurants in Jersey City with outdoor seating, so you can feel the sun's warmth while also enjoying a delicious meal.
179 Warren St, Jersey City, NJ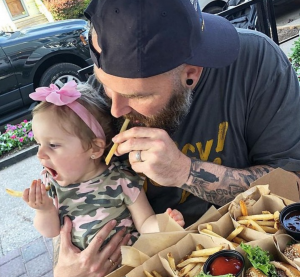 The White Star is a casual neighborhood American restaurant and craft cocktail bar in Jersey City.  Both White Star Bar locations have kids' menus, including chicken tenders, pizza, sliders, and more. They offer brunch, lunch, and dinner so it's perfect for any time of the day. They also offer outdoor seating.
351 Grove St, Jersey City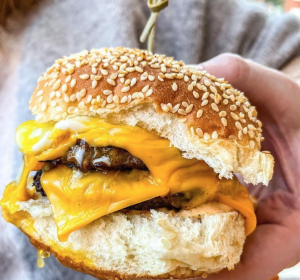 Here in the heart of Jersey City, you'll find delicious food and drink in a beautiful setting to be enjoyed. Mathews has a kid's menu as well that includes fried chicken and fries, buttered pasta, a cheeseburger with fries, and more. They also have a perfect area for outdoor dining.
235 Pavonia Ave, Jersey City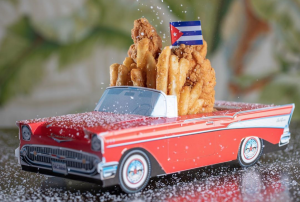 Rumba Cubana is located right off Hamilton Park, and this place will definitely fill you're craving for Cuban Food.  The restaurant takes pride in its Cuban-style dishes and beverages that are sure to satisfy what you are longing for. They also got several child-friendly options, and it's a great place to bring your kids after a playdate in Hamilton Park. Their kid menu includes these little car boxes for kids' meals which is a great experience for the little ones.
135 Newark Ave, Jersey City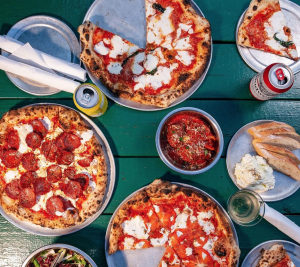 Porta Jersey City resides in a former pharmacy located right off of Newark Avenue's pedestrian walkway. Opened in 2014, the three-story restaurant includes one of the few rooftop spaces in the city, spanning an entire block with two full bars and dining. Also, it's become a central hub for the city's faithful, New Yorkers looking to escape the boroughs, and people who just want to kick it, earning us recognition as one of the best late-night spots in the country! Porta is perfect for a family-friendly atmosphere and has a ton of options for pizza for the little ones.
64 Marin Blvd, Jersey City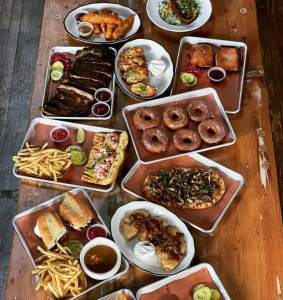 Enjoy lunch or brunch with the family at Hudson Hall. They have so many food options for everyone but also a kid's menu that has hot dogs, fries, chicken fingers, and more. Don't forget to try their fresh warm donuts.
516 Jersey Ave, Jersey City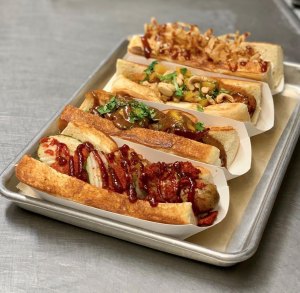 A cool spot offering a variety of sausage & beer in a rustic space with an old-school flair, Wurstbar has a ton of beer options that will go perfectly with your food. We love the ambiance, from the large white marble bar, and with vintage décor from old butcher shops covering the walls is perfect! You'll find several different options for the kids on the menu at this German-inspired beer hall, including the Puppy Dog—kids hot dog sliders served with house-cut fries.
3 Second Street, Jersey City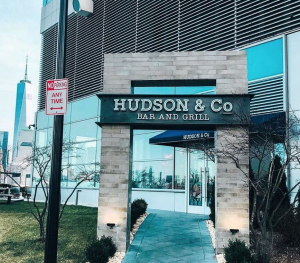 Looking for a family-friendly restaurant with a beautiful view? Hudson & Co. is the one for you. It stands on the waterfront, within the rapidly evolving Harborside district in Jersey City. Additionally, featuring multiple indoor and outdoor dining options, the entire establishment boasts views of the Manhattan skyline across the historic Hudson River. Besides having a beautiful view, you can indulge in a wide variety of food options including; crunchy tuna tartare rice cakes, sashimi/sushi roll selection, artisanal wood-fired pizzas, wild-caught arctic char, a 40-day dry-aged NY Strip, as well as homemade delicata squash ravioli with sage. Addtionally, they have a kids menu with grilled cheese, kids burgers with fries, plain pizza, pasta with butter and more.
199 Washington Street

Light Horse Tavern serves modern American cuisine using local and seasonal ingredients whenever possible. They are located in the Paulus Hook area. Additionally, they have a kid's menu with a variety of options like breaded chicken cutlets, ribeye steak, hamburgers, pasta, bbq chicken and more. If your child is 12 and under they can enjoy this menu.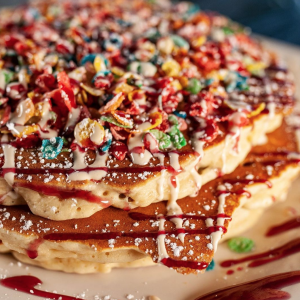 Buddy JC's is a must to try for the little ones because it has such an extensive menu. Whether the little ones want sandwiches, burgers, or breakfast options. They serve up delicious pancakes, but their famous Cereal Pancakes, including Fruity Pebbles, Captain Crunch, and other fruity cereals, are what they are most famous for.
Let us know if this guide of restaurants with kids' menus in Jersey City was helpful?