The 10 Best Sushi In Jersey City
Jersey City is super diverse especially when it comes to delicious food. Addtionally, we have all kinds of cuisines whether you are looking for Mexican, Italian, Indian food and more. Also, when it comes to Japanese food, Jersey City has something for everyone! From more casual places to some of the best fine dining restaurants, we've got you covered. Therefore, we created this list of the best sushi Jersey City has to offer.
200 Greene St, Jersey City, NJ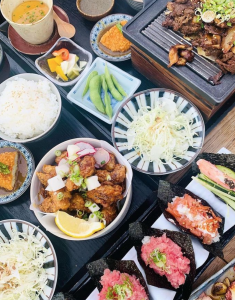 DOMO DOMO first started as the First Hand Roll Bar in NYC in 2015, now known for its signature tasting course called DOMOKASE and other Asian-inspired dishes. They have now expanded over the Hudson into Jersey City! Additionally, the menu is constantly updated as Chef Brian experiments with new combinations, using the freshest ingredients of the season. In conclusion, this is the most high-end sushi spot you will find in Jersey City.
103 Montgomery St, Jersey City

East Hana is a brand new restaurant in Jersey City. If you are looking for some yummy sushi specials, definitely check them out. Additionally, they offer indoor and outdoor dining. Also, you can also find your Japanese favorites and they have definitely become a new local favorite.
218 Newark Ave, Jersey City, NJ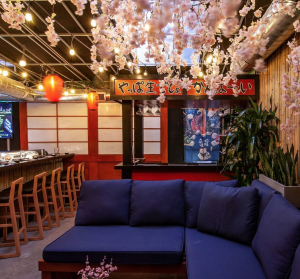 Just minutes from the Grove Street Path Train stop, Sushi By Bou Jersey City is a modern sushi speakeasy, located behind a secret door inside of the critically acclaimed Ani Ramen. They have an intimate 8 seat sushi bar and are 60 minutes per seating, and only offer a carefully curated chef's choice menu of sushi. Additionally, they have a selection of craft cocktails, imported sakes, and more. This is truly one of Jersey City's best traditional sushi experiences available!
95 Greene St, Jersey City, NJ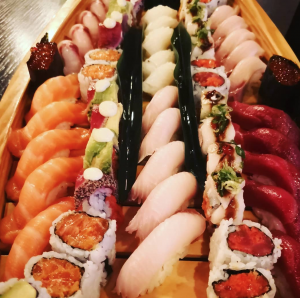 Opened in 2005 in the heart of Jersey City, Honshu specialized in contemporary Japanese dishes. Paired with unparalleled service, Honshu proudly serves a wide range of fresh sushi and Japanese creative dishes to guarantee an exceptional experience. Moreover, the modern yet warm interior is decorated with the simple elegance that combines with traditional Japanese design creates a comfortable and inviting ambiance. Addtionally, Conveniently located near the Financial District, Honshu is only a 5-minute walk from the Exchange Place Path Station.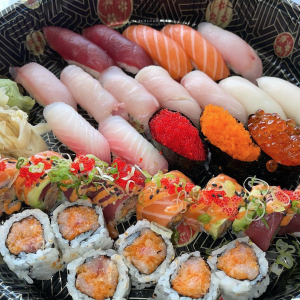 Wisp Express is a food truck specializing in freshly prepared Asian cuisine, along with custom sushi selections. They have a variety of options on their menu ready for you to enjoy. Addtionally, everything is super fresh! You can order via their website or check their Instagram for where they will be located every day as it changes.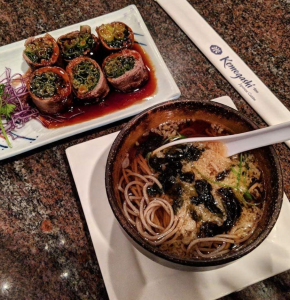 Komegashi Too features authentic Japanese cuisine. They are located in the Newport area of Jersey City. Their menu is filled with sushi and sashimi options plus modern Japanese cooked items. Addtionally, they offer a beautiful waterfront view of NYC.
525 Washington Blvd, Jersey City, NJ 07310
Jersey City now has its first conveyor belt sushi bar. Japan-based chain Kura Revolving Sushi Bar has opened its 42nd U.S. location at 525 Washington Boulevard. This is the chain's second location in New Jersey
281 Grove Street, Jersey City, NJ 07302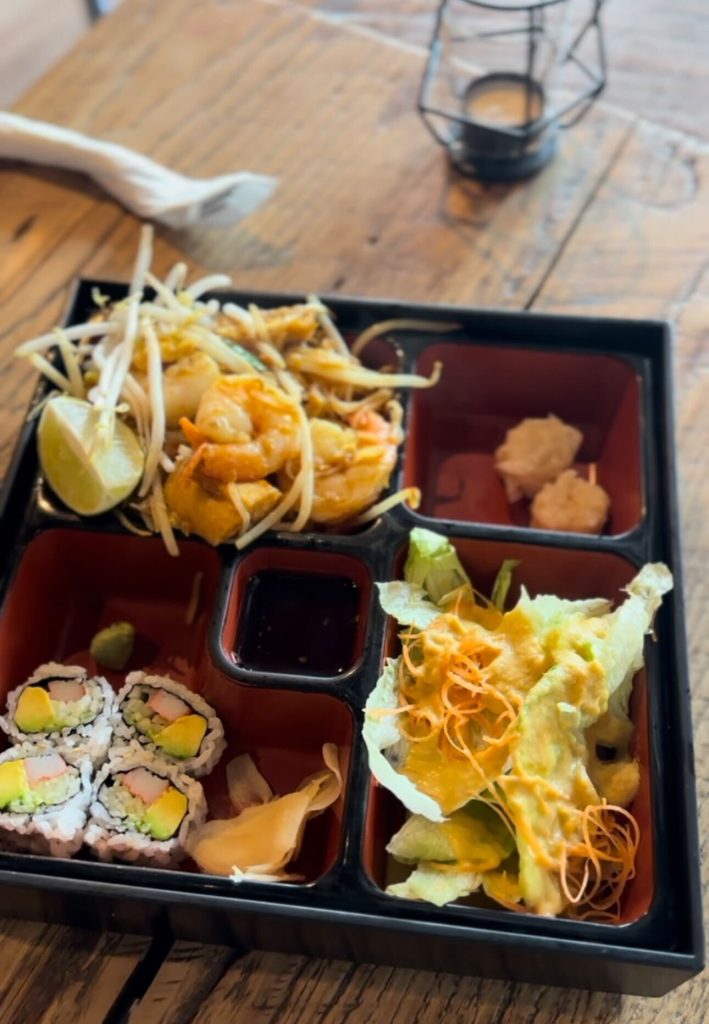 More Express is both a sushi bar and an Asian bistro. The menu features appetizers, soups, salads, entrees, noodles and fried rice, sushi bar, sushi lunch and bento boxes (lunch only). Both dine in and take out are available.
There is no better way to experience the diversity in food options available in Jersey City than to test out the variety of sushi bars and restaurants the city has to offer. And one way to follow up a fantastic sushi meal is to stroll on over to one of the many ice cream places in the city and then maybe continue exploring with a visit to one of the city parks. Jersey City has many options for entertaining everyone in your family and creating an enjoyable afternoon or evening.
Updated July 24, 2023