Where To Find The Best Seafood In Jersey City
When it comes to good food, Jersey City will not disappoint! We are lucky to have some delicious seafood options, thanks to the city's proximity to open waters. Whether you are looking for some fresh oysters, a delicious lobster roll, or a full crab, there is a spot for it all. Therefore, we created a list of where to find the best seafood in Jersey City.
Jersey City has so many delicious food options whether you want burgers, brunch, Italian food, or pizza. We have some guides on our website to help you find them!
210 Hudson St, Jersey City, NJ 07302

Angry Archie's is a Jersey City based family run Food Truck Company. Specializing in Seafood specialties such as Lobster rolls, crab poutine, and their signature dish Angry Archie's Crab Cake Sandwich. Owner and Chef Chris Curado, founded Angry Archie's over 5 years ago and thanks to the amazing community of Jersey City, has seen his business flourish. They have a food truck as well as a location at Harborside.
467 Communipaw Ave, Jersey City, NJ 07304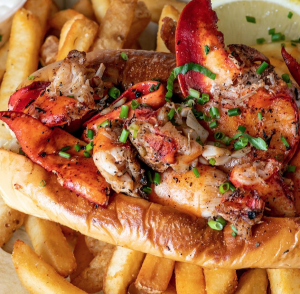 Hooked JC Seafood Restaurant is located in Bergen-Lafayette of Jersey City, NJ. Catching fresh fish daily, they are able to bring you seafood favorites with a twist to this B.Y.O.B. restaurant. This one is a must-visit because they have a ton of options for everyone. No matter what you pick, you'll get a fresh and delicious meal with a menu that rotates seasonally.
280 1st St, Jersey City, NJ 07302
Just BeClaws is definitely one of Jersey City's most popular seafood spots. The menu features Southern cuisine with a Vietnamese influence that is literally finger-licking good. Located in the heart of downtown Jersey City, this place is not one to miss. They have seafood items such as lobster, crab, shellfish, and shrimp that come by the pound in plastic bags with your choice of seasoning and sides.
8 Erie St, Jersey City, NJ 07302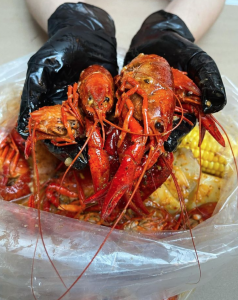 The Boil is located right in downtown Jersey City. Their first location is in NYC and their delicious food across the Hudson. They are a Cajun Style fresh seafood boil with a fun and friendly environment. Seafood is ordered by the lb with your choice of sauce and spice. They also offer lobster rolls! Additionally, their cocktails are absolutely delicious.
2801 John F. Kennedy Blvd #1215, Jersey City, NJ 07306

Morgan's is a simple restaurant serving Mediterranean and seafood dishes such as hummus as well as grilled garlic shrimp. It is definitely a hidden gem just a few blocked away from the PATH Journal Square station. It is a family-owned restaurant that offers whole fish and you can decide how you would like it cooked. They use Egyptian spices to add lots of flavor to the dishes. The service is slow so do keep that in mind but the food is so worth it!
508 Jersey Ave, Jersey City
The Fish Stand is the #1 fresh fish provider in Jersey City. They are proud to provide high-quality seafood that is wild-caught and organically raised and supply local, sustainable seafood. Their menu changes daily in order to bring the best product at a reasonable price and they provide information on all of their seafood so that customers can make ocean-friendly dinner choices. They also provide ready-to-cook items and ready-to-eat gourmet prepared side dishes.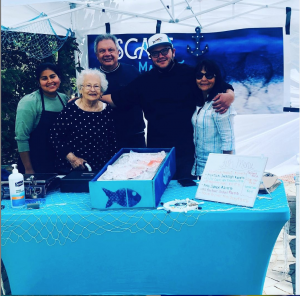 Looking for another spot to pick up fresh seafood? Scales has some great options. They can usually be found at Farmers Markets including Van Vorst, Hamilton Park, Journal Square, and more. You can see their full schedule here. They make sure to catch the best and fresh seafood for you to shop.
640 Communipaw Ave, Jersey City, NJ 07304
Big Easy Restaurant is a no-frills but delicious seafood restaurant. It offers Cajun seafood dishes for pickup and delivery through Grubhub. They have shrimp, red snapper, and more on their menu. Try their slushies while you visit as well.
772 West Side Ave, Jersey City, NJ
SamakMak Seafood is delicious and a no-frills seafood joint located on West Side Ave. Served with rice, salad, and tahini you can't go wrong with their seafood dishes. You can a whole fish dish as well as fried and grilled fish sandwiches.
502 Washington Boulevard, Jersey City 
Battello is located in the Newport area. A flawlessly designed eating and drinking complex that looks both industrial and luxurious. It is situated on the Hudson with breathtaking views of the Manhattan skyline, Battello offers an unforgettable culinary experience featuring a contemporary Italian-based, seafood-influenced menu designed by one of New Jersey's top culinary masters, Chef Ryan DePersio. They have amazing seafood towers and fish entrees. This is perfect for a birthday celebration or romantic date night!
98 Morris St, Jersey City, NJ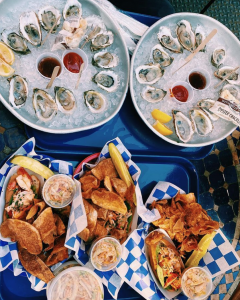 Lobster Garage is located in the Paulus hook area. Light Horse Tavern transformed its garage into a trendy seafood joint. This creative idea has created a delicious seafood joint for lobster lovers. The Lobster Garage menu offers fresh seafood including oysters, fish and chips and lobster rolls. In addition, they have a variety of to burgers, sandwiches, desserts, and more. There are also cocktails, wine, and beer on tap!