12 Best Burger Spots In Jersey City
Who doesn't love a juicy warm burger with the perfect patty? A delicious hamburger is one of the world's most incredible meals, and luckily in Jersey City, there are some fantastic options! Whether you want a classic cheeseburger or a veggie one, this list has something for everyone. Not in the mood for a burger? Jersey City has an abundance of other restaurants that include yummy lunch spots that offer a ton of different cuisines. Read on our list of 12 places that serve the best burgers in Jersey City.
230 Brunswick St, Jersey City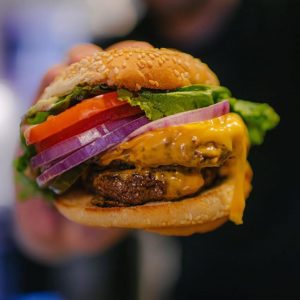 White Star Bar is a casual neighborhood American restaurant and craft cocktail bar in Jersey City and serves one of the best burgers in Jersey City.  Both White Star Bar locations have kids' menus, including chicken tenders, pizza, sliders, etc. They offer brunch, lunch, and dinner. They have a menu of many burger options with crispy fries. Options include a fried pickle burger, double cheeseburger, and a vegan option with a beyond burger.
194 Newark Ave, Jersey City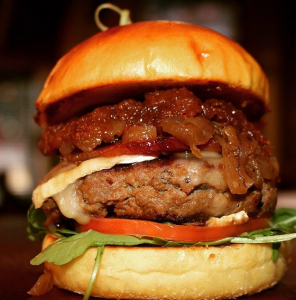 Left Bank Burger is a must to checkout for all burger lovers. This spot is an easygoing burger shop serving all-natural burgers with an extensive selection of toppings, plus tap beers. If you are looking for some unique burgers, definitely stop by. Their Bankrupt burger is well known, which includes their bank sauce. Also, they offer some great options for the vegans out there.

389 Monmouth St, Jersey City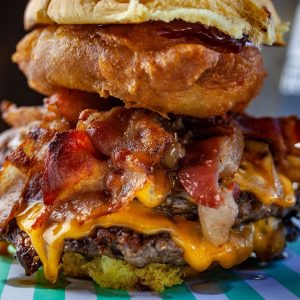 Diesel and Duke is the perfect local spot for burgers. They have many unique options like breakfast burgers, smoke show burgers with lots of bacon, and even beyond burgers for vegans. They also have poutine, fried ores, and milkshakes that are a must-try.
470 Tonnele Ave, Jersey City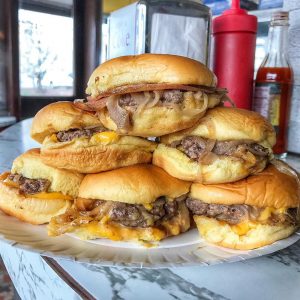 Photo by: Boozy Burbs
White Mana Diner is a 24/7 diner slinging burgers and other diner fares in a building dating back to NY World's Fair. They have been around for years and are considered a classic historical landmark, and their juicy burgers are proof of it. They are a must-try if you want a classic burger.
52 Bowers St, Jersey City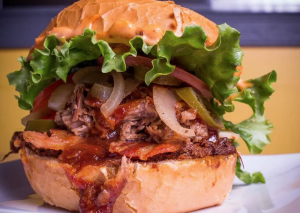 Although this is a small cafe, it feels super homey and cozy, which is fantastic for kids and families. Additionally, they have some exotic meat options for your burgers, like alligator meat, but you can also stick with more traditional fare like their classic burgers. They have many delicious options, from a classic cheeseburger to their Southern Comforts Burger.
757 West Side Ave.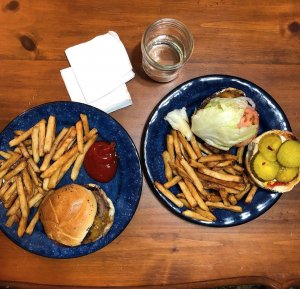 Park Tavern is known for its down-to-earth haunt featuring bar grub, beer, wine & cocktails, plus a patio & live music. They are located on West Side Avenue. This hidden gem, which also has no actual signage outside the bar, has one of the best burgers in Jersey City and a great beer selection. The ambiance is a perfect dim-listed Irish pub where you can catch up with friends over some delicious burgers. 
145 Newark Ave Jersey City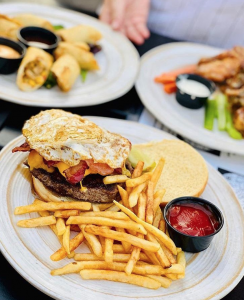 Located in the heart of Downtown Jersey City, The Ashford brings New York's speakeasy days to Newark Avenue's pedestrian plaza. Ashford is a ton of burger options and a full brunch menu that features breakfast burgers. The Ashford is your place for a fun get-together, dinner with the family, and a great spot to watch your favorite team while enjoying a delicious burger with fries.
3 Second Street, Jersey City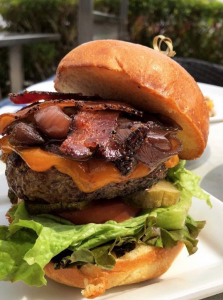 Hudson & Co. stands on the waterfront within the rapidly evolving Harborside district in Jersey City. The gastropub is embellished in the heart of the prestigious Plaza 10 office tower. You will fall in love as they have one of the best burgers in Jersey City. While featuring multiple indoor and outdoor dining options, the entire establishment boasts views of the Manhattan skyline across the historic Hudson River. Besides beautiful views, they have some delicious burger options on their menu. If you want a vegetarian option, they have a great black bean burger or if you are looking for a classic burger, try their 60-day dry-aged burger.
61 Baldwin Ave,

Jersey City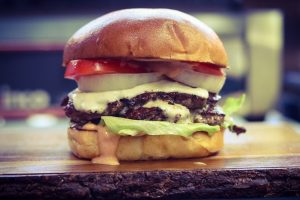 The owners of Crave Burger Cafe were born and raised in Jersey City and started this business in 2016 to bring their passion for good food to the people. Crave Burger Cafe is perfect for burger lovers as they have a variety on their menu, from their Majestic Deluxe burger to their salmon burger. They also offer beyond burgers for the vegans out there.
516 Jersey Ave
A terrific spot offering a variety of sausage, juicy burgers, and beer in a rustic space with an old-school flair, Wurstbar has a ton of burger options that will go perfectly with your cold beer. We love the ambiance, from the large white marble bar, and the vintage décor from old butcher shops covering the walls is perfect! So if you want an extensive list of craft beers and some mouth-watering sausages, or a good burger, check them out.
174 Coles St.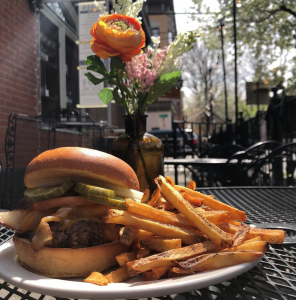 Ed and Marys is a local restaurant/bar in Hamilton Park. If you are looking for delicious food and drinks, check out Ed and Marys. They have some great food options, which include juicy burgers with fries. If you want to try something unique, check out their Jefe Burger, which has habanero jack cheese, avocado, salsa, and lettuce. Yum!
708 Jersey Ave, Jersey City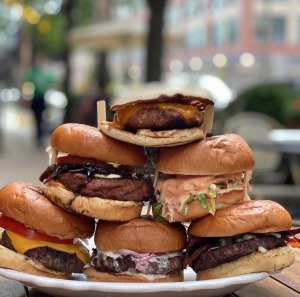 Hamilton Inn is located in the heart of Jersey City. This classic downtown joint is rich in history, and its food is incredible. They have many burger options: beef, turkey, black bean, lamb, Kobe, and plant-based!
299 Marin Blvd, Jersey City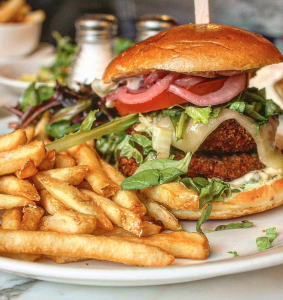 Latham House is a contemporary spot offering American plates in downtown Jersey City. They are great for dinner as well as brunch with family. They offer indoor and outdoor dining. Additionally, you can enjoy dishes like cast iron truffle mac & cheese, chicken pot pie, seared scallops, or shrimp gnocchi pasta, but their burgers are juicy and not ones to miss. They have a regular burger but also an as delicious veggie one.
Updated November 16th, 2021