35 Lunch Spots In Jersey City and Hoboken
Whether you are on the go, taking a lunch break, or planning to enjoy a day with a leisurely lunch, there is a spot for you! Jersey City has a variety of restaurants that are open during the week for you to enjoy some good food from sandwiches, pizza or burgers.If you are looking for breakfast and brunch spots specifically, check out this list of 35 Lunch Spots In Jersey City and Hoboken.
Please make sure to call or check each restaurant's website before you visit as hours can change.
485 Marin Blvd, Jersey City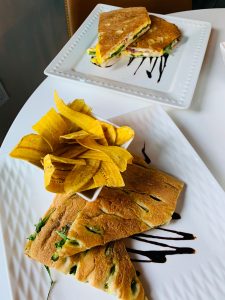 Café Esmé has been designed to bring a piece of Parisian taste to downtown Jersey City. Every aspect of the café has been thought of with the customer experience in mind. From the chic interior to the delicious menu to the music that fills the space, Café Esmé hits all the senses and makes people feel transported and completely at home, all at once.  For lunch, they offer delicious sandwiches, paninis, juices, soups, salads, and more! They also have some yummy crepes that are a must-try. Great lunch spots Jersey City Hoboken
586 Newark Avenue, Jersey City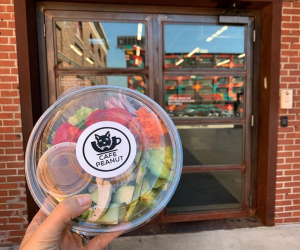 Cafe Peanut is a funky little place located in the heart of Journal Square, Jersey City. Dedicated to quality, the charming artistic cafe is the closest to Coffee Heaven you will get. They have so delicious options for lunch from fresh salads, sandwiches, wraps, and soups. You can either sit there and enjoy lunch or do a quick pick up!
641 Montgomery, Jersey City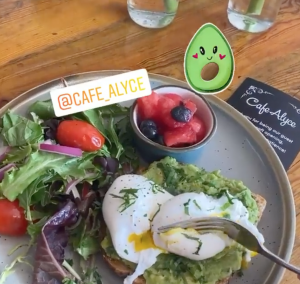 The Medical Center Luncheonette at 641 Montgomery Street, directly across from The Beacon, has undergone a stunning transformation and reopens today as Cafe Alyce. With a breakfast and lunch menu reflecting the flavors of the neighborhood and a solid coffee program, Cafe Alyce is a welcome addition to McGinley Square in Jersey City. They have ton of great lunch options.
183 Montgomery St, Jersey City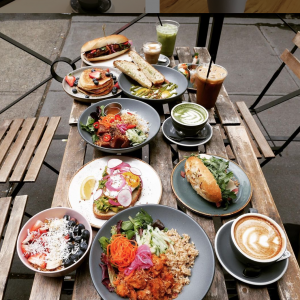 Short Grain Cafe is a perfect spot for a yummy lunch. They have a great menu that includes avocado toast, roast beef sandwiches, rice paper rolls, noodle bowls, salads, and varieties of sandwiches in the menu. Yum! If you also want to enjoy a latte after, they have a ton of options!
112 Morris St, Jersey City 
Lunch Spots Jersey City HobokenSam A.M. is the perfect little neighborhood cafe that has some delicious lunch options which include sandwiches, soups, salads, and more.
279 Grove St, Jersey City, NJ 07302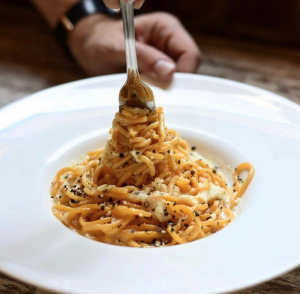 ?Lunch Spots Jersey City Hoboken: Located in the heart of downtown Jersey City, Luna is great for lunch if you are a group or even by yourself. Their menu items were individually crafted to have a homemade feel and taste. From pasta, salads, sandwiches, seafood, burgers, and soups they have it all!
289 Grove St, Jersey City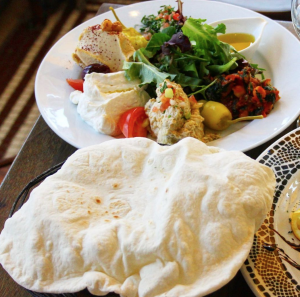 Uncle Momo is known for its Lebanese and french cuisine. The best part of Uncle Momo is their service and variety of options. There is something for everyone! Try their momo meze, fatoush salad, shawarma sandwiches, moussaka, mixed grill entree, and the ouzi. They also have crepes!
235 Pavonia Ave, Jersey City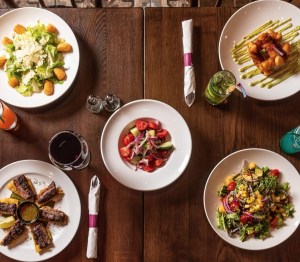 Rumba Cubana is located right off Hamilton Park, and this place will definitely fill your craving for Cuban Food.  The restaurant takes pride in their Cuban style dishes and beverages that are sure to satisfy what you are longing for. Whether you want a heavy dish or something easy on the tummy, they've got what you want.
103 Montgomery St, Jersey City

East Hana is a brand new restaurant in Jersey City. If you are looking for some yummy sushi specials, definitely check them out. They are open for indoor and outdoor dining but you can also get them to deliver or takeout lunch. The menu is filled with all your Japanese favorites and they have become a new favorite.
708 Jersey Ave, Jersey City
Awarded as one of OpenTable's best 100 brunch restaurants in the country, Hamilton Inn is located in the heart of Jersey City. Hamilton Inn is the perfect restaurant if you want to go in a group as they have lots of options. From salads, sandwiches, burgers, oysters, soups, and even a kids menu.
247 10th St, Jersey City
If you are craving a BBQ brunch, Hamilton Pork is open! They are offering lunch at 4 PM. Choose from their long list of meats brisket, pulled pork, ribs, sausage. They even have tacos and sandwiches that are a must-try.
290 Grove Street, Jersey City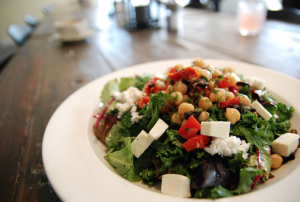 Beechwood Cafe is located on the very popular Grove Street in downtown Jersey City. They offer great food from sandwiches, salads, bowls, burgers, and tacos. They also have heated outdoor seating!
3 Second Street, Jersey City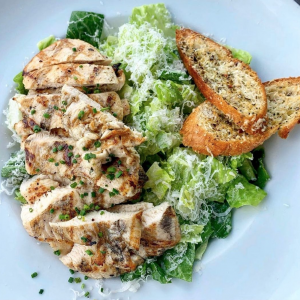 Hudson & Co. stands on the waterfront, within the rapidly evolving Harborside district in Jersey City. The gastropub is embellished in the heart of the prestigious Plaza 10 office tower. While featuring multiple indoor and outdoor dining options, the entire establishment boasts views of the Manhattan skyline across the historic Hudson River. Besides having a beautiful view, you can indulge in a wide variety of food options including; crunchy tuna tartare rice cakes, sashimi/sushi roll selection, artisanal wood-fired pizzas, wild-caught arctic char, a 40 day dry-aged NY Strip, and homemade delicata squash ravioli with sage. They are open from 12pm for lunch. One of the most interesting Lunch Spots Jersey City Hoboken
101 Hudson St, Jersey City, NJ 07302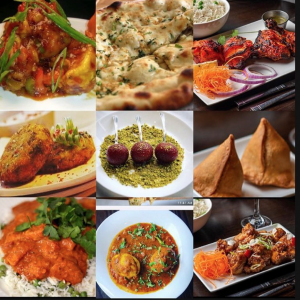 Located at the center of Harborside Financial Center in Jersey City, Amiya sets the perfect atmosphere for a simple afternoon lunch. They are offering limited indoor and outdoor dining but you can also opt for pick up/delivery. Amiya serves traditional favorites like Chicken Tikka Masala, as well as our own Amiya Paneer, halal food and more. The delightful menu is all inspired by Chef Chand's deep knowledge of Indian cuisine, his skill, and his boundless imagination. They also offer amazing lunch specials that cannot be missed.
320 Communipaw Ave., Jersey City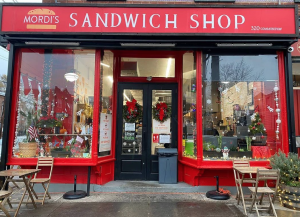 Mordi's Schnitzel Truck opened in April 2014 out of the love of two things—Israeli street food and Jersey City. Both the food truck and the shop have a simple but important goal: to provide excellent customer service and quality homemade food from the freshest ingredients possible. If you want to enjoy delicious sandwiches, wraps, burgers, schnitzel, and salads, stop by Mordis. They also have a kids menu.
318 Communipaw Ave, Jersey City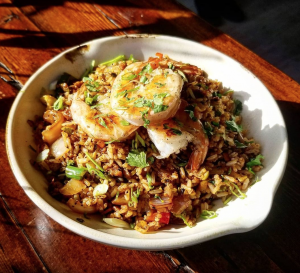 Pinwheel Garden is a FAMILY-owned Restaurant dedicated to serving REMIXED Asian-American food from scratch, bringing together authentic flavors and ingredients from different cultures around the world including Taiwan, Japan, Korea, India, China, Indonesia, Thailand, Italy, France, and America to name but a few. They have a ton of delicious lunch options like their unique dumplings, spicy Thai basil fried rice, kimchi ramen, mushroom drunken noodle and more!
434 Central Ave, Jersey City 
Griot Cafe is located in JC Heights. Griot Cafe puts an Afro-Caribbean Spin on their food and coffee. They will be open Monday through Friday from 7:00 AM until 5:00 PM and Saturday to Sunday from 8:00 AM to 5:00 PM. They have a ton of options for lunch from salads, sandwiches, mac and cheese, and more!
150 Warren Street, Jersey City 
Bobwhite Counter is new to Jersey City! It is a southern spot not to be missed. From fried chicken to salads, sandwiches, wraps, biscuits,
516 Jersey Ave, Jersey City
A cool spot offering a variety of sausage & beer in a rustic space with an old-school flair, Wurstbar has a ton of beer options that will go perfectly with your food. We love the ambiance, from the large white marble bar, and with vintage décor from old butcher shops covering the walls is perfect! If you want an extensive list of craft beers and some mouth-watering sausages, check them out. They are open from 12pm.
88 Morgan St, Jersey City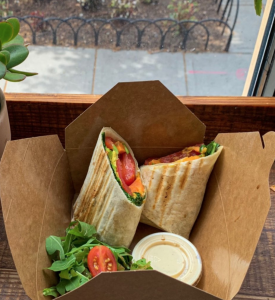 Maggies Farm Espresso is a cute little cafe in the heart of Jersey City. They are offering their full menu for takeout and delivery. If you are craving some smashed avocado toast, wraps, soups, bowls, and fresh salads, check them out. They also have vegan options!
757 West Side Ave. Jersey City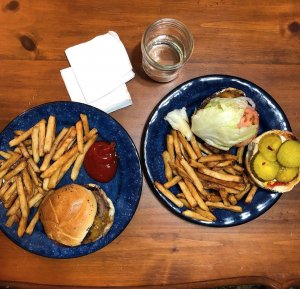 Park Tavern is definitely known for their down-to-earth haunt featuring bar grub, beer, wine & cocktails, plus a patio & live music. They are located on West Side Avenue. This hidden gem, which also has no real signage outside the bar, has one of the best burgers in Jersey City and a great selection of beer. The ambiance is a perfect dim listed Irish pub where you can go and catch up with friends over some delicious burgers. They are open for lunch so if you are in the mood for a good burger, check them out! 
187 Warren St, Jersey City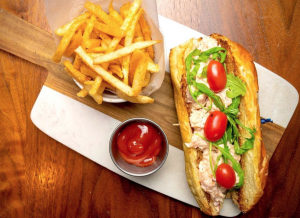 Take your taste buds on a delightful journey at Amelia's Bistro located in Historic Paulus Hook in Jersey City, making it the perfect spot for lunch or dinner. Enjoy a refreshing cocktail or simply tantalize your appetite with original New American cuisine. This is another great spot for a group as they have a ton of options for food. They are open till 3pm for lunch.
364 Marin Blvd, Jersey City, NJ 07302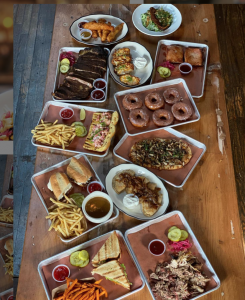 Hudson Hall is an Eastern European beer hall right in the heart of Downtown Jersey City. Hudson Hall is open for lunch. They have some yummy bar eats like hot dogs, sausages, sandwiches salads, and more. 
225 Hutton St Jersey City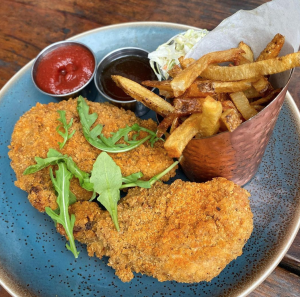 The Hutton is a neighborhood restaurant, bar and wine bar located on Hutton Street between Sanford Place and JFK Boulevard (On the corner of Hutton Street and Sanford Place) in the Heights of Jersey City. Serving delicious cuisine, with menu items ranging from classic fare like our delicious Chopped Brisket & Gnocchi, Prosciutto Wrapped Salmon, Hutton Burger, and Crispy Cod Fish and Chips to vegan options like Apple Guacamole, and Sweet Potato Tamale.
24-26 Erie Street, Jersey City 
Tacoria is a New Brunswick-based restaurant that specializes in Mexican street food offering a mix of tacos, burritos, quesadillas, and so much more. It is a fast-casual eatery located right across Tarico in downtown Jersey City. If you want so yummy tacos, stop by! This is a BYOB spot.
185 Hudson St, Jersey City
Porto Leggero is an upscale, chandelier-filled venue serving Italian fare in a high-ceilinged space with tall windows. Located on the waterfront, you will find a ton of delicious Italian options. They have two menus, "Signature and Traditional" which has very unique options. From pasta to ravioli and a great wine list, they have everything you would want from an amazing Italian restaurant. They are open for lunch M-F from noon to 2:30 pm.
337 Grove St, Jersey City, NJ 07302
Tidal Poke Co. is located in the heart of Jersey City. Their mission is to bring Big Island flavors to the Mainland by using the freshest and highest-quality sustainably sourced seafood and produce possible. Poke bowls are perfect lunch and they have a ton of options on their menu.
370 Pacific Ave, Jersey City
A new animal-free and waste-free business have come to Jersey City! Plant Base has a selection of great vegan food options as well as coffee, juices and more! In our effort to reach a truly zero-waste goal, they offer a rotating lunch menu that ensures all of their fresh produce will not go to waste. Plant Base is a very unique concept by owners Dhruva LaTorre and Andy Hertz.
207 Washington Street, Hoboken
Established in 2011, La Bouche Cafe offers coffee, breakfast, brunch, and lunch featuring crêpes and house-made pastries. La Bouche Cafe is inspired by European style craft, design, and music, where all together evokes a sense of arty atmosphere. It is a perfect cozy place for an early morning coffee, breakfast, lunch, or for a sweet brunch of healthy and tasty dishes.
1110 Washington Street, Hoboken
Everything they do – from serving a locally roasted fair trade coffee and selecting the highest quality produce for their salads, to experimenting with Southern California inspired breakfast burritos and creative doughnuts – is done with the goal of providing their guests with a premium experience. Alfalfa has a variety of healthy foods like salads, wraps, breakfast burritos, and more.
227 Washington St, Hoboken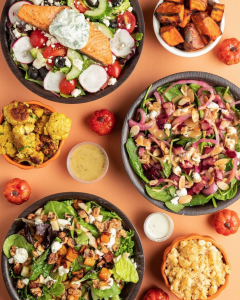 The menu at Quality Greens Kitchen has a little bit of everything, including house and signature salads that all feature homemade dressings. Their customizable Chef's Plate consists of protein options like roasted chicken, grill organic tofu, herb-marinated steak, and wild sockeye salmon, which come with hot and cold side dishes that include roasted sweet potatoes, maple sriracha brussels sprouts, curry cauliflower, quinoa tabbouleh, and Caprese salad.
953 Bloomfield St, Hoboken
Lunch Spots Jersey City Hoboken: More than 15 years ago, Anthony David's put hard-to-find epicurean items on the shelf of a cozy corner store in Hoboken, and nothing has been the same since. Now, in true trattoria style, Chef Anthony Pino serves all-day brunch 7 days a week, late afternoon Antipasto. Italian classics and new creations, made with seasonal, local ingredients, strong flavors, and simple, honest presentation. Great spot for a family lunch!
1001 Washington St, Hoboken, NJ 07030
Opened originally as Dillenger & Jeffson's in 1895, it continued through prohibition as an ice cream parlor and as a hair salon. The Elysian currently offers a French Bistro style menu, accompanied by Hoboken's first 100% smoke-free bar. They offer a variety of options for lunch.
Updated Dec 5th, 2022