The Top 28 Breakfast and Brunch Spots in Jersey City and Hoboken
Breakfast, often considered the most important meal of the day, is undoubtedly the tastiest meal. Why? Because from a simple bowl of cereal to a heavenly breakfast of delicious waffles, people can basically eat anything for breakfast.
It is quite confusing to choose a good place for an early morning healthy meal. However, Jersey City and Hoboken are filled with a number of restaurants that serve a fine breakfast, it can take too much time to decide the right place for you so we want to make it easier for you by creating the list of the top 28 Breakfast and Brunch Spots in Jersey City and Hoboken. The restaurants listed below offer a broad array of food options for anyone living in Jersey City or Hoboken or near these cities. Looking for lunch spots? Check this guide out. Also, Jersey City has some great vegan and vegetarian options. Also, check out these cafes for a quick coffee.
485 Marin Blvd, Jersey City, NJ
Café Esmé has been designed to bring a piece of Parisian taste to downtown Jersey City. Every aspect of the café has been thought of with the customer experience in mind. From the chic interior to the delicious menu to the music that fills the space, Café Esmé hits all the senses and makes people feel transported and completely at home, all at once.  They offer delicious sandwiches, pastries, and coffee.
586 Newark Avenue, Jersey City, NJ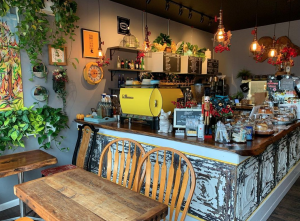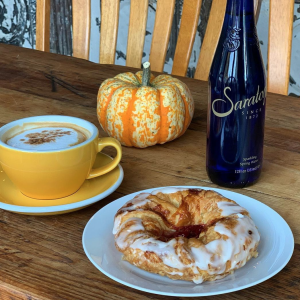 Cafe Peanut is a funky little place located in the heart of Journal Square, Jersey City. Dedicated to quality, the charming artistic cafe is the closest to Coffee Heaven you will get. Their yummy coffee is locally hand-roasted in small batches, blending and creating a never-ending passion for exploration.
Come on in and try their famous House Made Rose or Lavender Latter while being surrounded by a relaxing and friendly atmosphere.
708 Jersey Ave, Jersey City, NJ 07302
Awarded as one of OpenTable's best 100 brunch restaurants in the country, Hamilton Inn is located in the heart of Jersey City. It's open hours vary from one day to another, so do check out the link below before you visit there. We highly recommend you to start your day with delicious sandwiches and toast here at the Hamilton Inn! 
299 Marin Blvd, Jersey City, NJ 07302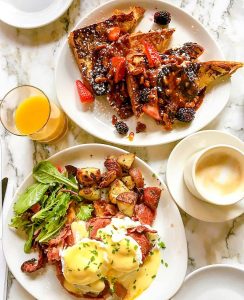 Located in Downtown Jersey City, Latham House is an American restaurant. They offer American plates, global fare and homemade pie in comfy digs. Latham House is always closed on Mondays. 
290 Grove Street, Jersey City, NJ 07302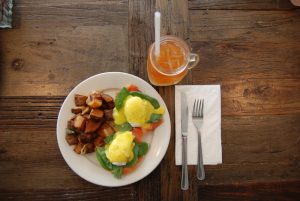 Beechwood Cafe is located on the very popular Grove Street in downtown Jersey City. They are open from 8 AM until 9 PM during the weekdays, while close at 7 PM during the weekends. They offer great food and coffee. They also have outdoor seating, which is perfect when the weather is good.
264 Grove St. Jersey City, NJ 07302
Frankie is a bar and eatery with Australian influences, specializing in natural wine located in Downtown Jersey City.Frankie is the dream turned reality of hospitality and design duo, Rowen and Rebecca. Frankie is built upon their love of travel, coastal destinations, and a nod to Rowen's home, Sydney Australia. Named after a chihuahua with a big personality whose reputation precedes her people. They have an amazing brunch and dinner menu which includes lam burgers, veggie burgers, grilled garlic shrimp, fish and chips, ricotta pancakes and so much more. They also have some traditional Australian foods like Vegemite toast and a Tam Tam milkshake that is a must-try! The ambiance is gorgeous and if you are in the area you have to try there unique and delicious cocktails.
159 New York Ave, Jersey City, NJ 07307
Located in the Jersey City Heights, The Franklin is a family-friendly restaurant. Apart from brunch and dinner, they also do catering for weddings, parties, and events. They also serve finger-licking good desserts which are a must-try for everyone!
112 Morris St, Jersey City, NJ 07302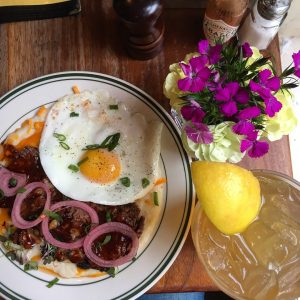 Sam A.M.'s have two locations now- one in Paulus Hook and the other in Bergen-Lafayette. It is a cozy cafe that serves locally sourced breakfast dishes and sandwiches, along with espresso drinks.
183 Montgomery St, Jersey City, NJ 07302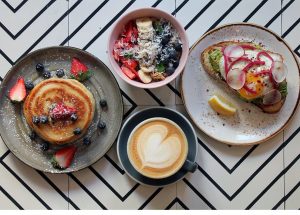 Short Grain Cafe have avocado toast, roast beef sandwich, rice paper rolls, and varieties of sandwiches in the menu. Yum! You should certainly try these in Jersey City. They also serve coffee and green tea and many more healthy options.
351 Grove St, Jersey City, NJ 07302

Here in the heart of Jersey City, you'll find delicious food and drink in a beautiful setting to be enjoyed with friends both old and new. Mathews has the perfect selection of brunch as well as delicious cocktails. They have a beautiful outdoor patio in the summer. 
247 Washington St, Jersey City, NJ 07302
Buddy Who's offer classic and offbeat comfort foods such as cereal-stuffed pancakes in rustic digs with a full bar. They are located in Downtown Jersey City.
2 2nd St., Jersey City, NJ 07302
Lokal is a culinary hub for Jersey City's global culture. Communal in nature, Lokal showcases ingredients sourced locally from the Garden State and transformed into worldwide flavors by Michelin-trained Chef Walter Donadio. Small plates with a Global focus are complemented by craft cocktails and an extensive wine program. Combine that with a space that's unparalleled in design and comfort to host Jersey City residents, staying Lokal will not disappoint. They also have an amazing view of Manhattan and are right by the water giving you a perfect brunch with good food and good views. They offer Gluten Free, Dairy Free, Vegan, and Vegetarian options and are kid-friendly.
289 Grove St, Jersey City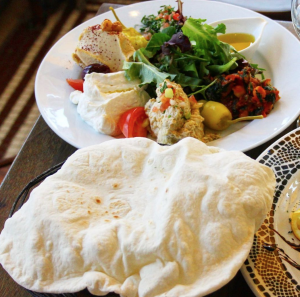 Uncle Momo is known for its Lebanese and french cuisine. The best part of Uncle Momo is their service and variety of options. There is something for everyone! Try their momo meze, fatoush salad, shawarma sandwiches, moussaka, mixed grill entree, and the ouzi. They also have crepes, waffles, french toast and more.
3 Second Street, Jersey City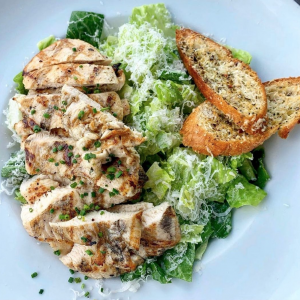 Hudson & Co. stands on the waterfront, within the rapidly evolving Harborside district in Jersey City. The gastropub is embellished in the heart of the prestigious Plaza 10 office tower. While featuring multiple indoor and outdoor dining options, the entire establishment boasts views of the Manhattan skyline across the historic Hudson River. Besides having a beautiful view, you can indulge in a wide variety of food options including; crunchy tuna tartare rice cakes, sashimi/sushi roll selection, artisanal wood-fired pizzas, wild-caught arctic char, a 40 day dry-aged NY Strip, and sushi.
500 Jersey Ave, Jersey City, NJ 07302
The Kitchen Step is a neighborhood bistro in the downtown Van Vorst section. They deliver thoughtful market-inspired cuisine and craft cocktails in an intimate and inviting atmosphere. They have a delicious brunch menu. Make sure to make a reservation in advance though.
146 Newark Ave, Jersey City, NJ 07302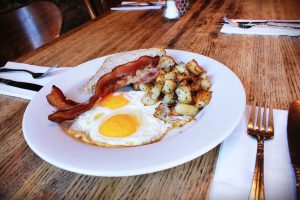 Skinner's Loft is a family-run restaurant in Jersey City. They serve fresh, contemporary cuisine in a comfortable setting. Skinner's Loft also offers a rooftop dining. They serve brunch on Saturday and Sunday from 10:30 AM – 3:30 PM. Their open hours vary, so do check out their website before you visit.
641 Montgomery, Jersey City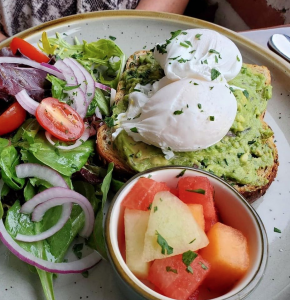 Cafe Alyce is now open! The BYOB restaurant is at was formerly the Medical Center Luncheonette right in front of The Beacon. The cafe comes from the owners of Bergen Lafayette's Hooked JC.
207 Washington Street, Hoboken, NJ 07030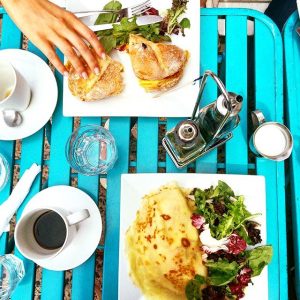 Established in 2011, La Bouche Cafe offers coffee, breakfast, brunch, and lunch featuring crêpes and house-made pastries. La Bouche Cafe is inspired by European style craft, design, and music, where all together evokes a sense of arty atmosphere. It is a perfect cozy place for an early morning coffee, breakfast, lunch, or for a sweet brunch of healthy and tasty dishes.
93 Grand St, Hoboken, NJ 07030
Green Pear Cafe is a family-owned business featuring Lavazza coffee and slow food. Located in the heart of Hoboken, they serve varieties of meals for breakfast, lunch, and dinner. They also have contemporary Italian food.
1320 Bloomfield St, Hoboken, NJ 07030
City of Saints is a coffee roasting company with shops in wonderfully disparate nooks of New York and New Jersey. It is a cozy place to get a coffee and sit outside in beautiful weather.
1002 Washington St, Hoboken, NJ 07030
Bwè Kafe is a relaxed, ethical-trade coffee shop that donates a portion of its proceeds to Haiti relief efforts. Every day, Bwè Kafe partners with world-renowned coffee roasters La Colombe Torrefaction, to serve the highest quality beans, directly sourced from farms all over the world and brewed into your cup using perfected extraction methods. All coffee blends served at Bwè Kafe coffee shops contain delicious Haitian beans, bursting with unique notes and fresh flavors.
1001 Washington St, Hoboken, NJ 07030
Elysian Cafe is a modern French bistro fare and classics like steak Frites served in a restored saloon. Situated in the heart of Hoboken since 1895, they offer tasty French food. The café offers a variety of salads, pasta, burgers, and soups.
 409 Washington St, Hoboken, NJ 07030
Bluestone Lane is a Melbourne-inspired coffee shop offering Australian-style espresso drinks & cafe fare all day. They offer premium coffee and healthy and delicious eats through an always welcoming experience that embraces their 'Aussie' approach to life.
371 4th St, Jersey City, NJ 07302
Prato Bakery is a piece of Tuscany in New Jersey. A little bakery with Italian style, you can smell bread, focaccia, pizza, cantucci…as soon as they come out of the big oven that is in the middle of the bakery. At Prato Bakery, you can also have the best espresso and cappuccino of the city, really Italian style, and also other kinds of coffee: iced coffee, Americano, latte, brewed coffee, et cetera. They are open every day, at the following hours: Monday to Saturday from 7:30 AM to 7:30 PM, Sunday from 8:30 AM to 7:30 PM.
148 1st Street, Ground Fl, Jersey City, NJ
700 Garden Street, Hoboken, NJ 07030
Hidden Grounds Coffee is situated in Jersey City and Hoboken. One of their locations- Jersey City Cafe is close to Hudson Hall and O'Haras Bar. They offer a wide selection of coffee produced through different methods of brewing. And their other location- Hoboken Cafe is the perfect location for all your grab and go needs. As there are several options to grab a coffee in Hoboken, Hoboken Cafe is a unique place that offers truly unique in terms of their menu.
330 Palisade Ave, Jersey City, NJ 07306
530 Jersey Avenue, Jersey City, NJ
330-332 Palisade Avenue, Jersey City, NJ
157 First Street, Hoboken, NJ
1500 Hudson Street, Tea Building, Hoboken, NJ
Choc·O·Pain brings a little taste of France to the heart of Jersey City and Hoboken. At Choc·O·Pain, everything is baked fresh daily. All the breads are sourdough based and made in the traditional European way, using only 4 basic ingredients – flour, water, leaven and a little bit of salt, and therefore, require a long and slow fermentation process. A visit to Choc O Pain is an experience. Simply take a bite of the signature breads, pastries or café dishes and you will immediately feel transported to France!
331 Central Ave, Jersey City, NJ 07307
431 Danforth Ave, Jersey City, NJ 07305
433 Sip Ave, Jersey City, NJ 07306
517 Jersey Ave, Jersey City, NJ 07302
729 Bergen Ave, Jersey City, NJ 07306
Wonder Bagels is a bagel shop established in 1987. It has 5 locations in Jersey City. Wonder Bagels is voted #1 Bagel shop in New Jersey by the Bergen Record.
262 Newark Ave, Jersey City, NJ 07302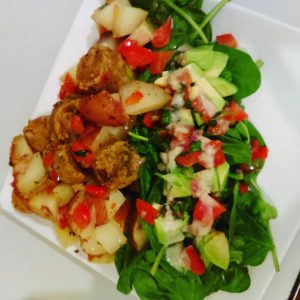 Tea NJ is a vegan-friendly restaurant in Jersey City. It opened its doors in 2012. 90% of their menu is vegan-friendly, with new vegan creations being added constantly; 5% of their menu is vegetarian; 5% is non-vegetarian.
270 Grand St, Jersey City, NJ 07302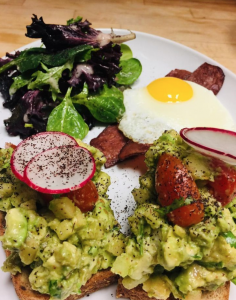 Cafe Dolma opened in June 2018 as a new transformation of Dolma Restaurant serving both a great selection of coffee products and offering eggs, bacon, sandwiches, salads, house-made pastries and more.
Dolma's interior reflects the hip sensibilities of the surrounding area. It is tucked-in this one story-high standalone building with patio of it's own.
Jersey City has an abundance of options for everyone! Whether you are looking for a delicious avocado toast or the perfect stack of pancakes, we have listed a ton of options for you. Are you looking for places that are more specific to your dietary needs? No problem there are plenty of vegetarian/vegan and gluten-free options too. There are also some really good healthy food options in Jersey City. Don't have time for breakfast? Why not try some other restaurants that offer a variety of lunch options. After a filling meal, you can check out the sprinkler parks in Jersey City or go for a walk at one of the best parks around.