Healthy Food Options In Jersey City
Food is a major staple in Jersey City. Why? Because the city has options for the major foodies to pickiest of eaters. But what you might not of known is how well they tend to those who are vegetarians, vegans, pescatarians and are on a gluten free diet. These dining options are a great way to get your fill of healthy food in Jersey City!

183 Montgomery Street, Jersey City
If you're a little hesitant about trying healthier options, Short Grain's Instagram is sure to change your mind! This Sink your teeth into one of their sandwiches and then wash it all down with one of their fresh pressed juice options! This neighborhood café and eatery located in the historic Van Vorst Park district of Downtown Jersey City.

Healthy Food Options In Jersey City
508 Jersey Avenue, Jersey City
The Jersey City Fish Stand provides high-quality and healthy eating choices such as wild caught or organically raised seafood from local and sustainable sources. Don't know which fish to pick? No worries! They provide information on all of their seafood so that customers can make the best ocean-friendly dinner choice. Jersey City Fish Stand offers healthy ready-to-cook items and ready-to-eat gourmet prepared side dishes for those on the go which is why they deserve a spot our list of Healthy Food in Jersey City!

Healthy Food Options In Jersey City
506 Jersey Avenue, Jersey City
If you're looking for a spot that is dairy-free and vegan fare look no further than Subia's Organic Cafe. This small, family-owned restaurant brings in vegans and non-vegans alike! No more waiting for Sunday, Subia's offers brunch every single day! They are closed on Monday's and the kitchen is closed from 3:30-4:45 on weekdays.

Healthy Food Options In Jersey City
80 Mallory Ave, Jersey City
With humble beginnings, Whos Gluten Free specializes in gluten-free and allergy-friendly baked goods and meals. Whos Gluten Free aims to reduce the amount of sugar and eliminate additives that can be found in everyday foods. Need to satisfy your sweet tooth but want to stay faithful to your healthy eating plan? Whos has got you covered! They offer healthy baked goods that will nourish your body instead of doing harm.

Healthy Food Options In Jersey City
262 Newark Avenue Jersey City
There's something for everyone at Tea NJ! 90% of their menu is vegan friendly, with new vegan creations being added constantly! While 5% of the menu is vegetarian and 5% is for the meat lovers!

Healthy Food Options In Jersey City
270 Grand St, Jersey City
Tucked-in a one story-high standalone building with patio of its own, you can find the pretty in pink Cafe Dolma. Cafe Dolma opened in 2016 and serves a great selection of coffee products and offering eggs, bacon, sandwiches, salads, house-made pastries and more.

Healthy Food Options In Jersey City
Sold in various locations!
Eating Hi-FiBar makes you feel full without having to consume a high calorie count!  The protein helps prevent you from nibbling all day.  The fiber serves as a prebiotic to nurture the beneficial microbes in your gut to improve digestive health and support your immune system.

Bucket & Bay Craft Gelato (Permanently Closed)
150 Bay St, Jersey City
Buckat & Bay Craft Gelato makes dessert healthy and enjoyable! You can stop in or have delicious gelato delivered right to your door.
.

586 Avenue C, Bayonne
Squeeze'D is a juice and wellness bar dedicated to promoting good health through juicing, yoga, nutritional workshops and so much more!  
38 Congress St
Jersey City, NJ 07307
The Cliff is a neighborhood cafe serving killer coffee alongside wholesome and delicious foods. A secluded backyard and sidewalk tables offer the best outdoor seating in the Jersey City Heights. It has a great menu of some delicious salads, wraps, lunch bowls as well as a ton of vegan options.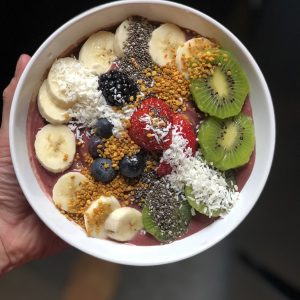 Want more options? Check out our list of Vegetarian and Vegan Restaurants! Your tastebuds will thank you.