Things to Do in Downtown Jersey City
Summer in the city is all about balmy nights being out and about enjoying life in downtown Jersey City! It's an easy commute to all the action via the Grove Street Path station, multiple bus lines, Citi Bike docking stations, and a 24-hr taxi stand. (And of course, there's always Uber!)
With outdoor markets and live music, great happy hour specials, restaurants bursting with delicious food, places to grab a quick ice cream cone or frozen yogurt, and many fun activities and entertainment to enjoy, it's a great of year time to relish all that downtown Jersey City has to offer!
Below are highlights of some of our favorite things to do in Downtown Jersey City and places to go on a summer evening.
Outdoor Markets &
Live Music
& Van Vorst Park
On Mondays and Thursdays from May to December you will encounter the Historic Downtown Jersey City Farmers' Market from 4-8 p.m. outside the Path station at Grove Street Plaza, where a variety of local farms sell produce, jarred sauces & condiments, meat, milk and cheese, fresh flowers, cookies, and pies. Other market vendors sell ready-made food and take-home meals, fresh bread/baked goods, grass fed meats, seafood, pickles, nuts, Kettle corn, French macarons, and even homemade soaps and bath bombs! There's sure to be something for everyone at this quintessential downtown Jersey City open air farmer's market.
If you enjoy live music, don't miss Groove on Grove every Wednesday night from 6-9 p.m. May to September. Enjoy free live concerts at Grove Street Plaza in downtown Jersey City, featuring a wide variety of musical acts, bands, and performers representing a range of musical tastes and talent. This family-friendly event also features a lovely green turf/sitting area in front of the stage where you can let the little ones dance till they're ready for bedtime. Many local businesses sell food & drink(including adult beverages) that make this an excellent way to spend a summer evening outside in downtown Jersey City
  Happening in conjunction with Groove on Grove, the Artist & Maker Market (AAM) runs every 1stst, 3rd and 5th Wednesday 3-9 p.m. May through September. Also located at Grove Street Plaza in downtown Jersey City, the market brings local artisans together and gives people an opportunity to buy one-of-a-kind arts and crafts. The AAM mission is to support handmade goods and cultivate small business in downtown Jersey City. 
     On Saturdays, definitely check out the Historic Van Vorst Park Farmer's Market from 8 a.m. to 2 p.m for fresh farm produce and local vendors. It's a bit smaller and more intimate.
Historic Van Vorst Farmer's Market every Saturday, May-December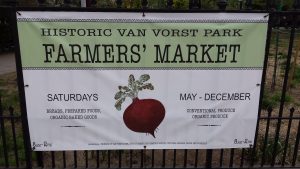 Van Vorst Park is a downtown Jersey City gem, beautifully landscaped with a great playground for younger children (ages 2-6) with adjoining sprinklers for those hot summer days or evenings. (Although, please note that the playground and sprinklers do close at dusk!)
Van Vorst Park playground

They also has a wonderful Films at Van Vorst outdoor film series every other Wednesday night at sunset, check their Facebook page for more details
https://www.facebook.com/VanVorstParkAssociation/
Location: Van Vorst Park is between Jersey Avenue and Barrow Street and Montgomery and York Streets in downtown Jersey City.
Places
for Food & Drink 
Good food will definitely will be the major part of our list of things to Do in Downtown Jersey City
There are so many wonderful places to eat a good meal in downtown Jersey City! Across from Grove Street Plaza, begin a leisurely stroll up the Pedestrian Plaza on Newark Avenue, where you'll be in the heart of Restaurant Row in downtown Jersey City. 

For those that love Italian food,
try
Roman
Nose
, a family-owned
trattoria with a relaxed atmosphere that is known for its
simple yet
high-quality food using the freshest ingredients.
They also have an excellent brunch on weekends! (Location: 125 Newark Ave.
http://www.romannosejc.com/
   
(Caption: Owner greeting a family enjoying brunch at Roman Nose]
Or, you can always pick up a quick slice or pie at Two Boots pizzeria, which offers to-go and eat-in options with a selection of traditional and specialty pizzas, served with soda, beer & wine. Location: 133 Newark Ave. www.twoboots.com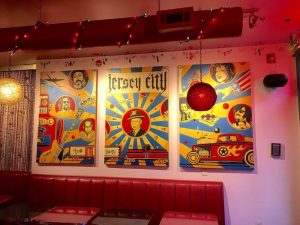 For al fresco dining, there are so
many of the places along Pedestrian Plaza in downtown Jersey City
. 
[Caption: Interior of Two Boots in Jersey City]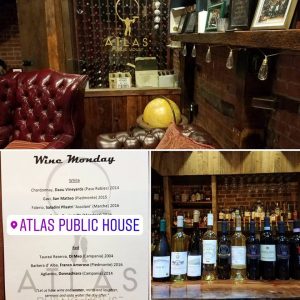 One can e
njoy a wide selection of craft beers
and delectable wines
at
Atlas Public House
,
an eclectic
gastropub that serves
classic pub
food
with a
n
international twist
.
It
s
home
–
y vibe make
s
it a popular place to unwind.  
Location: 130 Newark Ave 
http://atlasjc.com/
Skinner's Loft is an early arriver to the downtown Jersey City scene. Located further up on Pedestrian Plaza, the restaurant is a downtown Jersey City institution and is known for its simple yet delicious food and cocktails, and quaint rooftop bar. Location:14NewarkAve. https://www.skinnersloft.com/   [Caption: Rooftop Bar at Skinner's Loft]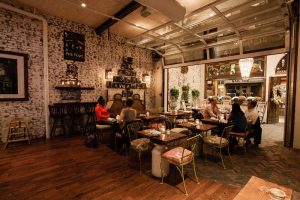 .
South House opens up onto Pedestrian Plaza and has delicious food and drinks, and a lively night scene with live music and an adult "rec room" with pool table, dart boards, foosball, and shuffleboard
(Location: 149 Newark Ave https://www.southhousejc.com/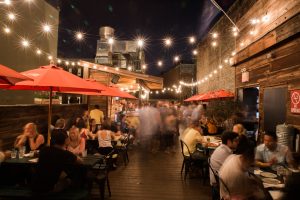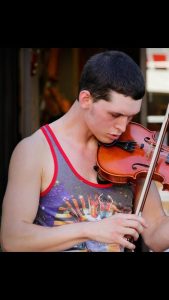 There are so many great restaurants to try in downtown Jersey City, and summer is the perfect time to enjoy eating outside on a rooftop or along Pedestrian Plaza, where you can enjoy time with family and friends, and even catch an impromptu performance from talented musicians who busk like local JC violinist Nathan L'Heureux https://www.facebook.com/thehappyviolin/
[Caption:
L
ocal JC violinist Nathan
L'Heureux
]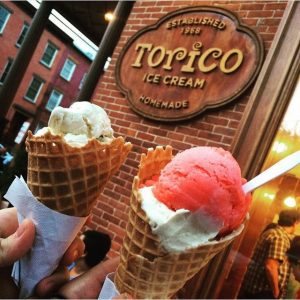 After dinner, or perhaps in lieu of dinner on a hot summer night, it's time to enjoy a cool and refreshing dessert. Torico's Ice Cream parlor is local favorite, a family-business soon to celebrate 50 years in downtown Jersey City. With over 60 premium ice cream flavors to choose from, along with various cones and sundae configurations, you will have endless possibilities to satisfy your sweet tooth.