The Best Neighborhood To Raise A Family In Jersey City
What makes a neighborhood great for families is typically a sense of community and plenty of public spaces and places to convene and hang out. Here are a few Jersey City neighborhoods that are particularly popular.

Be in the center of it all in Downtown



A stone's throw from Manhattan and brimming with development, restaurants, and bars, there's a reason Downtown Jersey City was recently dubbed "New York's hippest hood, right across the river." Downtown—spanning from the Newport area to Liberty Harbor and circling down to the Village to Harsimus Cove to Hamilton Park—is comprised of so many different nooks and neighborhoods within, each one with its own appeal. For the kiddos, downtown is home to Hamilton Park and Van Vorst Park, the two biggest parks in Jersey City, which feature jungle gyms, playgrounds, swings and spray pads in the summer, and grass for picnicking and lounging.
Numerous restaurants, bars, and coffee shops line the streets, including Torico ice cream (in business 50+ years) Choc-o-Pain, home to bread and pastries that rival NYC bakeries, pizza shops, and nearly every type of cuisine. On the Waterfront, Harborside's new District Kitchen food hall features many downtown outposts and is located right by the Exchange Place Boardwalk and ferry. Downtown is home to four farmer's markets per week featuring produce from local farms and specialty goods. For more shopping, check out the popular fish shop, cheese store, and great butcher, as well as the several larger grocers. The Newport Mall is home to department stores and boutiques.
The Newark Avenue Pedestrian Plaza offers a safe space with no traffic, bridging the community to the Grove Street PATH transportation hub. Other transportation perks include easy access to the PATH train and ferries at the waterfront. Bike lanes are painted into the streets of downtown for quick rides and errands. A bike ride all the way into Liberty State Park is easy to do from Downtown, too. There are several daycare centers and independent schools all over downtown, and four public elementary schools. There are also a ton of parks around.
Enjoy the views in Jersey City Heights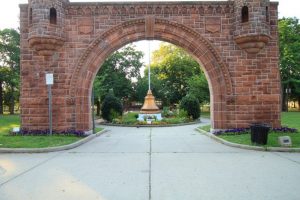 Picturesque NYC skyline views in The Heights? Believe it. A few years ago, The Heights were up and coming, and now they have arrived. With new construction and more space, many find a reason to buy here. The neighborhood centers on Palisade Avenue, which is bustling with coffee shops, bakeries, and some restaurants and bars. Many downtown spots have opened second shops in The Heights, such as Milk Sugar Love and Choc-o-Pain. Small, new restaurants have found their niche here, too, such as The Hutton, Corto, and the bar, Fox & Crow.
As far as parks go, Pershing Field Memorial Park has lots of swings for Jersey City kids to enjoy. During the summer children love running through the sprinklers in the splash park area. There are also multiple sports fields, two basketball courts, four tennis courts, swimming pools, and an outdoor running track. In the winter, many locals can be seen gliding along with the outdoor skating rink. Riverview Fisk Park, on Palisade Ave, has great skyline views and is home to a weekly farmer's market. Transportation to NYC is accessible via the elevator to the light rail, which goes right into Hoboken, and via buses to the Journal Square PATH.
Hustle and Bustle in Journal Square
The Journal Square PATH station provides quick access to Newark Penn Station as well as into Manhattan. The farmer's market on Wednesdays and Fridays around the perimeter of the station features an array of fresh farm produce and vendors. Journal Square is home to several good charter schools in the area such as The Golden Door, Hudson Arts and Science, and The Ethical Community. MANA Contemporary Art Gallery is also a short walk from the JSQ transportation hub and hosts monthly open houses. India Square is a stretch centered on Newark and Tonnele Avenue. Lined with grocery stores, it's a busy pedestrian nexus. While only a few small parks with swings can be found in the neighborhood, the area is less expensive compared to other sections of Jersey City and only a 5-minute drive to the Downtown parks or The Heights and West Side.
Spread out on West Side Avenue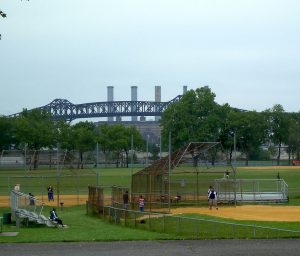 With larger homes and proximity to Lincoln Park and Journal Square, West Side is quickly becoming a popular Jersey City neighborhood to settle in with a family. It's a neighborhood that provides the benefits of the city while still allowing for more space that can be found in downtown apartments. It's also home to many charter schools (LCCS and TECCS) and a private school (Primary Prep). The diverse group of families that have settled here make it a special place to raise kids.
Many businesses have popped up to cater to the growing family-friendly area, such as Hudson Family Smiles and a Riverside Pediatrics office. Bus lines service the three main roads of the area (JFK Blvd, Bergen Ave and Westside Blvd). For shopping, The Bergen Fruit Market stocks vegetables, fruits and organic milk. Crema is great for ice cream or to hang out with friends, and Snap Dragon is a wonderful two-level coffee shop which is excellent for kids on a rainy day.
Boyd McGuiness Park and Lincoln Park are lovely places to play. Lincoln Park is large and great for riding bikes, playing tennis or basketball, and running around the playground. Boyd is great for younger children. There are mulberry bushes that grow at the back edge of the park in early summer that are super fun to explore and pick. School-wise, Three Little Birds, Little Sprouts Daycare, LCCS, TECCS, Primary Prep, PS 17, St Al's, and St Elizabeth's Childcare Center are all great options nearby.
Jersey City's neighborhoods each offer something different
Each neighborhood has its own vibe and is suitable for different families at different times in their lives. Maybe you love walking everywhere and commute to the city, so Downtown is the way to go. Maybe you'd like a bit more room and don't spend as much time going out, so checking out The Heights or Westside is a good idea. Even if you're not moving, exploring different neighborhoods is fun, so get out and enjoy!