Top Things to do this summer in Westside Jersey City
One of the best things about summer is the opportunity it affords you to visit somewhere nice, somewhere lush…somewhere worth visiting.
Let's see some amazing sites in Westside Jersey City which you can enjoy in this beautiful city whether you are a local, nearby or looking for a fun-filled tourist destination.
Jersey City NJ is home to numerous attractions including large amusement parks, fun water parks, discovery museums, and so much more. To help you get started on your summer of exploring, we have listed several favorite places to help you and your family begin enjoying the top things to do this summer in West side Jersey City.
Lincoln Park
On your list of top things to do this summer in Westside Jersey City, you can't leave this one off. This one is a must do for your family this summer. Plan a day to spend at Lincoln Park. It is a large park in Hudson County with approximately 273 acres.
Lincoln Park has so much to offer including a nature walk, three children's playgrounds, numerous athletic fields, courts, a cricket pitch, and a running track. There is a 3-acre lake for fishing and four gazebos to pose in for beautiful pictures or take a break. There's also a dog park so your furry companion can make friends too!
While you are at Lincoln Park, you'll get to see and enjoy some fantastic art and structures including Lincoln The Mystic, a Jersey City Civil War Memorial, Farrier Memorial, and the Great Irish Famine Memorial. It's another opportunity to appreciate art and architecture with the children!
One thing you won't miss is the 365 ton Lincoln Fountain. It's the worlds largest concrete monument! It's stunning and something the whole family can enjoy.
Lincoln Park is also home to the Casino In The Park. This is another excellent place to plan to eat sometime this summer! You'll experience delicious food, and you'll be at a popular destination!
Keep your eyes open as you walk around this beautiful environment and you may see some rare bird species including Black Skimmers, Osprey, and Egrets.
Free – Jazz Music by the Fountain ALL Summer
Each summer you'll get to listen to beautiful jazz music by the fountain. This is a free and family-friendly event that takes place each week throughout the summer. Stay tuned for more details!
Stop by Rosebud Florist on your way home and pick up their some fresh flowers. It adds such a nice feeling to home any time of year even when it isn't a special occasion.
It's a big event every year and if you don't want to stay home and celebrate in your own home and backyard, here's a popular event to make plans to attend:
The Statue of Liberty is located here in this city! This incredible 1,212-acre park is a green oasis nestled in an urban setting. You just have to see this park. Walking along the waterfront southward lets you have a really splendid view of the Statue of Liberty, and in case you decide to take your time and visit Ellis Island, you shouldn't forget to visit the incredible old (the 1930s) railway station.
If you're local, while it isn't in Jersey City, it is nearby and a historical point to visit. If you are a tourist looking for a destination, this is it. This is a place that changed the lives of many people and shook the world all over. The museum is really magnificent. You might actually spend hours just taking a tour around the museum. You get to enjoy breathtaking stories and see amazing artifacts. There is an audio tour available to anyone who chooses to enjoy it, so you might want to try that on your visit.
The island ferry operates between the St. George ferry terminal and the Whitehall terminal in lower Manhattan. You will enjoy the views of the surrounding area throughout your 25-minute ride. Interestingly, this ferry is free; you just have to comply with the applicable U.S Coast Guard Security Regulations.
If you're thinking of what it will cost you to enjoy views of the Manhattan Skyline, World Trade Centre, Statue of Liberty and Ellis Island, this is your free ticket.
Strolling The Streets on the West Side Of Jersey City NJ
The West side of Jersey City has shopping and a lot more to offer locals and tourists alike. You'll be able to relax, play, take your time and explore. You just might discover a lot of amazing adventures just waiting to be found on the West side in Jersey City.
It's always great to support local businesses whenever possible. There are still plenty of mom and pop shops in existence on the West side of Jersey City! You will see plenty of stores and restaurants to visit, with exciting deals to offer.
As you begin your stroll, there are two top places you need to be sure to stop this summer! In no particular order, you need to stop for breakfast or brunch at these excellent places. Visit Wonder Bagels where you'll find hand-rolled bagels and a fantastic menu to find new favorites. Also, visit Gary's Sweet Shoppe which has been around for decades and you'll see locals enjoying coffee, butter bread, and solving the world's problems.
As you stroll the West side of Jersey City, one thing to do as a family if you have young children is count and identify different shapes. The adults will enjoy appreciating the architecture of a different era while the children will be happy, learning, and busy.
Stop to Eat
Have a taste from the selection of restaurants in West side Jersey City. One of the best things about having diverse neighborhoods on the West side of Jersey City is that different types of restaurants are there and serving delicious foods. If you and your family are at all "foodies," you can enjoy a summer-long food adventure. Pick a different place each week and take a night off of cooking at home. It will be exciting, and you'll be introducing your children to new foods and cultures as well as getting the opportunity to taste a vast variety of different types of food.
Here are some favorite places to stop to eat where there's usually something on the menu even for the child that doesn't like to try new things.
A Taste You Won't Forget – They are open Monday thru Saturday from 7 am to 9 pm offering convenient hours to fit busy schedules. They serve breakfast, lunch, and dinner. You'll find Carribean, Dominican and Hispanic cuisine in a casual atmosphere.
You'll enjoy a taste of Jamaica! They have convenient hours and are open until 8 pm each evening. They've been serving this area for two decades.
Simply great pizza, pasta, salads and more! If it's a hot evening and you don't want to turn the oven on, pick up some pizza and stroll over to Lincoln Park or have it delivered to your door.
The Miss America Diner is a must visit this summer! It is an old-fashioned diner offering home cooking and is sure to please a hungry appetite. They are a prestigious landmark with over 75 years in business. They offer daily deals, breakfast, lunch, and dinner and are open seven days a week.
The Light House Tavern is a resorted public house from late in the 1850s, and you might end up imagining the days of prohibition when those smoky recesses were filled with bootleggers and whiskey sippers. The spot integrates modern cuisines into its history, focusing mainly on east coast fare, oysters, Maine lobsters and kale salads and crispy cod fillets.
Fourth Of July 2018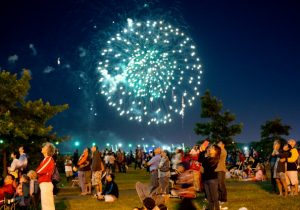 Don't let summer slip away without attending a big event where the children will be in awe of the fireworks. Make plans now to celebrate The Fourth Of July by attending the 5th Annual Freedom and Fireworks Festival. This exciting family-friendly event is on July 4th and begins at noon.
While those are our top things to do this summer in Westside Jersey City, here's a couple more items that are often wonderful to add to our summers plans.
Learning and Growing Opportunities
If you want to add in some programs for this summer, here's a couple of places with some great offerings:
Three Little Birds on Westside Avenue has an assortment of classes, programs, and events for children. It may offer the summer opportunity you are looking for as you make plans for your top summer activities!
Also, Jersey City Recreation has multiple classes and programs available!
Jersey City Waterfront
Located downtown, this waterfront gives you excellent views of the Manhattan Skyline. You'll really enjoy visiting some of its many restaurants and hotels. Many have experienced lodging at the hotels and air bnb choices nearby just so that they can enjoy the magnificent views throughout their stay in this city. Even if you are local to Jersey City, this can be a fun type of "stay-cation" that gets you out of the house yet nearby to have a less expensive "vacation".
Few MUST do ….
Crema
– (Must Try )An ice cream and coffee shop at Duncan and Bergen Ave.
The Dairy Queen on Westside Blvd – walk up DQ without an inside area, A really fun thing to do in the summer-513 West Side Blvd.
Summer 2018 Memories
Whatever you do, we hope you have lots of fun, embrace every moment and make lots of memories this summer as you begin exploring the top things to do this summer in Westside Jersey City.