10 Best Cafes in Jersey City
Jersey City is a major hub for commuters so finding a place to grab a quick bite and get your coffee fix is a must! Known for its after-work restaurants and hangouts, Jersey City offers a number of amazing and cozy cafes. There are so many options to choose from it may get a little overwhelming! Don't worry, we've created a list of The 10 Best Cafes in Jersey City to get you started!
Café Esmé has been designed to bring a piece of Parisian taste to downtown Jersey City. Every aspect of the café has been thought of with the customer experience in mind. From the chic interior to the delicious menu to the music that fills the space, Café Esmé hits all the senses and makes people feel transported and completely at home, all at once.  They offer delicious sandwiches, pastries, and coffee.
18 Park Avenue & 290 Grove Street
This Instagram-worthy cafe has not one but two locations in Jersey City making it the perfect fit on our list of 10 Best Cafes in Jersey City! Grab a beautifully crafted latte to go or take a seat and sink your teeth into a yummy meal. Both locations have a special weekday and weekend menu so there's always something good to choose from.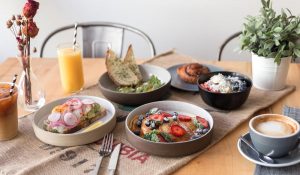 183 Montgomery Street
Located in the Van Horst Park district, Short Grain is a cute cafe that has an amazing menu! Choose from fun options such as Green Eggs and SPAM for breakfast or a hearty Coconut Curry Chicken sandwich. Don't worry, they have vegan and vegetarian options as well! They offer dine-in, takeout, and delivery options so you can satisfy your Short Grain craving anytime!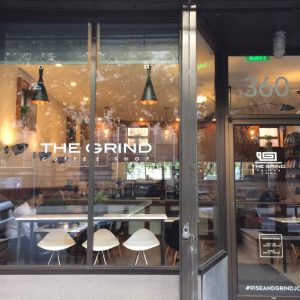 360 Communipaw Ave
The grind never stops at The Grind Shop! A fan of Doughnut Plant donuts but can't make it into Brooklyn? Assorted flavors include PB&J, tres leches, lemon rose and so much more! The Grind Shop offers the delicious donuts right here in Jersey City. The also proudly serve LA COLOMBE Coffee.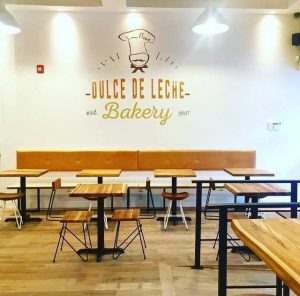 376 Central Ave
This Argentinian bakery and cafe is family-owned and offers a variety of traditional bakery foods not normally found in the U.S. Their cafe menuis vast so there's something for everyone. Happen to be looking for a custom cake for an event? Dulce de Leche designs beautiful custom cakesthat will become an amazing centerpiece for any party!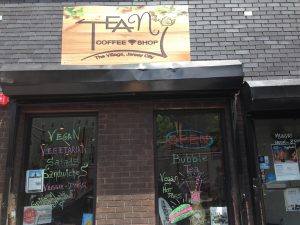 262 Newark Ave
Next on our list of 10 Cafes in Jersey City is Tea NJ. This is a vegan paradise! It boasts that 90% of their menu is vegan-friendly while the other 10% is a mix of vegetarian and meat-eater options. This artsy cafe is open daily until 6 PM and 5 PM on Sundays and offers delivery options! Tea NJ also offers weekend DJ brunches!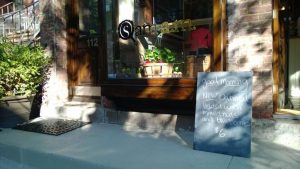 112 Morris Street
This quaint Paulus Hook cafe offers daily breakfast made from simple, fresh ingredients. Sam AM serves up a delicious cup of Stumptown coffee that you can enjoy while taking in the peaceful ambiance. Sam AM also holds their Supper Club which is a reservation-only prix fixe menu that is released weekly! Make sure you sign up for their newsletter so you can stay in the know and reserve your spot because Supper Club space is limited!
295 Grove Street & 140 Bay Street
This hidden gem is a perfect place to take a gather yourself before heading to work or unwinding after a busy day. From tea to cold brew, Lackawanna Coffee has something for everyone. It's also a 3-minute walk from the Grove Street PATH!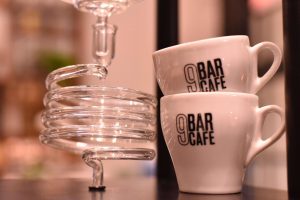 18 Erie Street & 200 Greene Street
There's always something to be in awe of at 9 Bar Cafè! From the atmosphere to its cups of coffee, everything is a "work of art." The cafe was created by Stefania Cocozza who was born and raised in Rome. With over 20 years in the coffee business, she brings her passion for delivering amazing coffee and food combined with creating a warm environment to 9 Bar Cafè making it the perfect fit on our list of 10 Best Cafes in Jersey City.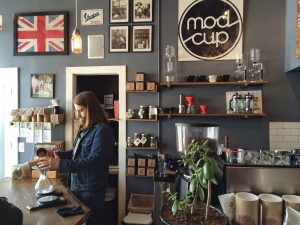 479 Palisade Ave, 25 Senate Place & The PATH At Exchange Place
This cafe is living up to its name with its modern design. Modcup was born in 2013 and was founded on the principle of freshness and offering exotic and naturally pressed coffee. Want to get that amazing cup of coffee at home? Modcup offers coffee that you can purchaseonline!
Whether you're grabbing a coffee on your way to work or if you're looking to study or just sit down and relax, there are plenty of cafes to pick from! If you're looking to bring your kids with you, check out our blog about Kid-Friendly Cafes in Jersey City and Hoboken! And should you prefer something sweet to go with your coffee, make sure to stop by our blog post about The Best Vegan Bakeries in Jersey City? There's definitely something for everyone in Jersey City!
If you have any suggestions or concerns, or if there is anything you think we should add to the blog, send us an email to [email protected]!