The 15 Best Cafes in Hoboken
Who doesn't love a cup of hot coffee, some fresh baked goods, or a delicious meal to go with it? Hoboken has a plethora of cafes that are perfect to stop by and enjoy. Whether you want to stop by and work or just get a quick pick me up, Hoboken has it all. Therefore, we created this full guide to help you find the best cafe in Hoboken.
1002 Washington Street + 1401 Adams Street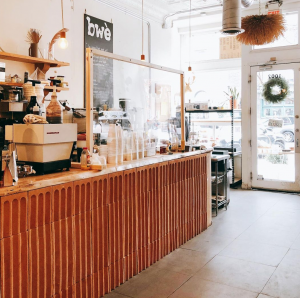 bwè Kafe is your local family-run coffee shop, on a mission to fuel the communities they serve in meaningful and innovative ways. By sourcing local and as earth-conscious goods, they are committed to curating a shopping experience that goes hand-in-hand with responsibly building the foundations of tomorrow. bwè kafe means drink coffee in Haitian Creole. If you are looking for a delicious latte, bwè is not one to miss. They have two locations in Hoboken.
527 Monroe Street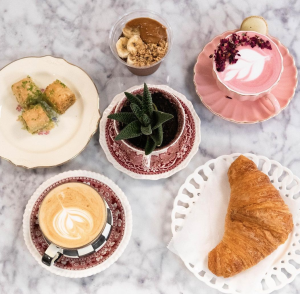 Cafe Vista is new to Hoboken but has become a fan favorite. Their rose latte is a must-try and is absolutely beautiful. This new cafe is a labor of love by a local mom who made sure to curate everything on the menu. They have amazing drinks but also baked goods and pastries as well as other food options like avocado toast, chia puddings, etc.
700 Garden Street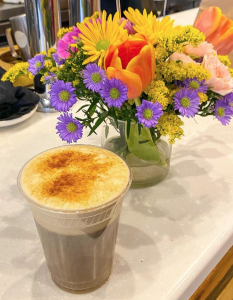 Hidden Grounds has multiple locations. They source their coffees from the finest farms. After roasting and cupping processes, their baristas spend countless hours working their magic to find the perfect ratios to serve. They have a variety of lattes, fresh coffee, and sandwiches.
230 Willow Avenue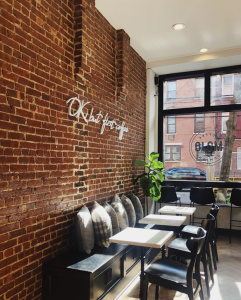 Mojo Coffe's is a local favorite. The owners are Hoboken natives and coffee lovers of course. The two of the main coffee brews that stand out in the coffee world are the Mojo House Blend and the Rio Azul. Additionally, they also have a selection of locally sourced treats offered daily including Croissants, Coffee Cakes, Muffins, and Cookies!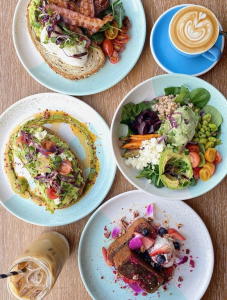 Just a stone's throw away from our first locations in Manhattan, New York, Bluestone Lane is now in Hoboken. Positioned on the vibrant Washington St, Bluestone Lane is just a couple of blocks from the banks of the Hudson River, nestled within a young and thriving restaurant and shopping scene. With plenty of indoor and outdoor seating, this new location caters to everyone and is bound to be a destination, no matter what time of day. Addtionally, if you are looking for amazing coffee but also something to eat, they've got it all. From avocado toast, breakfast burritos to breakfast bowls.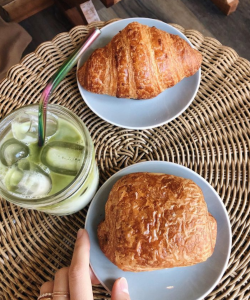 The Little Local is a company that believes in the science of quality coffee. They work with little local businesses in Hoboken and Jersey City to create a service that suits our neighbors. The Little Local have all your latte and coffee needs. They also have a great selection of baked goods from local bakeries like Baking Mama, Cho-O-Pain, Boomerang Bites, and more. The best cafes in Hoboken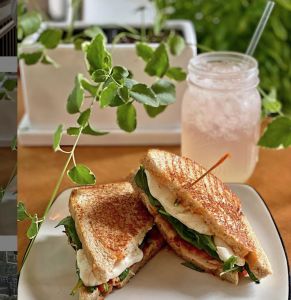 Whether you live in the neighborhood, come down from the hill, or commute in from the light rail, Black Rail Coffee are here to offer a tasty cup of coffee, and an even tastier sandwich or brunch. Their house blend is a fine medium roast with notes of citrus, apple and milk chocolate. Their Espresso beans are a blend sourced from farms in Ethiopia and Mexico; they yield a velvety smooth shot that is perfect by itself or as a latte. Enjoy their delicious sandwiches and wraps for breakfast or brunch.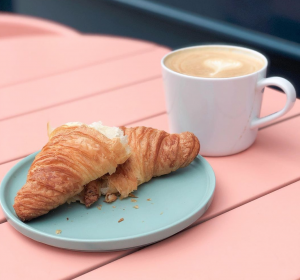 The Hive is founded by local moms. They tested a lot of coffee to land on what's best for their shop and ultimately chose a local roaster, Kobrick's, to serve up fresh, certified organic blends that are prepared downtown and delivered to us each week. A 100-year-old, family-owned business and one of the many hidden treasures in Hudson County. Addtionally, if you're feeling hungry, their menu of pastries and homemade confections will satisfy any craving. Their bakery partner, iDelights, delivers fresh croissants and scones daily, and they offer them in big and mini sizes.
They also built the space to be a calming retreat from the chaos of parenthood, with a rotating assortment of toys to keep your little one engaged while you take a minute to yourself. Available on a reservation-only basis for groups of six or less.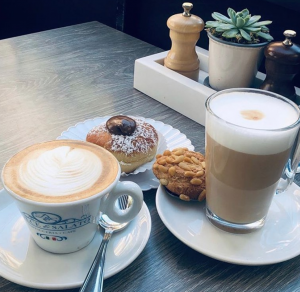 Dolce & Salato is a neighborhood Italian Cafe and Pasticceria which opened in the Summer of 2018. Their goal is to bring a slice of authentic Italian taste to Hoboken. The best cafes in Hoboken. The owners Maurizio Dolce, Michael Nirchio, and Brian Mazzei have always remained close to their Italian heritage and are now sharing this with the residents of Sinatra's hometown. They have delicious coffee and latte, pastries and baked goods.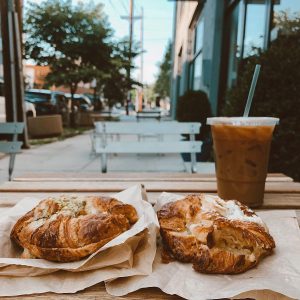 Yuki's Bakery & Coffee specials include Yuki's famous Babka (available in different flavors), Challah bread, Borek, Rugelach, Vegan Oat and Date cookies, Granola and much more. Coffee beverages are by Counter Culture Coffee. Additionally, the shop will be offering delicatessen items, such as: authentic Tahini (Har Bracha), quality Za'atar, Organic Teas, Silan – Date Honey, Halva & More.
123 Washington St. Hoboken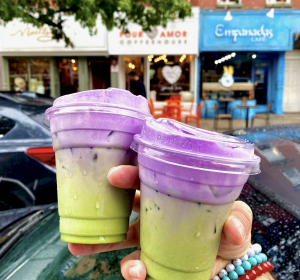 At Pour Amor Coffee its love at first sight with their coffee. Its Hoboken's 1st pour over specialty coffeehouse. The new shop comes courtesy of Massimo Aronson, who owns the nearby Bagels on the Hudson and Bayonne's Buon Appetito on Broadway.
103 Garden Street, Hoboken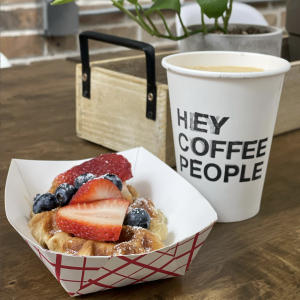 Hey Coffee Shop is offering a warm welcome to all coffee people! Located on 103 Garden Street, their interior is lovely art work and plants. This is also a nice place to work remotely from.
534 Washington Street and 1001 Madison Street, Hoboken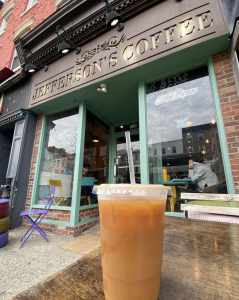 At Jefferson's they roast their coffee on weekly basis. Its the perfect little quiet atmosphere to work remotely from and grab a cup of joe.
1320 Bloomfield St, Hoboken
Founded in 2014, City of Saints is a coffee roasting company with retail cafes in wonderfully disparate nooks of New York and Hoboken, New Jersey, roasting out of Brooklyn NY. They have over 30+ years in the coffee business.
338 Bloomfield Street, Hoboken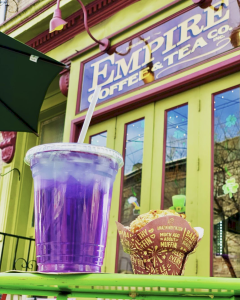 Empire Coffee & Tea Co., is a cafe & coffee roaster offering coffee beans & loose tea, plus speciality food items & gift baskets.
There's plenty to do when you're in Hoboken, so whether you're visiting or just looking for a new coffee shop to try, we hope this list has helped you find the right spot for you. Whether you're looking for a quiet place to study or a lively spot to hang out with friends, Hoboken has got you covered. If you live in the area, or are planning a trip in the near future, take some time to explore all that it has to offer!
We'll keep updating our list as we find new places, so check back often!