15 Breakfast And Brunch Spots In Hoboken
Brunch is a big deal in the city.  Whether it's a Saturday brunch which is the best time to gear up for the night ahead or Sunday brunch which is perfect for a relaxing day with family and friends. Luckily, Hoboken has an abundance of brunch spots. The restaurants listed below offer a broad array of food options for anyone living in Hoboken. If you are looking for something more on the go, check out these cafes. So check out these brunch places in Hoboken.
207 Washington Street, Hoboken, NJ 07030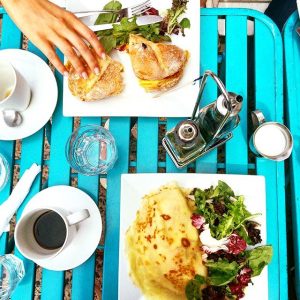 Established in 2011, La Bouche Cafe offers coffee, breakfast, brunch, and lunch featuring crêpes and house-made pastries. La Bouche Cafe is inspired by European style craft, design, and music, where all together evokes a sense of arty atmosphere. It is a perfect cozy place for an early morning coffee, breakfast, lunch, or for a sweet brunch of healthy and tasty dishes.
1001 Washington St, Hoboken, NJ 07030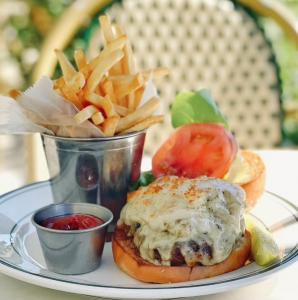 Elysian Cafe is a modern French bistro fare and classics like steak Frites served in a restored saloon. Situated in the heart of Hoboken since 1895, they offer tasty French food. The café offers a variety of salads, pasta, burgers, and soups.
953 Bloomfield Avenue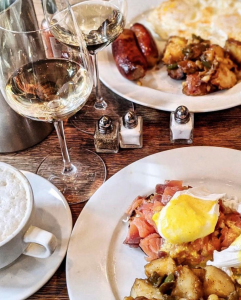 More than 15 years ago, Anthony David's put hard-to-find epicurean items on the shelf of a cozy corner store in Hoboken, and nothing has been the same since. Now, in true trattoria style, Chef Anthony Pino serves Italian classics and new creations, made with seasonal, local ingredients, strong flavors, and a simple, honest presentation. They have a pretty outdoor patio. Additionally, this is a great spot for a family brunch. So found your perfect places for brunch in Hoboken?
1300 Park Avenue, Hoboken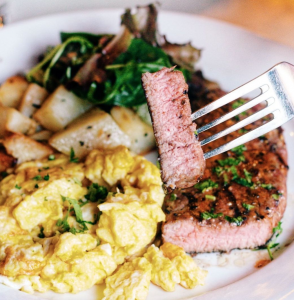 Barbes is another restaurant to definitely check out for brunch. They are a French Moroccon restaurant located in uptown Hoboken. Their menu takes its lead from Morocco, North Africa's culinary star, balanced with traditional French brasserie fare and a cozy atmosphere echoing the bistros of Paris (but with some really cool Moroccan touches), their goal is to bring the Barbès Paris vibe to Hoboken! Addtionally, they have a chic outdoor patio where you can enjoy some of their delicious dishes.
135 Washington Street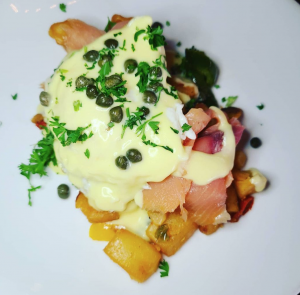 This landmark restaurant has been restored to its original early 1900's elegance and is the perfect setting for a fine dining experience in the heart of historic downtown Hoboken. They offer a dynamic New American menu and an extensive wine program as well as a premium-only bar featuring the world's best spirits and cordials. They use only the freshest seasonal ingredients to create an elegant style of food. Addtionally, they have an outdoor patio ready for you to enjoy. Check them out for brunch and you won't be disappointed. They have a fixed $27 menu as well.
700 1st Street, Hoboken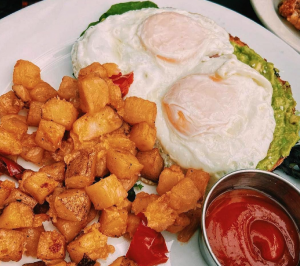 Northern Soul offers fresh food, delicious drinks, solid music, and familiar faces. The core of their menu is healthy comfort food, where veggies and omnivores alike can enjoy sustainable food in an inviting and welcoming environment. Also, their cocktails are tried and true: only the best alcohol and choice ingredients make the cut. Addtionally, their outdoor northern soul shacks are a must check out. These glasshouses have sanitized tables ready for you to safely enjoy. The brunch menu has a ton of variety too.
56 Fourteenth Street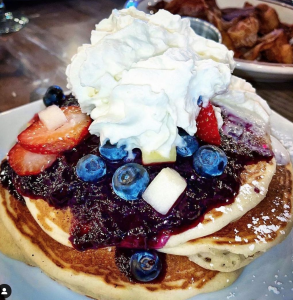 Located in Uptown Hoboken. City Bistro is a three-floor restaurant, bar, lounge & rooftop serving an eclectic menu of Italian American fare. Not only do they have a beautiful outdoor patio but they also have a rooftop open for the summer.
1314 Washington Street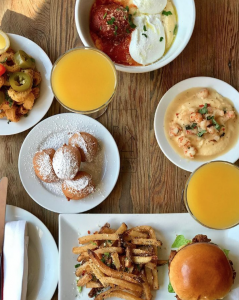 When Bin 14 opened in November 2008, it established Hoboken's first and only wine bar. The restaurant features a contemporary blend of upscale Italian tapas (small plates) in an industrial-chic space with exposed brick walls, tin molded ceilings and a marble top bar. They also have a brand new patio that is perfect for the summer and brunch of course! The brunch special includes one small plate, one entree, and comes with perfectly powdered zeppole's with a chocolate sauce on the side.
740 Washington St, Ste 1, Hoboken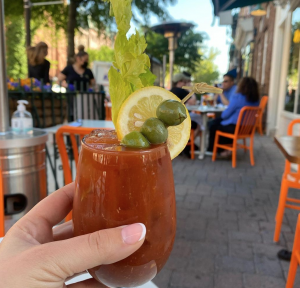 Brand new to Hoboken, this restaurant serves a variety of tasty Italian dishes. Margherita's Pizza and Cafe has appetizers like fried calamari with a side of marinara sauce, stuffed mushrooms, and zucchini sticks.  The main course of chicken marsala, cheese-filled ravioli, shrimp primavera, or penne vodka will fulfill the appetite. Additionally, they also serve pizza, including specialty options, calzones, and sandwiches. They also have brunch cocktails. Enjoy a meal at their lively outdoor patio for brunch! places for brunch in Hoboken
500 Grand St, Hoboken, NJ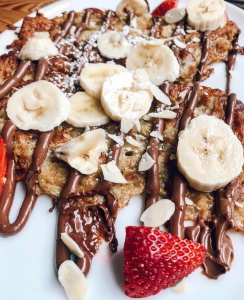 Featuring an array of carefully selected wines and craft beers, delicious dishes made from local ingredients, and knowledgeable staff to accommodate your every need, Grand Vin is the perfect place to unwind after work or socialize with friends. They are also dedicated to creating a sophisticated, relaxed atmosphere where you can enjoy the "Grander" side of life. Their brunch menu has a ton of delicious options like french toast, steak & eggs, salads, shrimp tacos and more.
93 Grand St, Hoboken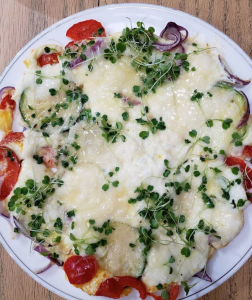 Green Pear Cafe is a family-owned business featuring Lavazza coffee and slow food. Located in the heart of Hoboken, they serve varieties of meals for breakfast, lunch, and dinner. They also have contemporary Italian food. They have some great brunch options.
1319 Washington Street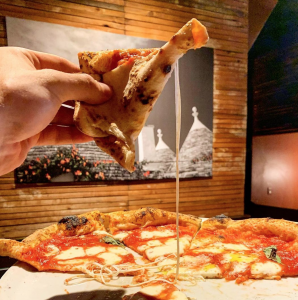 Apulia in Hoboken is offering a beautiful outdoor setup in their backyard with a tented area where you can enjoy brunch. Who doesn't love some Italian food for brunch? They have a lot of delicious options on their menu from pizzas, pasta, meatballs, salads and more.
316 Sinatra
The Ainsworth Hoboken, located on the Hudson River waterfront overlooking New York, brings a sophisticated twist to the classic all-American sports bar, restaurant, and private event experience. Addtionally, they have an outdoor patio where you can enjoy good food and drinks. The brunch menu has a lot of delicious options as well as bottomless drinks for $45. Isn't these options and places perfect for a brunch in Hoboken?
743 Park Ave, Hoboken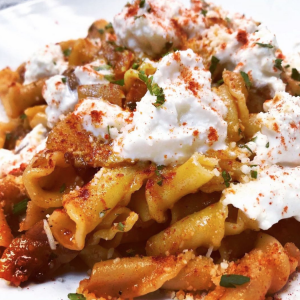 Otto Strada is Italian cooking at its finest; simple foods made with high-quality ingredients in a wood-burning brick oven. Otto Strada is a traditional Italian restaurant. Most, if not all, of the dishes on Otto Strada's menu, are family recipes handed down from generation to generation. The restaurant is also BYOB. The food at Otto Strada is essentially Italian comfort cuisine. Addtionally, one of the specialties of the house is the pizza, of which there are several both red and white varieties. Some of the favorites include crispy prosciutto with tomatoes, goat cheese, homemade mozzarella, fresh basil, and prosciutto di parma as well as a simple, but delicious, four-cheese with ricotta, mozzarella, caciocavallo, and Parmigiano Reggiano. places for brunch in Hoboken
525 Sinatra Drive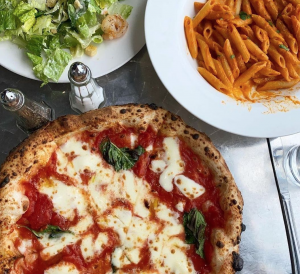 Blue Eyes is not one to miss for brunch. They literally own a wood-burning oven made out of bricks that have been flown from Naples, Italy, to offer you the most authentic pizza Napoletana. Their restaurant sits on the Hoboken waterfront facing the gorgeous view of the New York City skyline. During spring and summer months they provide outdoor seating accompanied with a gelato stand and a raw bar so you can come and enjoy the view with them.