The Best Kid-Friendly Cafes in Jersey City and Hoboken
Are you looking for some of the best kid-friendly cafes in Jersey City and Hoboken? We have compiled a list of the yummiest and kid-approved cafes and restaurants to check out in JC and Hoboken! Be sure to take out the whole family for some delicious food at one of the awesome eating establishments.
Café Esmé has been designed to bring a piece of Parisian taste to downtown Jersey City. Every aspect of the café has been thought of with the customer experience in mind. From the chic interior to the delicious menu to the music that fills the space, Café Esmé hits all the senses and makes people feel transported and completely at home, all at once.  They offer delicious sandwiches, pastries, and coffee.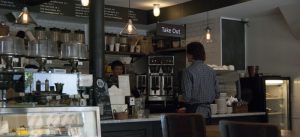 Located on the very popular Grove Street, this industrial style cafe has delicious tea and coffee. They serve brunch until around 3 pm every day and lunch begins at 12 pm. Kids love their simple smoothies, pancakes, and milk. They also have outdoor seating, which is perfect for when the weather is nice or if you need more room for strollers. We highly recommend you check this top 10 best restaurants to go with family in Jersey City.
376 Central Ave
This Argentinian bakery and cafe is family owned and offer a variety of traditional bakery foods not normally found in the U.S. Their cafe menu are vast so there's something for everyone. Happen to be looking for a custom cake for an event? Dulce de Leche designs beautiful custom cakes that will become an amazing centerpiece for any party!
18 Erie Street & 200 Greene Street
There's always something to be in awe of at 9 Bar Cafè! From the atmosphere to its cups of coffee, everything is a "work of art." The cafe was created by Stefania Cocozza who was born and raised in Rome. With over 20 years in the coffee business, she brings her passion for delivering amazing coffee and food combined with creating a warm environment to 9 Bar Cafè making it the perfect fit on our list of 10 Best Cafes in Jersey City.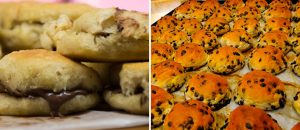 If you are looking to indulge in some delicious freshly baked bread, enjoy Bsomes sweets, or have a coffee (for the adults of course) you must check out this cafe and bakery. They have a little something for the whole family and it is sure to not disappoint.
Prato Bakery is a piece of Tuscany in New Jersey. A little bakery with Italian style, where everyday our master bakers produce our baked goods. You can smell the bread, the focaccia, the pizza, the cantucci…as soon as they come out of the big oven that is in the middle of the bakery. You can see the bakers at work from the window next to the customers area.
This cafe has great outdoor seating, plenty of room for strollers, and some good kid-friendly food options. They have burgers and fries, sandwiches, and soups all of which are perfect for kids. It's definitely a trusty food establishment and a great option for kid-friendly cafes in Jersey City and Hoboken.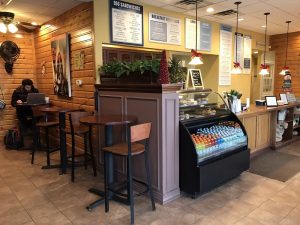 This some of the most delicious and unique breakfast, brunch, and lunch items The Turning Point is one of the best kid-friendly cafes in Jersey City and Hoboken. Their food is always fresh and seasonal, and they have a ton of super healthy meal options off of their fit menu. Kids will enjoy traditional french toast and pancakes for breakfast or lunch!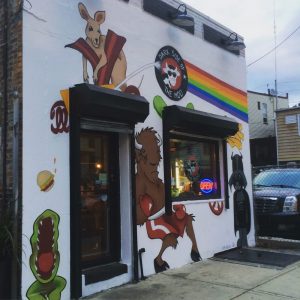 Although this is a small cafe, it feels super homey and cozy, which is awesome for kids and families. They have some cool food options like alligator sausage, but you can stick with more traditional fare like burgers, fries, sandwiches, and wings. Kids will also love the decor and paintings of animals on the front of the building. Check this place out as it is one of the best kid-friendly cafes in Jersey City and Hoboken.
A place with coffee, cocktails, and delicious eats, this is a kid-friendly place, but also perfect for the adults as well. From pancakes to french toast to omelets to sinful grilled cheeses, your family is sure to love this unique cafe.