15 Best Cafes in Jersey City
Jersey City is a central hub for commuters, so finding a place to grab a quick bite and get your coffee fix is a must! Known for its after-work restaurants and hangouts, Jersey City offers several unique and cozy cafes. However, there are so many options to choose from it may get a little overwhelming! Don't worry; we've created a list of The 15 Best Cafes in Jersey City to get you started!
Cafe Esme
485 Marin Blvd, Jersey City, NJ 07302
Café Esmé has been designed to bring a piece of Parisian taste to downtown Jersey City. Every aspect of the café has been thought of with the customer experience in mind. From the chic interior to the delicious menu to the music that fills the space, Café Esmé hits all the senses and makes people feel transported and entirely at home, all at once. They offer delicious sandwiches, pastries, and coffee.
Beechwood Cafe
18 Park Avenue & 290 Grove Street, Jersey City, NJ, 07302
This Instagram-worthy cafe has not one but two locations in Jersey City, making it the perfect fit on our list of 11 Best Cafes in Jersey City! So grab a beautifully crafted latte to go or take a seat and sink your teeth into a yummy meal. Both locations have a special weekday and weekend menu, so there's always something good to choose from.
Short Grain
183 Montgomery Street, Jersey City, NJ, 07302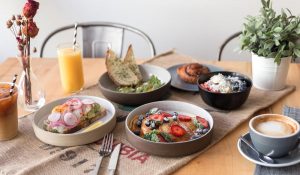 Located in the Van Horst Park district, Short Grain is a cute cafe with an amazing menu! Choose from fun options such as Green Eggs and SPAM for breakfast or a hearty Coconut Curry Chicken sandwich. Don't worry; they have vegan and vegetarian options as well! In addition, they offer dine-in, takeout, and delivery options so you can satisfy your Short Grain craving anytime!
The Grind Shop
360 Communipaw Ave, Jersey City, NJ, 07304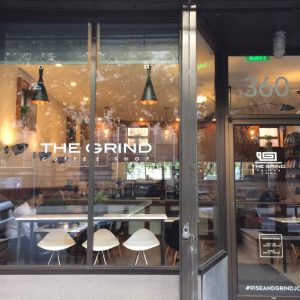 The grind never stops at The Grind Shop! A fan of Doughnut Plant donuts but can't make it into Brooklyn? Assorted flavors include PB&J, tres leches, lemon rose, and so much more! The Grind Shop offers delicious donuts right here in Jersey City. They also proudly serve LA COLOMBE Coffee.
Dulce de Leche Bakery
376 Central Ave,

Jersey

City, NJ 07037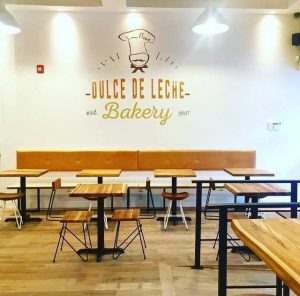 This Argentinian bakery and cafe is family-owned and offers a variety of traditional bakery foods not normally found in the U.S. Their cafe menu is vast, so there's something for everyone. Happen to be looking for a custom cake for an event? Dulce de Leche designs beautiful custom cakes that will become an amazing centerpiece for any party!
Sam AM
112 Morris Street, Jersey City, NJ, 07302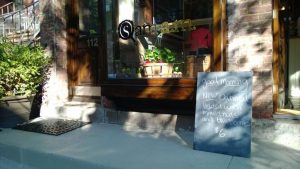 This quaint Paulus Hook cafe offers daily breakfast made from simple, fresh ingredients. In addition, Sam AM serves up a delicious cup of Stumptown coffee that you can enjoy while taking in the peaceful ambiance. Sam AM also holds their Supper Club; a reservation-only prix fixe menu released weekly! Make sure you sign up for their newsletter so you can stay in the know and reserve your spot because Supper Club space is limited!
Lackawanna Coffee
Various Locations in Jersey City
This hidden gem is a perfect place to gather yourself before heading to work or unwinding after a busy day. From tea to cold brew, Lackawanna Coffee has something for everyone.
Modcup Coffee
Various Locations in Jersey City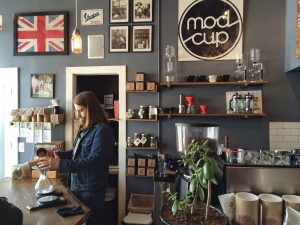 This cafe is living up to its name with its modern design. Modcup was born in 2013 and was founded on the principle of freshness and offering exotic and naturally pressed coffee. Want to get that amazing cup of coffee at home? Modcup offers coffee that you can purchase online!
Whether you're grabbing a coffee on your way to work or if you're looking to study or sit down and relax, there are plenty of cafes to pick from! If you're looking to bring your kids with you, check out our blog about Kid-Friendly Cafes in Jersey City and Hoboken! And should you prefer something sweet to go with your coffee, make sure to stop by our blog post about The Best Vegan Bakeries in Jersey City? There's definitely something for everyone in Jersey City!
Cafe Alyce
641 Montgomery, Jersey City, NJ, 07306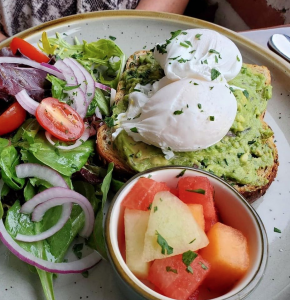 Cafe Alyce is now open! The BYOB restaurant is at was formerly the Medical Center Luncheonette right in front of The Beacon. The cafe comes from the owners of Bergen Lafayette's Hooked JC.
Cafe Peanut
586 Newark Avenue, Jersey City, NJ, 07306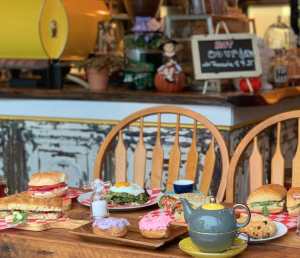 Cafe Peanut is a funky little place located in the heart of Journal Square, Jersey City. Dedicated to quality, the charming artistic cafe is the closest to Coffee Heaven you will get. Their yummy coffee is locally hand-roasted in small batches, blending and creating a never-ending passion for exploration.
Come on in and try their famous House Made Rose or Lavender Latter while being surrounded by a relaxing and friendly atmosphere.
Tree House Coffee Shop
434a West Side Ave, Jersey City, NJ, 07304
A cool "secret" hangout to drink a coffee while you are making, planning, creating, bouncing, or doing nothing. This adorable cafe opened by couple Frank and Diana is a must-try in Jersey City. Three House has everything from coffee, lattes to yummy pastries and donuts. The inside and outside are super Instagrammable!
Bluestone Lane Jersey City
30 Hudson Street, Jersey City, NJ, 07302
At the base of the tallest building in Jersey City, find our brand new Bluestone Lane, sharing a home with Goldman Sachs at 30 Hudson Street, New Jersey. Just a stone's throw from the waterfront that boasts exceptional views of New York City, our coffee shop is the perfect destination in the heart of downtown New Jersey. Large double doors open into a sleek, modern space with seating for up to 50 people. Natural light fills the space that is decorated in signature Bluestone Lane style, featuring Aussie beach prints and green Mercury Mosaics tiles.
They are offering Jersey City locals a taste of Australian coffee culture, with the full Bluestone Lane coffee program as well as a selection of health-focused menu items. Stop in for a Flat White and Avo Smash, or try one of our signature Cold-Pressed Juices. Whatever you're in the mood for, they got it!
Gussys Cafe
340 3rd Street, Jersey City, NJ, 07302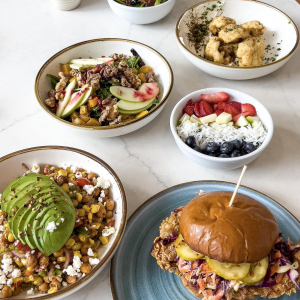 Gussys Cafe is a brand new brunch spot that is now open in downtown Jersey City. Gussy's Cafe is at the former FM venue spot at 340 3rd Street. The menu includes an all-day brunch menu with options like pancakes, sandwiches, eggs, salads, lattes, and more.
Kaffa Espresso Bar
276 Newark Avenue, Jersey City, NJ, 07302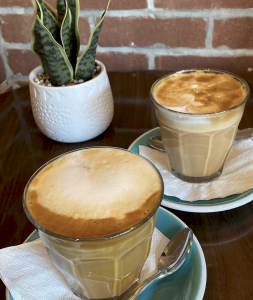 There is a new coffee shop in town. Kaffa Expresso Bar will include traditional favorites such as hot chocolate, chai tea, cortados, macchiatos, lattes, and of course espresso shots. They will also have some pastries and sandwiches, but primarily it will be great coffee being served at Kaffa.
Gotan
198 Van Vorst St., Jersey City, NJ, 07302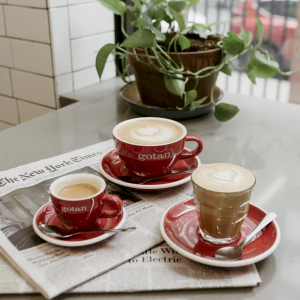 Gotan Cafe
is a New York based coffee shop now with a Jersey City location. They serve breakfast, sandwiches and of course coffee to get your day started off right.
Updated November 2023