Best Places to See Fall Colors and Foliage Near Jersey City
One of the best activities to do in the fall is the gaze at the stunning fall colors. Red, orange, yellow, and lush greens are everywhere it is one of the prettiest times of the year in New Jersey. Jersey City may not have the best fall foliage to look at, but that doesn't mean there are not tons of close places to enjoy the color-changing trees. Below are some of the best places to see fall colors and foliage near Jersey City!
Battleground State Park: Manalapan, NJ
With almost 2,000 acres of park to walk and/or drive through, this is one of the best places to see fall colors and foliage near Jersey City. There are tons of trees, walking trails, picnic areas, and the park is filled with a rich history. It is the perfect place to gaze at the fall foliage on a weekend afternoon.
Ringwood State Park: Ringwood, NJ
Located northwest from the Jersey City area, this state park is by the Ramapo Mountains and has 5,000 acres of trees to see the best fall colors around! There are also great places to canoe, walk, and so much more.
Cheesequake State Park: Old Bridge, NJ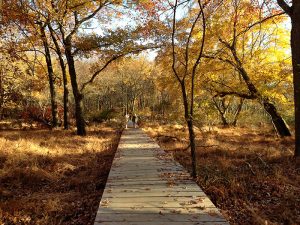 This state park has some great campgrounds and has a variety of trees to explore to see the fall colors. There are 5 walking and hiking trails if you feel like getting more active and have great picnic areas to eat lunch on a crisp autumn day. Be sure to stop by this park as it is one of the best places to see fall colors and foliage near Jersey City.
High Point State Park: Sussex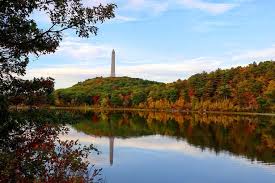 The lush forest surrounds Lake Marcia, making it one of the most scenic places in NJ, especially during the fall. There is nothing more relaxing and tranquil than sitting near calm waters – that combined with reds, yellows, golds, and oranges will be nothing short of breathtaking. High Point is by far one of the best places to see fall colors and foliage near Jersey City.
Palisades Interstate Park, Alpine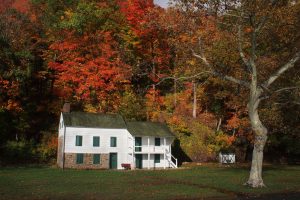 This park is located along the Hudson River and has a vast amount of cliffs studded with fall foliage. You can either walk or take bikes along the trails within the park with many places to stop and look/take pictures of the vibrant fall colors. Be sure to check out this location for some of the best places to see fall colors and foliage near Jersey City.
Speedwell Lake, Morristown
Again, this is a spot that combines the best of fall colors and foliage with calming waters. It is a perfect spot for photographs of the colors and of your family! It can be easily driven too as well, so if walking, hiking, and biking don't appeal to the kids you can drive up to the most scenic point as well.
Delaware Water Gap National Recreational Area
There are so many different places to explore the fall colors and foliage in the Delaware Water Gap. You can hike, walk trails, ride bikes, or drive the winding roads to see the best fall colors for miles. It's truly a special place to view the color-changing leaves. You don't want to miss this area as it has some of the best places to see fall colors and foliage near Jersey City.
Monksville Reservoir, Passaic County
This man-mand reservoir is nothing short of stunning and then the trees surrounding the water turn bright firey colors, it surely a sight to behold.
Staten Island Greenbelt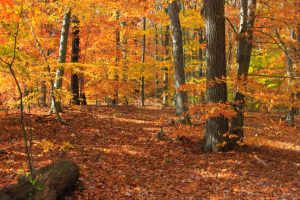 Finding an undisturbed and woodsy forest in Staten Island is not an easy feat, but the Greenbelt is just that. We highly recommend you take this drive to see to truly amazing colors this forest has to offer. You and the kids will feel like you have been transported into a magical colorful land.
The Catskills, New York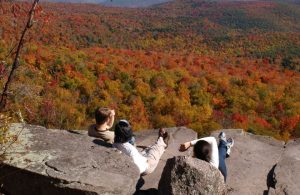 If you are looking for another mountain experience to see the fall colors, look no further than the Catskill Mountains in New York. These mountains have over 100 peaks as high as 3,000 feet so you can get multiple birds-eye views from almost anywhere. We recommend checking out Giant Ledge and Panther Mountain for the absolute best views of the fall colors in the Catskills.
 Waterloo Village: Stanhope, NJ
This is an awesome place to view NJ fall foliage and also have a super fun unique fall experience. Stanhope is a restored 19th-century village that features tons of unique shops, fall festivals, and historic tours.
Hacklebarney State Park — Long Valley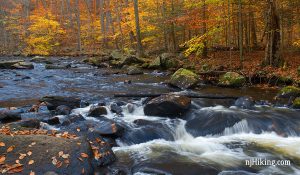 Hacklebarney State Park is a state park located between Long Valley and Chester in Morris County. The park is managed by the New Jersey Division of Parks and Forestry. Perfect for avid anglers, hikers and picnickers, yet in the 19th century the park was a mined iron ore site. The gushing river against the grey boulders and dark green hemlocks creates a majestic beauty in any season.
Watchung Reservation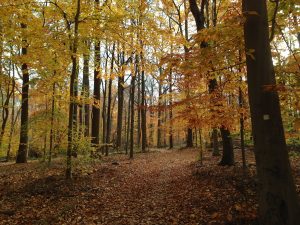 Watchung Reservation Trails is a 4.7 mile lightly trafficked out and back trail located near Mountainside, New Jersey that features a river and is good for all skill levels. The trail offers a number of activity options and is accessible year-round. Dogs are also able to use this trail but must be kept on leash. Watchung Reservation is the largest nature reserve in Union County, New Jersey, United States.
Ramapo Mountain State Forest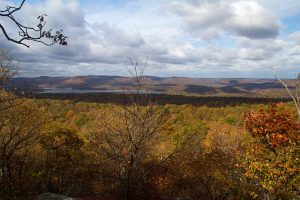 This hilly forest provides a sanctuary for wildlife and located about an hour from Jersey City. Ramapo Mountain State Forest includes 14 official trails, totaling more than 28 miles. Many multi-use trails are suitable for hiking, mountain biking, horseback riding, and cross-country skiing in the fall. A 120-acre clearwater mountain lake provides an excellent spot for fishing and birdwatching.
Wharton State Forest — Hammonton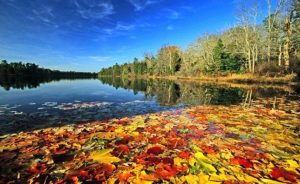 Wharton State Forest is the largest state forest in the U.S. state of New Jersey. It is the largest single tract of land in the state park system of New Jersey. They also have wildlife observation from bald eagles and great horned owls to turkeys and foxes scattered throughout the forest. It's a must-visit during the fall to see beautiful colors.
Hamilton Park, Jersey City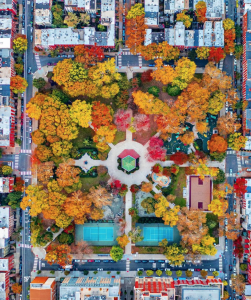 Don't forget to stop by Hamilton Park to see some beautiful colors and foliage. If you don't want to head to the big state parks, just head to Hamilton Park! It is a perfect local spot to enjoy the colors.
Updated November 11th, 2021