The Best Pumpkin Picking Near Jersey City
Fall is officially here. Pumpkin picking is definitely going to be on your list. Therefore, we created this guide of the best places to ger your pumpkin this year! Along with picking out your perfect pumpkin, you and your family can explore corn mazes, sip on some yummy cider, go apple picking and much much more.

14th Street Garden Center
793 Jersey Ave, Jersey City, NJ 07310
Although this is not a pumpkin patch, they sure do have a large variety of pumpkins, in both look and size. They are delivered to the market fresh every day from local farms and are great for a hassle-free and easy way to bring your kids to pick out their Halloween pumpkins. You can also find a variety of fall decorations, like corn stalks, gourds, and multi-color corn! You cannot get any closer place to go pumpkin picking near Jersey City since this is actually in JC!
Ward's Pumpkin Patch
552 NJ-17, Ridgewood, NJ 07450
Located in Ridgewood, NJ, this pumpkin patch is only a short drive from Jersey City and offers a traditional pumpkin picking experience. They have a ton of different pumpkins, fall decorations, yummy fall and Halloween treats, and lots of cute Halloween displays set up around the patch. This is a great option for pumpkin picking near Jersey City for the little ones.
Riamede Farms
122 Oakdale Rd, Chester, NJ 07930
If you are looking to take your pumpkin picking experience one step further, Riamede Farms lets you actually cut your pumpkin right off the vine! You need to bring your own cutting sheers, so make sure you don't leave the house without your own pair. This farm offers free hayrides on the weekends throughout the pumpkin patch and the orchard as well. The patch is located in Chester, NJ!
Stony Hill Farm
15 North Rd, Chester, NJ 07930
Chester, NJ making another appearance on our list! This farm has to pick your own pumpkins in the patch as well as pick your own apples! They have a farm market store that features seasonal plants and some delicious homemade baked goods. One of the best features of this farm is its new Maze Fun Park.
"Mazes and more! Corn mazes, fence mazes, rope mazes, tile mazes, and more. Stony Hill's Fun Park has lots of activities for kids, families, school groups, and other groups. We have lots of attractions daily during our Market season from May to November. Then from September through November, you won't want to miss our 10-acre corn maze and other fall fun!" 
Sun High Orchards
 19 Canfield Ave, Randolph, NJ 07869
From apple picking to pumpkin picking, hayrides, cider, pies, bread, soups, ice cream, farm tours, there is always something to do or eat at Sun High located in Randolph, NJ! There is something for the whole family at this wonderful orchard.
Alstede Farms
1 Alstede Farms Ln, Chester, NJ 07930
Third time is a charm! This Chester, NJ patch is truly one of the best places to go pumpkin picking near Jersey City! They have Farm Fun Days, live music, apple and pumpkin picking, Harvest Moon Hayrides, Night Time Corn Maze, Cedar Mill Tours, pumpkin pancake breakfasts, and so much more! This is a farm where you will get a true family-friendly fall experience.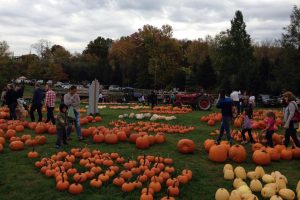 Harvest Moon Farm & Orchard
130 Hardscrabble Rd, North Salem, NY 10560
This is a family-run farm in North Salem, NY where you can pick your own pumpkins right from the patch. On the weekends throughout the fall they have hayrides, farm animals, bouncy castles, and live music, which is perfect for the little ones.

F&W Schmitt's Family Farm
26 Pinelawn Rd, Melville, NY 11747
This is a super popular fall family spot and one of the best places to go pumpkin picking near Jersey City. Tucked away in Long Island, this farm features a massive corn maze, pumpkin patch playground, hayrides, and a petting zoo. For the adults and older kids, there is a scary haunted house. Of course, there is great pumpkin picking and they hold fall festivals and events every weekend through the fall season.

Wilkens Fruit & Fir Farm
1335 White Hill Rd, Yorktown Heights, NY 10598
If you don't mind crowds and tons of people, Wilkens pumpkin patch and farm is always a crowd favorite. They have a pumpkin patch and offer apple picking. They have free hayrides for taking you out to the patch and orchards on the ground are quite hilly in this location. Just like many of our other options, this farm has a large corn maze.
Updated September 20th, 2022