10 Alpaca Farms Near Jersey City
Are you tired of reliving the same weekend, like Phil in the Groundhog Day movie? Are you looking for offbeat activities that can inspire your entire family? Consider visiting an alpaca farm with your kids. These adorable, furry creatures will provide many hours of entertainment, joy, and squealing. Fun farm activities can include pick-your-own farms, sprinkler parks, hiking, local parks, and more options. Call ahead to confirm daily schedules and inquire about any educational offerings. Many farms offer demonstrations and how to care for animals, bond, and experience farm life. So grab your hiking boots and get ready to enjoy an overabundance of cuteness
We highly recommend calling the farm before visiting to make sure they are open as daily schedules may vary.
44 Willow Avenue, Peapack, NJ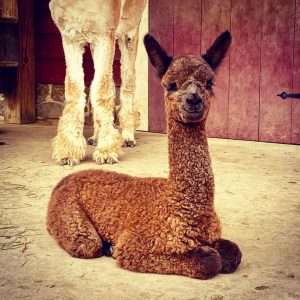 Alpaca Farms Near Jersey City: This farm is situated among the rolling Somerset Hills in Peapack, New Jersey. Their animals enjoy a bucolic 15-acre farm that snugs up against 175+ acres of adjacent farmlands. The hayfields blowing in the wind, along with the sight of the alpacas, is a must-see.
The owners and breeders have embraced the alpaca industry. Also, you can visit Bluebird Farm Alpacas to meet, interact with, photograph, or even adopt one of the cuddly creatures. Make a reservation here to visit Bluebird Farms Alpacas on weekends for a farm tour or farm tour with halter training. Reservations are now open. 
Jersey Shore Alpacas
521 South Route 47, Cape May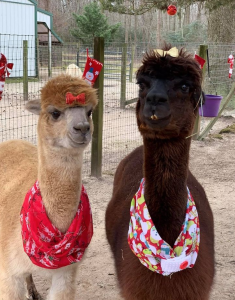 Jersey Shore Alpacas is a small farm owned and operated by Jim and Tish Carpinelli and located in Green Creek, a small town near historic Cape May, NJ. They take pride in ensuring that their alpacas are cared for with the utmost attention to their health and happiness. Their visiting options are "by appointment only," so they can control the number of people on the farm. Unfortunately, they are not able to accommodate "drop-ins." They are closed on Tuesdays and Wednesdays.
Edel Haus Alpaca Farm
2660 Allaire Road, Wall Township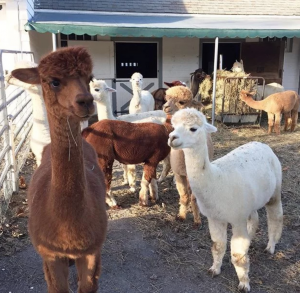 Edel Haus farm provides a place for people to come and find peace with the animals and take a break from the hustle and bustle of everyday life. Open from 11 am to 4 pm every Saturday year-round, they invite all public members to stop by for a visit, spend time with their friendly herd of alpacas, and enjoy their beautiful 14 acres of land. They are located just two miles from the shores of the Atlantic Ocean in Monmouth County, N.J. Schedule a visit to meet and feed the alpacas ahead of time by calling 732-890-1024.
Windy Farm Alpacas
61 White Pine Road, Chesterfield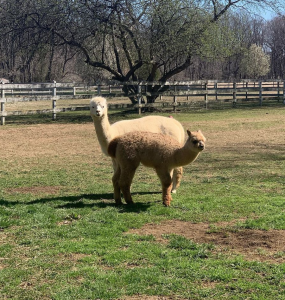 Windy Farm Alpacas is a small farm conveniently located 3 miles from NJ Turnpike exit #7 in historic Chesterfield Township. They are offering fine fleeced alpacas and many years of experience. Additionally, many Alpaca products are for sale – socks, fingerless gloves, hats, scarves, gifts, blankets, rugs & more. They also offer tours.
1148 Somers Point Road, Egg Harbor Township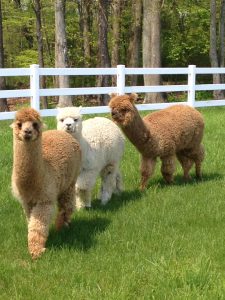 They started on the alpaca journey five years ago and had their starter farm in Southampton, NJ. Their herd of 22 huacaya alpacas is from some of the finest lineages in the country. Mike and Sheri von Fischer run the farm. Mike has been in the sales and service industry for 25 years. Their mission is to breed only the finest alpacas, educate the public about these beautiful creatures, and ensure their animals have long, healthy lives.
Cedar Lane Alpacas
67 Victory Road, Howell, NJ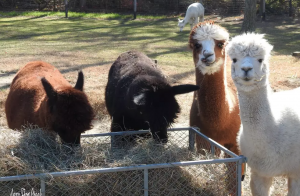 Their Alpaca Farm was established in 2005. Winding Creek Alpacas offers 45-minute guided tours of the farm on weekends, allowing you in pen to hand-feed the alpacas and pose for pictures. Check the upcoming schedule on their website and email for reservation confirmation before arrival.
Humor Me Farm
50 Clinton Road, Newfoundland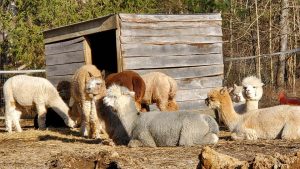 Humor Me Farm are a small farm located in West Milford, NJ. They specialize in Alpaca & Angora fiber-related products & breeding of English and French Angora Rabbits. They are currently offering farm tours on an appointment-only basis, which can be quickly scheduled right from the Facebook page.
Out Of Sight Alpacas
416 Wells Mills Rd, Waretown, NJ
Our of Sight Alpacas is a family-run alpaca farm located an hour away from downtown Jersey City. They have grown into a beautiful herd of approximately 30 Huacaya alpacas since 2010. At the moment, they are offering educational tours and interactive for all ages. Tours also will have about 22 people in them. Additionally, pay when you come, cash is preferred for the tour, and credit cards are accepted for the gift shop. Farm Tours last approximately 45 minutes.
Emelise Alpacas
73 MacKenzie Road, Hampton, NJ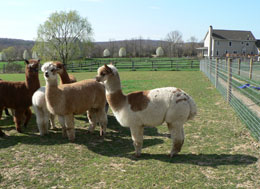 Emelise Alpacas began to take shape in 1993, although Susan and Wayne Robinson had never seen an alpaca. They purchased their first alpacas in 2002 and have never doubted that decision. Their store is open by appointment only, and they offer educational group tours. They are about an hour away from downtown Jersey City.
Stone Mountain Farms
149 Old Beaver Run Rd, Lafayette, NJ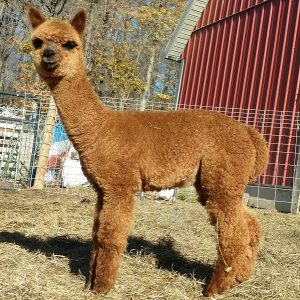 Stone Mountain Farms sits right in the middle of Sussex County, New Jersey. This region is located in the Northernmost and highest part of New Jersey, giving us beautiful rolling hills and green pastures. Once the pastures for a neighboring Dairy farm, their little farm sits on the side of one of those rolling hills and empties out into flat pasture until we reach the Great Blue Heron Rookery and Crooked Swamp Cave preserve at the back of the property. This is a great farm to visit as they have alpacas, goats, and chickens.
Updated June 28th 2023