8 Fun Things to do in Jersey City This Spring
Ellis Island, which operated nearby Jersey City from 1892 until 1954, brought a considerable number of immigrants. Today, Jersey City reflects the diversity of its residents. The city is famous for its multicultural cuisine and culture. This city has so much to offer for a fantastic getaway! From beautiful state parks, stunning skylines, world-class shopping, grand theaters, fun-filled amusement centers, breweries, and marinas to state-of-the-art museums – you name it. It has a nice balance between urbanism and nature, too. And with nice weather back, where better to go to enjoy the blooming nature than Jersey City? We have made a list of the eight fun things to do in Jersey City this spring.
1. Relax in Liberty State Park
This park is a lush green haven with a total area of just under 1,200 acres. It is one of the city's most popular attractions and is surrounded by water on three different sides. It has a beautiful waterfront view, a playground for kids, picnic spots, and more to see and do. Take a walk, relax and take in the sights, pack a picnic basket, or whatever else your heart desires—all for free. Bring your furry friend, too, as Liberty State Park has some of the best dog-friendly trails Jersey City offers! Strolling through the spectacular and breathtakingly beautiful Liberty State Park is one of the best things to do and see in Jersey City this spring.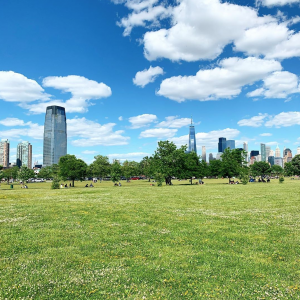 2. Stroll through Downtown Jersey City this spring
If you're planning a more extended visit to this coastal city, don't forget to check out the vibrant downtown area. Of course, packing for an extended visit isn't easy. If you need plenty of items but can't afford to rent a huge place, you might want to look into short-term storage in NYC or Jersey City. Only with the safety of your items in check can you feel free to explore Jersey City relaxed and worry-free.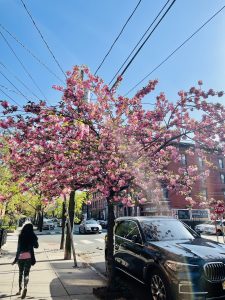 Along the city's tree-lined streets, you'll find stunning architecture from the region's long history. You and your loved ones will have the time of your lives strolling the streets of this gorgeous, historic downtown area. It is a great way to make new memories while doing things like going to a live music event or shopping at a boutique store, eating at a restaurant, and so much more. Use up every moment by partaking in fun things to do in Jersey City this spring.
3. Marvel at Central Railroad
Although it is no longer used as a passenger station, this massive 1889 Richardsonian Romanesque structure makes up for its lack of railroad-based practicality in splendor. Explore the expansive interiors, and learn about and purchase boat tickets to Ellis Island or the Statue of Liberty while you're here. If you're a history buff, this is one of Jersey City's hidden gems that is just right for you. You can roam around the station, wondering how crowded it must have been in the 1940s and 1950s.
4. Kick it up at RPM Raceway
An arcade, a European-styled track, and Italian-made go-karts are just a few of the features of RPM Raceway. A day at this fantastic racecourse is definitely in order. Among the many attractions at this amusement park are a go-kart track, an onsite restaurant, a bowling alley, virtual reality simulators, and more. You and your loved ones will have a blast at RPM Raceway in Jersey City this spring! This place has something for all age groups!
5. Learn new things at Liberty Science Center
One of the best things to do with kids in Jersey City this spring is to visit Liberty Science Center. This incredible science museum is a must-see in Jersey City if you want to have a memorable outing that is instructive and entertaining for the whole family. It has an excellent planetarium, a gift shop, a café, educational programs, exciting events, and much more to keep you entertained for hours. Prepare to see dinosaur fossils, play with your kids in a suspended climbing area, see over 100 different animal species, create with foam blocks, and learn about the universe in the planetarium, among other things.
6. Enjoy the art at Mana Contemporary
Pay a visit to this fantastic facility to immerse yourself in the best of art and culture. Visiting Mana Contemporary is one of the many exciting things to do in Journal Square, especially in spring. Among its permanent and rotating exhibits are several that will leave you speechless. There is a wide variety of artwork, as well as special activities and entertaining events. You can attend fascinating talks, view and purchase masterpieces, including paintings, sculptures, and the like. Mana is definitely a must-see in Jersey City this spring!
7. Take a rest at Van Vorst park
The 2-acre Van Vorst Park was established in the early 1900s. There are a lot of local activities held there, such as public screenings of movies. It has several amenities, such as an open-air gazebo and benches and several playgrounds and dog parks. While exploring the city, be sure to spend some time at this delightful urban park. 
8. Take a walk through Hoboken this spring
If you're looking for a place to take a stroll, this square mile-long neighborhood is a delight. One of the more fun things to do in Jersey City is to stroll about the area and discover its hidden gems. Fun fact: In the United States, Hoboken boasts the most bars per capita. So stop into Hoboken Pilsner Haus & Biergarten on Washington Avenue for a beer or two. After lunch, take a trip down the Hudson River Waterfront Walkway to catch a glimpse of the New York City skyline and stop by Carlo's Bakery to satisfy your sweet taste.
We hope our guide has helped you create an itinerary for your trip to Jersey City this spring. The vibrant and lively atmosphere of the city will surely capture your heart! All of these fun things to do in Jersey City will keep you entertained, no matter the duration of your stay in this lovely city!
About the Writer:
Angie Sims used to work in the traveling industry for six years, and her current job is in the relocation industry. For the last three years, she has helped many people with their domestic and international relocation. She is also a full-time mom and a part-time content writer. She writes about traveling and moving with children using her own experiences.