Sunflower Farms To Visit Near Jersey City
When summer comes around, we know how families are always looking for fun and new activity ideas to engage in with their kids. Speaking of ideas, we have a bright one, and it's called Sunflower farms to visit near Jersey City. Sunflowers are the happiest flowers on Earth, and they are gorgeous, especially an entire field of them. Not only are they beautiful to look at, but you can also even get the most stunning photos and create memories. The good news is there are a few sunflower farms near Jersey City that you can visit this week with your family. We know how much you loved our blog on Lavender Fields, so we had to create a guide for sunflowers too! So, if you are looking for pick-your-own fruit, check out this list.  We would like to know your thoughts on sunflower farms to visit near Jersey City.
Please call and confirm before you visit any of these farms, as the schedule is subject to change.
106 Iron Ore Rd, Manalapan Township, NJ 07726
Happy Day Farm's sunflower field is now officially open! The farm is about an hour away from Jersey City and is open Wednesday-Sunday from 8 AM-3 PM. Please make sure to call before you visit as picking timings can change daily. The farm fee is $15 per person and cash only! They have fields filled with sunflowers for photo ops. You can also purchase some lights snacks, shaved ice, and fresh lemonade at the farm. They recommend bringing your cutting shears and a bucket of water to transport your sunflowers home.
330 Cold Soil Road, Princeton, NJ 08540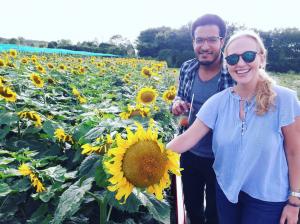 Looking for the perfect photo op with sunflowers? Terhune Orchards will not disappoint. The farm is open every day from 9 am-6 pm. Unfortunately, you cannot pick the sunflowers, but they do have them available at their farm store. Also, before visiting, make sure to give them a call or check their website for updates.
133 Church Rd. Medford, NJ 08055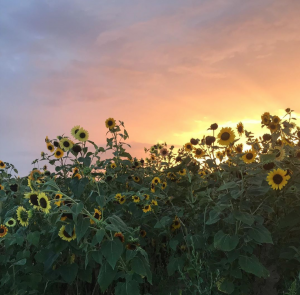 Johnsons Corner Farm has a beautiful sunflower field. It is not too far of a drive, making it convenient to pick your farm around Jersey City. Every year they have a sunflower celebration which includes evening wagon rides to the field so you can capture the perfect photo in the ideal "Magic Hour" lighting. Not only will you have photo ops, but they also offer to pick your own during the stroll. Prices are $9.00 per person (children under 12 months are free) and flowers $1 per flower. Please keep an eye out on their Facebook page for more details or call them directly for more information.
170 Oldwick Road, Oldwick, NJ 08858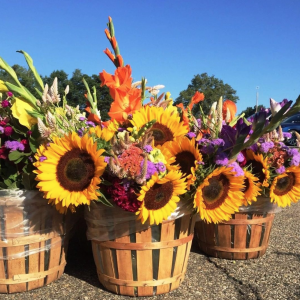 Sunflower picking is now open at Melick's Town Farm! It is about an hour away from Jersey City. No appointment is necessary, but please bring your clippers. There is no entry fee; pay for what you cut. Also, you have to wear masks. They are open from 9 AM-5 PM. They also have a gift and garden shop open every day where you can purchase fresh flowers and other produce.
1 Alstede Farms Lane Chester, NJ 07930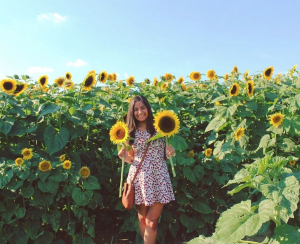 About 55 minutes away from Jersey City, the farm is filled with flowers, especially sunflowers, this season. Add color to your home with a freshly picked bouquet of beautiful flowers from their fields. Varieties include zinnias and sunflowers and are available from mid-July through mid-September. Availability may vary. Capture your perfect photo in their Blooming Giants sunflower maze opening this Friday! Cut your own sunflowers and plenty of outdoor fun for everyone. Admission includes picking your own fruit, mazes, and more. You have to purchase tickets on their website here.
15 North Road Chester, NJ 07930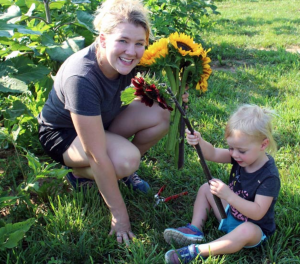 Stony Hill's Sunflower Festival is truly an experience not to miss! They have planted 2.5 acres and 8 varieties of sunflowers for your viewing and picking pleasure. In one field, guests can walk through the fields, linger, and photograph as they please. In their second sunflower field, guests may cut their own sunflowers. Each festival ticket includes a wagon ride to the sunflower fields, time to take photos and enjoy the blooms, live music, and access to vendors. Additional ticket options include cut-your-own sunflowers, flights of our homemade ice cream, and rustic flower buckets. Read more here. 
131 Ellisdale Road Allentown, NJ 08501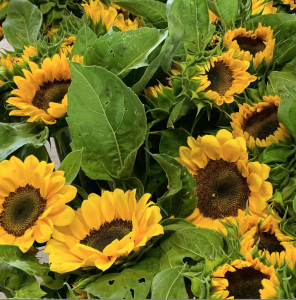 Alan's Flower Farm grows various cut flowers that include Sunflowers, Dahlias, Peonies, Lavender, Hydrangeas, Mixed Bouquets, and additional summer annual flowers in Allentown and Chesterfield, New Jersey. At the moment, they are offering pre-packaged sunflower boutiques but have been doing a few pick your own sunflower pop-ups for the season, so keep a lookout for that on their Instagram.
438 Route 57 West Washington, NJ 07882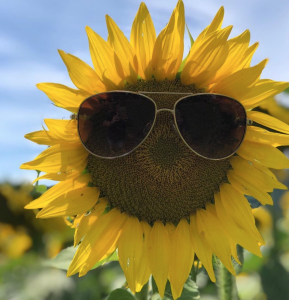 VonThun Farms Sunflower Trail is about an hour away from Jersey City. They have beautiful sunflower fields for the season. They are open daily from 10 am-5 pm. You can pick your own flowers, enjoy photo ops, and have many other activities on their farm for kids like fruit picking, visiting farm animals, and shopping at the farm store. Professional photography sessions are available by appointment only.
Updated Sept 23rd, 2021