The Best Pick Your Own Peach Farms Around Jersey City
Just like our posts about picking your own blueberries and strawberries around Jersey City, there is an abundance of farms to pick your own peaches as well. As we are entering the peach season, the fruits are super sweet, juicy, and fresh. So to ensure you are getting the freshest peaches possible, we suggest you take out the family and pick your own.
Let's explore some of the best pick your own peach farms around Jersey City. So, pick a day, select a farm, grab your baskets, and let's pick some Jersey fresh peaches!
Please call and confirm before you visit any of these farms, as the schedule is subject to change.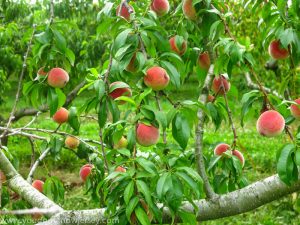 Pick your own peaches at this vast pick your own farm. This is definitely one of the best pick your own peach farms around Jersey City. They have put forth some guidelines for picking this time. You must register before you visit on the dates they have available for picking. You will not be able to purchase tickets at the farm, so make sure to register.
Cost: $5 per person (Age 2 and over) General Admission includes free parking, entrance to peach orchard, plus $12 for a bag to hold the peaches you pick! (Peach Bag contains approximately 10-12 lbs.)
Children under 2 – FREE
"Prepare yourself for a new experience in peach picking. Demarest Farms features well-manicured trees, spectacular views, and tasty peach varieties – home to more than 12 varieties of pick-your-own peaches."
Location: 244 Wierimus Road, Hillsdale, NJ 07642
This is a 225-acre family-owned and operated farm. They have peach picking in the summer from July until September. They offer up some of the best peaches you can pick on your own. They are perfect for eating straight from the tree or baking into a pie or cobbler. Please read more about their guidelines for picking here. 
Once you have picked peaches until your heart's content, you can also check out the farm's farm animals. They have sheep, goats, ducks, horses, and much more! They also have a farm store. You can also check out their tractors – this is a real hit for the little ones. Terhune is one of the best pick your own peach farms around Jersey City.
Location: 330 Cold Soil Road, Princeton, NJ
The admission fee starts at $6.99 per person at Alstede Farms. If you are looking for both white and yellow peaches for picking, Alstede Farms is the place for you. Since we are currently in peach season, their peach picking conditions are considered "excellent" on their website. Make sure to check their website to see if the peaches are ready to pick. You can buy advance tickets on their website as well. However, you have to purchase them online before you enter. Read more here. 
Location: 1 Alstede Farms Lane, Chester
You can pick your own peaches at Johnson's Corner Farm from June to August. They have some really great peach picking around Jersey City, and it is not too far of a drive, making it a convenient pick your own peach farm around Jersey City. You can also access their barnyard filled with animals and take a super fun hayride with the kids for a minimal fee. The farm also has ice cream for when you need a sweet treat at the end of your peach-picking adventure. You have to purchase your tickets online here. 
Location: 133 Church Rd, Medford, NJ
Pick your own peaches are from mid-July to mid-September. However, they suggest you give them a call on the day you are planning on heading over so they can let you know what their availability is. During the wintertime, they sell freshly cut Christmas trees. You can truly make Lewin Farms a year-round trip with the whole family. The farm is 110 acres and is easily one of the most beautiful pick your own peach farms around Jersey City. U-Pick fields generally open from 9 am to 4:30 pm. Like mentioned making sure to call before you visit.
Location: 812 Sound Ave, Wading River, NY
Peach picking lasts from July to September. But, of course, this stunning orchard has other attractions on the farm as well. They have farm animals for the kids to meet, a gorgeous view of the valley below, and you can even pack a picnic lunch to eat with the family. It is the perfect location to get back in touch with nature and experience fresh, clean air! Ochs is a great option for picking your own peach farms around Jersey City. Please call them before you go, as everything is subject to availability, (845)986-1591, as their crops are unpredictable. Read more about their COVID-19 guidelines.
Location: Ochs Lane, Warwick, NY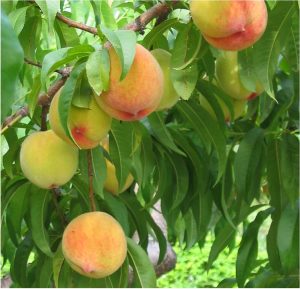 From mid-July to early September, Mead Orchards have to pick their own peaches along with berries and other fruits and veggies. This huge farm has over 180 acres. When berries and juicy peaches at the farm run out, be sure to make a trip in the fall when they have an abundance of apples and pumpkins. It's the perfect place to get you in the fall and Halloween spirit and one of the best pick your own peach farms around Jersey City! Pick your own is open on the weekends from 9-5 pm. Ensure to check their website or call them before you visit to make sure they have enough to pick.
Location: 7 Scism Rd, Tivoli, NY
Freshly baked pies, gift baskets, pick your own fruits and veggies, seasonal events, a country store…Battleview Orchards has so much stuff to do and see. Of course, they have to pick your own peaches available to pick from July to the beginning of September, but please make sure to call them before you visit as availability can change. This is definitely a must-check place to pick your own peach farms around Jersey City.
Location: 91 Wemrock Rd, Freehold, NJ 07728
This huge farm has tons of pick your own options, including many varieties of peaches. They supply you with their own bags for easy picking. Picking is also super easy for younger kids. Be sure to check their Facebook or Instagram page before heading down to the orchard to make sure they have to pick your own peaches open for that day. The peach picking season is from July to September. At the moment, they require you to wear a mask.
Location: 181 County Road 537 East, Colts Neck, NJ 07722
70 Oldwick Rd in Oldwick, NJ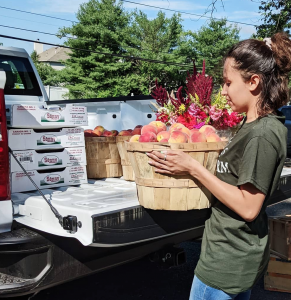 East of Jersey City, Melick's Town Farm offers some of the best pickings in New Jersey. This family-owned farm has been operating for 300 years, so they know a thing or two about growing some delicious fruits and veggies including peaches. Please no pets at the farm.
Updated July 6th