Pick-Your-Own Fruit: Farms Open Near Jersey City
Summer is officially here and picking your own fruits is a big part of it! Pick-Your-Own fruit: Farms Open Near Jersey City are a fun activity to get the whole family outside and also get some fresh produce for your house. We have created a list of all the pick-your-own fruit farms that are open near Jersey City. Please call and confirm before you visit any of these farms as the schedule is subject to change.
Johnson's Corner Farm
133 Church Rd. Medford, NJ 08055
You can pick your own strawberries at Johnson's Corner Farm. It is not too far of a drive as well, making it convenient to pick your own farm around Jersey City. At the moment they are offering hayrides You will also have to book online before you visit their website here. You can pick strawberries, blueberries, peaches, and vegetables too.
Terhune Orchards
330 Cold Soil Road, Princeton, NJ 08540
This is a 225-acre family-owned and operated farm. Currently, they are offering to pick your own strawberries, cherries, blueberries, blackberries, and vegetables. For more information visit their website. 
Giamarese Farm and Orchards
155 Fresh Ponds Road, East Brunswick, NJ 08816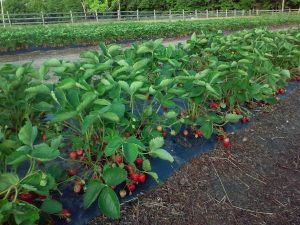 A breezy 45-minute drive away from Jersey City, this family-owned and operated strawberry farm is open every day 10 am to 6pm. They have a few different strawberry varieties, which include: Cabot, Chandler, Daroyal, Darselect, Mayflower, Rutgers Scarlet, Sunset, and Wendy, which makes it really fun for the family to taste test each variety of strawberry to compare and decide which kinds are liked best. They are now open and have a $2 admission fee and a $5 minimum.
Lee Turkey Farm
201 Hickory Corner Road, East Windsor, NJ 08520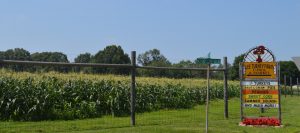 Lee Turkey Farm is much more than just a place to get your farm fresh turkeys. They also have pick-your-own fruits and veggies! Their hours are 9:00 am til 6:00 pm Monday through Saturday and on Sundays, they will be open from 2:00 pm til 6:00 pm. Before entering their fields and orchards though, you must be a member of the Lee Turkey Farm Pick Your Own Club which is $2 for the entire family for the entire year. Before you go picking, they also charge a $5 picking deposit per adult which goes towards your purchase. Make sure to call them before you go so that they can inform you of the best picking conditions.
Melick's Town Farm
70 Oldwick Rd in Oldwick, NJ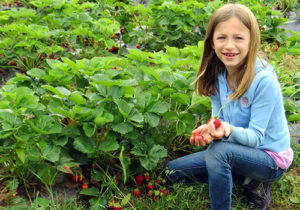 East of Jersey City, Melick's Town Farm offers some of the best pickings in New Jersey. This family-owned farm has been operating for 300 years, so they know a thing or two about growing some delicious fruits and veggies. At the moment, reservations are made available the day prior at approximately 4:00 and are needed for everyone 2 years and up. Please no pets at the farm. are $2.99 per person with strawberries picked at $3.99 per pound. They are offering peaches, strawberries and vegetables.
Peterson Farm
438 Quakertown Road, Flemington NJ 08822

Peterson Farm is now offering pick-your-own strawberries. They offer affordable picking prices at only $2.95 per pound, so you can let the kids load their baskets full of these juicy berries. All Customers, as well as employees, are required to wear a mask. It would be very helpful if customers pay by check or exact change. They do have special hours for seniors on Thursday and Friday morning from 9am-11am. For the general public, hours are Tuesday through Friday (closed Monday) 3pm-7:00pm and Saturday and Sunday 9am-7pm.
Battleview Orchards
91 Wemrock Rd, Freehold Township, NJ 07728
Freshly baked pies, gift baskets, pick your own fruits and veggies, seasonal events, and a country store. Battleview Orchards has so much stuff to do and see. At the moment they are offering the public to pick your own strawberries. Picking starts Wednesday, 5/26 and Thursday, 5/27–9am to 3pm weather permitting. Price–$4.29/lb (same as last year!) Please Note: The patch is Cash Only and No Pets are allowed. Also, all picking information will be posted on a day-to-day basis after 4pm. There is a $5 per person fee to enter the strawberry patch. The fee will be credited towards the berries you pick. There are no age exclusions, and no refunds will be given. (This policy has worked well since 2015, so we will continue to use it.).
4 Ochs Ln, Warwick, NY 10990
Ochs Orchard is a great destination to pick blueberries and strawberries around Jersey City. Admission for pick-your-own is $5/person over the age of four. All summer produce is sold by the pound, prices vary per item. Parking is always free! There are no dogs allowed in the orchard.
Stony Hills Farms
15 North Road Chester, NJ 07930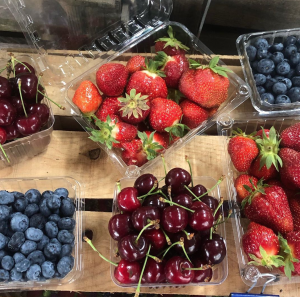 Stony Hill Gardens opened in 1988 with a focus that began on cut flower orchids and has grown and evolved into pot plant production. They currently have five greenhouses in year-round production and 40 acres of land on which hay, grain, corn, apples, cattle, and pumpkins are grown. In the Summer they offer strawberries, blueberries, cherries and raspberry picking.
Please make sure to call and check each farm's website as they are subject to change depending on the weather and picking conditions. 
Updated June 30th, 2022