[vc_row][vc_column][vc_column_text]
Apple and Pumpkin Picking in Jersey City
The end of summer is near, and it's time to plan for your favorite summer/fall activities. We have many suggestions, but two probably near the top of everyone's list are apple and pumpkin picking. Just because we live in a city doesn't mean we can't enjoy this rural treat! Here's a list of apple and pumpkin-picking farms within driving distance of downtown Jersey City.
Please call and check each farm's website, as they are subject to change depending on the weather and picking conditions.
Demarest Farms
244 Wierimus Road, Hillsdale, NJ 07642


Demarest Farm is the closest to downtown Jersey City. It's located in Bergen County, about a 35-minute drive from downtown. Apple picking starts September 2. They offer numerous varieties of pick-your-own apples. The cost is $8 per person (Age 2 and over) for General Admission, which includes free parking and entrance to the apple orchard, plus $15 for a bag to hold the apples you pick! (Apple Bag holds approximately 10-12 lbs.) You have to make a reservation online. Please arrive promptly at your scheduled time. They offer the same deal for pumpkin picking. Their farm store boasts fresh produce, baked goods, apple cider donuts made daily, the famous made-from-scratch salad bar, rotisserie chickens, and much more. Visit the seasonal garden center for all your fall decoration needs!
Ripple Hill Farm

181 Mountain Road, Basking Ridge, NJ 07920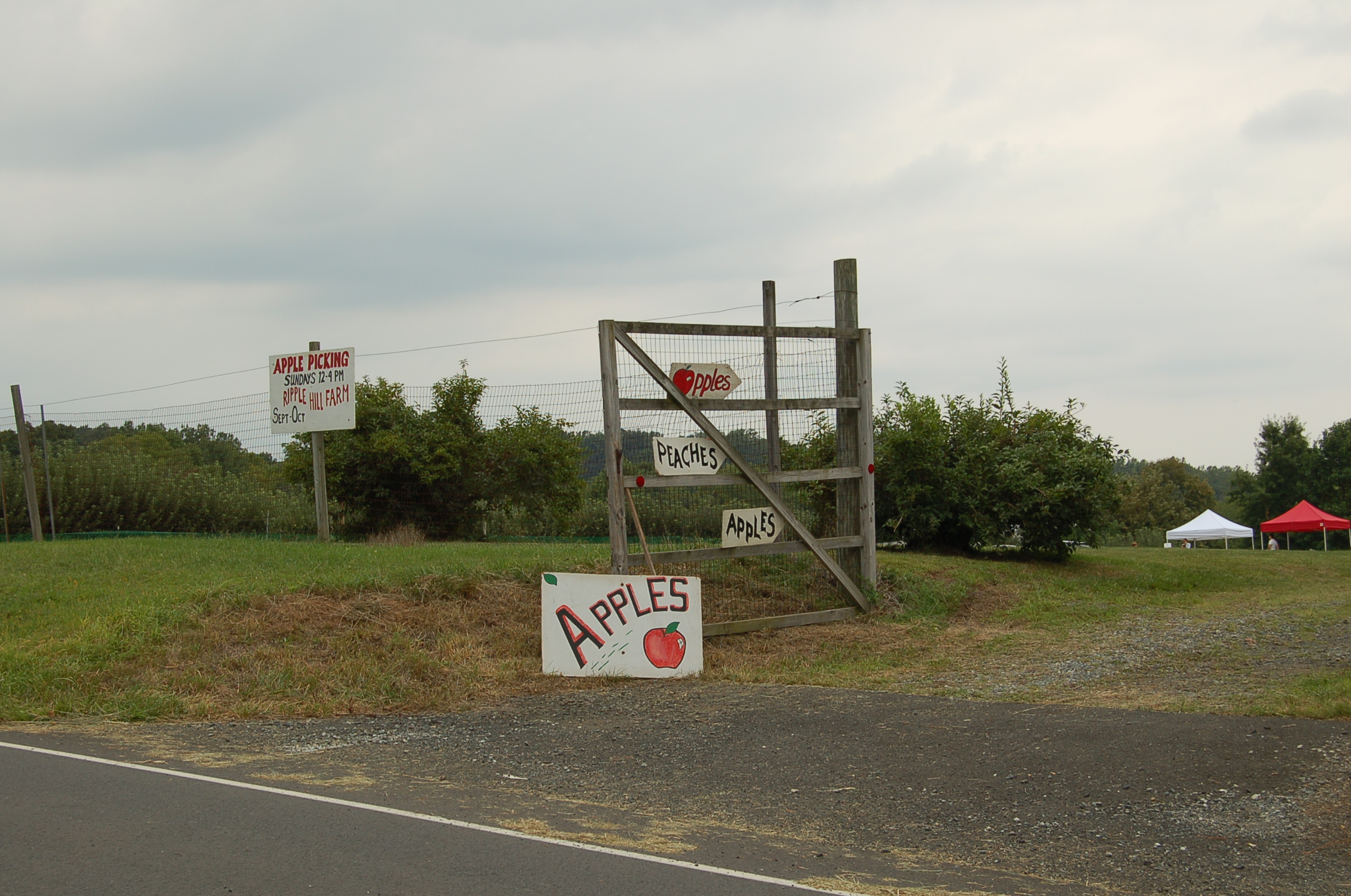 Ripple Hill is just off Route 78, about a 40-minute drive from downtown Jersey City. This is your best option if you don't want to travel far. They offer pick-your-own apples with many varieties of apples. They plan to open on Sundays from 12–4 pm starting September 17 through October 22. The farm is CASH ONLY, and no reservations are required. The last entry into the farm is at 3:40 pm. An entry fee of $5 per person (children under 10 are free) does not include picked fruit. Any fruit you pick is weighed at checkout. Pumpkins are available in October and at the farm stand for purchase. Check out their Facebook page for up-to-date picking information and availability.

Melick's Town Farm
170 Oldwick Road, Oldwick, NJ 08858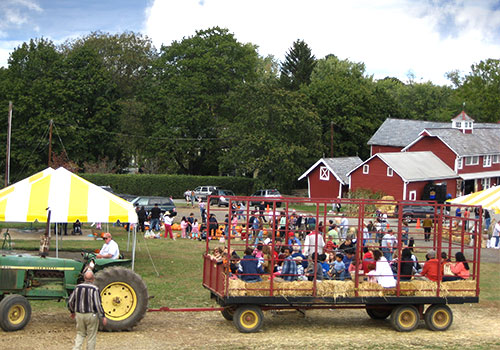 This farm is a bit further down Route 78 than Ripple Hill Farm. It's about a 45-minute drive from downtown Jersey City. Melick's also has two other locations in Califon and Bridgewater (a bit further from us). This well-known farm offers pick-your-own apples, including Empire, Macoun, and Cortland varieties. Be sure to check out their Cider Mill for excellent fresh apple cider. You can pick your own pumpkins at their Califon location, but they offer many already-picked pumpkins at all their farm locations. The farm market also has seasonal fruit and vegetables, plants, jams, baked goods, fall decorations, and various country store favorites. Most weekends in September and October, they also have free wagon rides into the orchards in Oldwick and horse-drawn wagon rides at the Califon Orchards. Kids can also enjoy animals, a corn maze, and a tractor ride.
Terhune Orchards
330 Cold Soil Road, Princeton, NJ 08540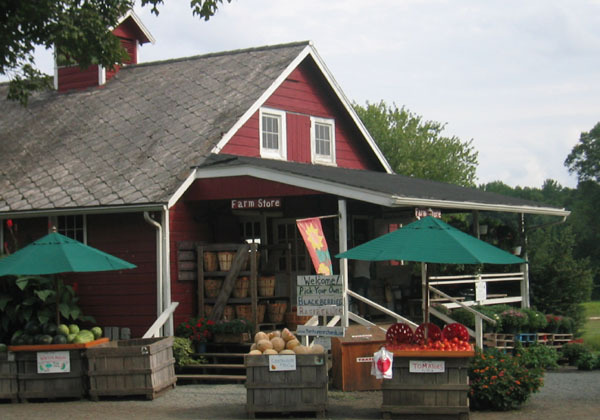 This farm is a family favorite for us! The drive is about an hour and 15 minutes from downtown Jersey City. Terhune is open year-round and offers many pick-your-own options. Applesdelicious is good here and can be found around Van Kirk Road. You can see what's available for picking today, and always call before you go. Call the farm store at 609-924-2310 or look at the Pick-Your-Own Schedule to check on availability–each season brings slightly different timing. Pumpkin picking is available at the primary location on Cold Soil Road starting in September. Pick your own amongst the five acres in the pumpkin patch. Check out the farm store, which carries produce, baked goods, jams, honey, donuts, and much more. They have many other fun farm activities you can enjoy when you visit.
Alstede Farms
1 Alstede Farms Lane, Chester, NJ 07930
Alstede Farms offers many activities for families looking for a day of Fall fun, and it's just under an hour's drive from downtown Jersey City. They offer everything from free use of pull wagons to transport your harvest from the fields to a free scenic hayride shuttle to the picking fields and orchards. Click here for apple varieties and availability, but remember to call before you go to confirm. You can pick more than just apples and pumpkins at this farm. After you're done picking, check out the fun farm activities! Activities include pony rides, wagon train rides, corn kingdom, corn maze, farm animals, bunny run, and more!
Minard's Family Farm
250 Hurds Road, Clintondale, NY 12515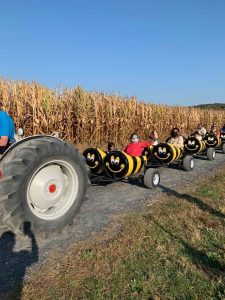 Located an hour and a half from Downtown Jersey City, Minard's off many fun fall activities. Apple picking begins in early September. The ripening schedule is approximate, depending on the growing season. Customers should call 866-632-7753 to verify which varieties are available for picking at the farm stand. The reservations are free, and so is the parking. You pay for the services you use. Your purchase of our Regular Wristband ($17.00) includes unlimited play at the bouncy pillow, sand pit, chalk bus, petting zoo, spider web, pony hop, barnyard football and baseball, tug of war, tic-tac-toe, apple checkers, pumpkin bowling, tire mountain, peddle carts, corn maze and corn hole. Purchase of a Super Wristband ($28.00) allows you to enjoy all of the activities included with a Regular Wristband, plus access to some new attractions such as gem mining, apple cannon, a ride on the busy bee train, and a small ice cream cone.
Battleview Orchards
91 Wemrock Road, Freehold Township, NJ 07728
Battleview Orchards, a family-owned and operated farm located in Freehold, harvests locally grown fruits and invites the public to pick their own strawberries, sour cherries, peaches, nectarines, apples, and pumpkins. Battleview Orchards is the oldest "Pick Your Own" orchard in New Jersey! They will be open for pick-your-own-apples starting in late August with certain varieties. They also have a store that is open year-round. They only accept CASH at picking locations. Always call to confirm dates, hours, and supplies before visiting.
Updated August 1, 2023
[/vc_column_text][/vc_column][/vc_row]