23 Must-Do Activities in NYC
An average of 66 million people visit New York yearly for a good reason. The city is filled with so much to offer. Whether looking for good food, shopping, or other fun activities for families, you can find anything and everything in the city. Luckily, Jersey City is near NYC, and we can enjoy all these fun activities whenever we want. Therefore, we have created this guide to help you discover some of the must-do activities in NYC.
Little Island At Pier 55, New York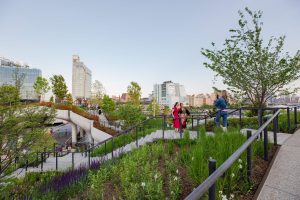 Little Island in New York City is a new, accessible public Park pier within the larger Hudson River Park. They opened to the public on May 21, 2021. It is a 2.4-acre public park in Hudson River Park on the West side of Manhattan. Components of the Pier, nestled among more than 350 species of flowers, trees, and shrubs, include a 687-seat amphitheater, an intimate stage and lawn space, and dazzling views of other portions of Hudson River Park, New York City, and the Hudson River.
Battery Park City Esplanade and Park

The Esplanade runs the entire length of Battery Park City, along the Hudson River from Stuyvesant High School on the north end south to Historic Battery Park. The Esplanade is a pedestrian paradise with views of the Hudson River and New York Harbor, the Statue of Liberty, Ellis Island, and the New Jersey shoreline. Parks, gardens, sculptures, and public art installations line the route. The main path of the Esplanade is perfect for running, strolling, and biking. In addition, the lawns are ideal for a game of frisbee or volleyball.
New York Botanical Garden
2900 Southern Boulevard Bronx, NY 10458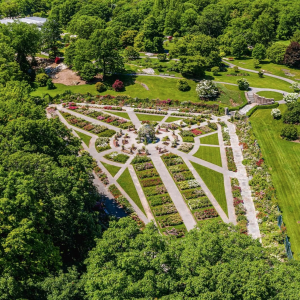 The New York Botanical Garden near Jersey City advocates for the plant kingdom. The Garden pursues its mission through its role as a museum of living plant collections arranged in gardens and landscapes across its National Historic Landmark site, comprehensive education programs in horticulture and plant science, and wide-ranging research programs of the International Plant Science Center. It is 45 minutes to an hour from downtown Jersey City by car. You can also take the train there. Today, the 250-acre Garden—the largest in any city in the United States—is a National Historic Landmark. It encompasses 50 specialty gardens and collections comprising over one million plants and the nation's preeminent Victorian-style glasshouse. It is a must-visit.
American Museum of Natural History
Central Park West & 79th St, New York, NY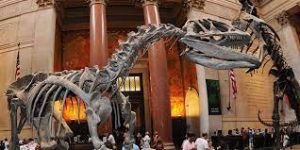 The American Museum of Natural History is a true goldmine of educational information for kids and their parents. Here you can find some of the most significant fossil collections of dinosaurs, learn about the Universe's structure, and see Moon rocks and a 94-feet long replica of a blue whale. The Museum also offers a range of educational programs for kids of preschool age to the 12th grade. Because of its vast choice of activities, such as science, computer science, astronomy, and culture programs, we consider AMNH one of the best children's museums in and around Jersey City. All tickets—including member, complimentary, and pre-paid pass tickets—must be reserved online before your visit.
Museum of Modern Art
11 W 53rd St, New York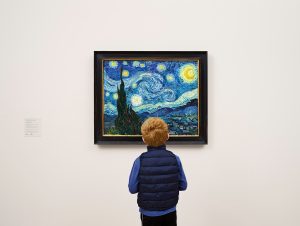 The Museum of Modern Art MoMA celebrates creativity, openness, tolerance, and generosity. They're committed to sharing the most thought-provoking modern and contemporary art, where you can explore our time's art, ideas, and issues. There are so many ways for you and your family to enjoy art together. Kids and adults engage in lively discussions and fun activities while looking at modern masterpieces and cutting-edge contemporary art for free! Kids 16 and under get free admission, plus access to kids' audio, activity guides, labels, and hands-on spaces. On select dates, join us for in-person events and online programs.
Bronx Zoo
2300 Southern Blvd, The Bronx, NY 10460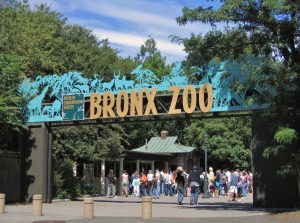 The Bronx Zoo spans more than 265 acres, meaning many opportunities exist to connect with the animals you love. So whether you want to watch the bison graze or hear from the experts during a keeper chat, they've got you covered. They have over 10,000 animals at the zoo, from tigers, rhinos, and elephants to giraffes.
New York Aquarium
602 Surf Ave, Brooklyn, NY 11224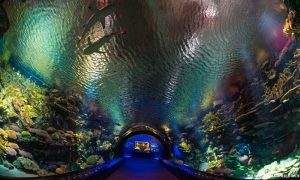 The New York Aquarium is the oldest continually operating aquarium in the United States, located on the Riegelmann Boardwalk in Coney Island, Brooklyn, New York City. Experience underwater views of sea lions, harbor seals, sea otters, and penguins as they swim up to the glass to get a closer look at you!
The High Line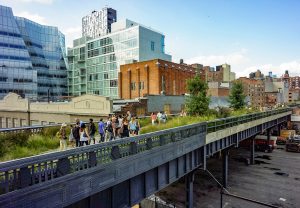 The High Line is a 1.45-mile-long elevated linear park, greenway, and rail trail created on a former New York Central Railroad spur on the west side of Manhattan in New York City. It is open daily from 7 am to 10 pm. No reservations are currently needed to visit. Built atop an abandoned train track, the High Line offers more than 20 car- and bike-free strolling blocks. Besides plenty of seating and a killer view of the Meatpacking District and Chelsea, there are fun opportunities for little ones, such as monthly family festivals.
New York Public Library, Stephen A. Schwarzman Building
476 5th Ave, New York, NY 10018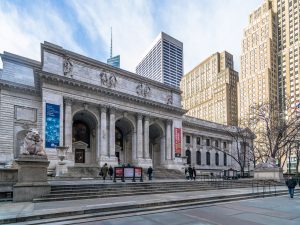 The Stephen A. Schwarzman Building, commonly known as the Main Branch, 42nd Street Library, or the New York Public Library, is the flagship building in Midtown's New York Public Library system. Not only is it a beautiful library to visit they also have a dedicated section for children's books.
Intrepid Sea, Air & Space Museum
Pier 86, W 46th St, NY
The Intrepid Sea, Air & Space Museum is a non-profit educational institution. Through exhibitions, educational programming, and the foremost collection of technologically groundbreaking aircraft and vessels, visitors of all ages and abilities are taken on an interactive journey through history to learn about American innovation and bravery. Welcoming over one million visitors a year, the Museum includes Museumace Shuttle Pavilion, home to Enterprise, the world's first space shuttle that paved the way for America's successful Space Shuttle Program.
New York City Fire Museum
278 Spring St, New York, NY 10013
The New York City Fire Museum illustrates the evolution of firefighting from bucket brigades to modern firefighting techniques and equipment. The New York City Fire Museum attracts 40,000 visitors annually from all over America and almost every country worldwide. Retired FDNY firefighters proudly volunteer to relate stories of New York City's "Bravest" and, with the help of the Museum's stunning collection, tell how they earned that distinction.
Bryant Park & Le Carrousel
35 W 40th St, New York, NY
Bryant Park is a beautiful park filled with many activities in NYC. More than 12 million people visit the park annually to enjoy over 1,000 free events, including summer and winter activities, cultural programming, daily amenities, and the park's lush gardens featuring seasonal displays. Bryant Park carousel is super charming. Even though it lacks in size, it is one not to miss with the kids—the price: $3/ride; the discount card is $10 for 20 rides.
Governors Island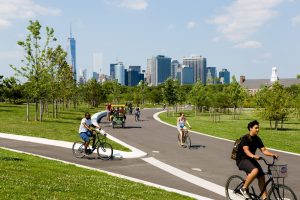 Governors Island, New York, is a 172-acre island in the heart of New York Harbor. It is a world unto itself, unique and full of promise. If you want to escape the daily city life without going too far, check out Governors Island, New York. With many exciting activities for the family, beautiful views, good food, a play area, a slide, and so much more, you can have a perfect weekend here. Enjoy a day of biking, birding, and picnicking.
Pier 25 Mini Golf
225 West St, New York, NY 10013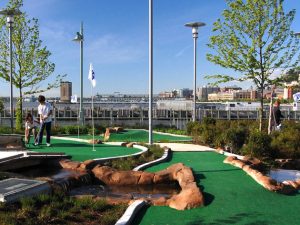 Play mini-golf in Lower Manhattan's Back Yard! Mini-Golf is just $10 for adults and $5 for children! Mini-Golf Parties are a great way to reserve space to play with your group. Pier 25 also offers a snack bar to grab a bite while you enjoy playing golf. Your kids will love Pier 25's playground with swings, water features, and things to climb on. Check out their board games and enjoy family fun in one of Pier's seating areas. Take in the cool breezes and the Hudson River views at the end of the Pier, extending a thousand feet past the shore's edge! For more information, you can call (347) 756-5813.
Broadway Shows

Sings, dance, and marvel at the magic of a New York City Broadway play or musical! Create a memory that will last a lifetime with the different performances fit for frequent musical goers or first-timers! Your family can enjoy the wonders of Aladdin, hear Simba roar in The Lion King, get in on the magic of Harry Potter and The Cursed Child, and so much more!
The Art Farm NYC
419 E 91st St, New York
In 2002, The Art Farm NYC was founded on the Upper East Side in Manhattan and was a nature-focused children's educational center offering a break from city life with art, music, cooking-themed classes, playtime, drop-ins, and birthday parties, and camps that your whole family will love! Home to New York City's only indoor petting zoo, The Art Farm is a unique space to meet and interact with animals from bearded dragons to chinchillas and chickens! So, are you playing with animals? Yup, it sounds like a winner on our list of Indoor.
Empire State Building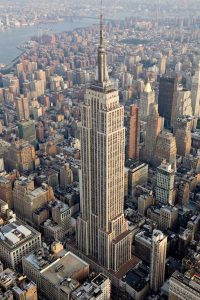 Intended to be the world's first 100+ story building, construction of the Empire State Building began on March 17, 1930. Construction was completed in a record-breaking one year and 45 days. If you haven't visited this NYC staple, you are missing out. There are shops and eateries on the ground floors and two observation decks on the 80th, 86th, and 102nd floors. You can buy tickets here.
Central Park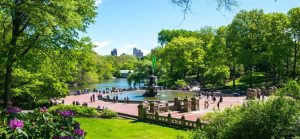 Central Park is New York City's 843-acre backyard, a virtual space that welcomes over 42 million visitors annually. The park has attractions, from green meadows to sprawling waters, gardens, unique bridges, music and performance centers, educational facilities, classical architecture, and more. Its picturesque beauty boasts natural green landscapes and vistas as far as the eye can see.
Central Park has something for everyone, regardless of your interests or the time of the year you choose to visit. See popular attractions on guided horse & carriage, bike, walking, pedicab, running, and fitness tours; visit the playgrounds or Central Park Zoo with the kids, have a picnic on the grass, or choose from a myriad of sports and recreational activities such as yoga, running, bicycle riding and more.
Hudson Yards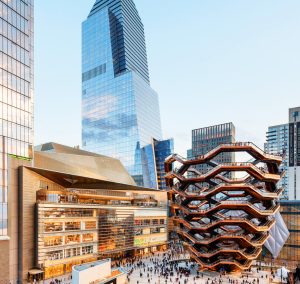 Hudson Yards is New York's newest neighborhood and home to more than 100 diverse shops and culinary experiences, offices for leaders in the industry, significant public art, and dynamic cultural institutions, including The Shed, modern residences, 14 acres of public plazas, gardens and groves, and the world's first Equinox Hotel.
Times Square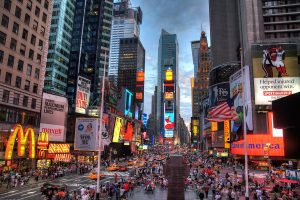 Times Square is a significant landmark in NYC that cannot be missed. With flashing neon lights and giant digital billboards, Times Square is a prominent, bright, fun place to check out. It's filled with shopping, restaurants, Broadway shows, kids' activities, and more! So take a stroll and enjoy everything it has to offer.
9/11 Memorial at Ground Zero
Whether to pay their respects or learn more about the event that changed this country, millions visit the 9/11 Memorial each year. The 9/11 Memorial is free to enter. The only entry cost is for the National September 11th Museum on the memorial grounds.
The Ferry to NYC

The ferry is a fun part of the adventure when visiting NYC! Your kids can experience a fantastic ride on the Hudson River! It's a short ride but a fun one. Catch the ferry at the Paulus Hook Terminal at the end of Sussex Street at the Hudson River Waterfront Walkway in Jersey City. You can also take the ferry from Harborside, JC. Finally, the ferry takes you to the World Financial Center Terminal in lower Manhattan. For a quicker and easier experience, download NYWaterway's smartphone app and purchase your tickets in advance. Besides, there are brand-new (and clean) bathrooms at the Paulus Hook Terminal in the building you buy tickets. The ferries depart every 15 minutes, and the travel time is approximately 7 minutes.
Candytopia
111 W 32nd St, New York, NY 10001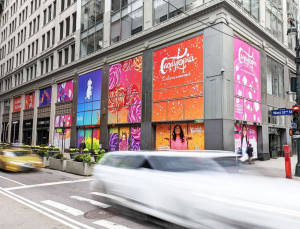 If your kiddos ever dreamed of entering a real-life Candy Land or visiting Willy Wonka's Chocolate Factory, we have exciting news. Some of us may remember the iconic NYC Candytopia experience back in NYC. Candytopia is a highly Instagrammable experience with 17 rooms of candy sculptures and sweet-based art and activities. In addition, there will be a marshmallow pit, new exhibits of NYC-made art comprised of candy, a zipline, an infinity mirror room, a ring swing garden, a Sugar High Theater, and a confetti room. Get your tickets today.
Updated: August 16, 2023