Boat Rides/Cruises for Kids Around Jersey City
When summer hits, parents are always looking for unique and fun activities for kids. Cruises rides for kids are a different and unique experience. Boat rides and cruises are not just for adults. Make an adventure out of the day with the little ones, and get on board for some unlimited fun! Most of these cruises and boat rides are near Jersey City and can be lots of fun. If you are looking for other summer activities, we highly recommend kayaking, waterparks, and sprinkler parks.
Cornucopia Cruise Line: Hoboken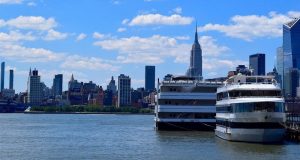 Sail on the Hudson River from Hoboken, enjoying the views of the New York City and Jersey City skylines. At the moment, they have a dinner cruise available for all ages. Children 2 and under are free, and a 25% discount is offered for children under 10. Also, no high chairs or booster seats are available. Additionally, you get a full meal and drinks on board!
Jersey Shore Pirates: Point Plesant 

Is your little one obsessed with pirates? Then, come sail with Jersey Shore Pirates, the Industry leader in all things Pirate, as they bring the unique form of family entertainment! It's a perfect adventure for families of all sizes about an hour away from Jersey City! Additionally, they will dress up like pirates, get face painted with pirate "tattoos," as well as learn some pirate lingo before setting sail on an hour. Additionally, once onboard, the kids will participate in an interactive treasure hunt on the high seas. They will learn the Sea Gypsy II pirate ship rules, read a treasure map, discover a secret message in a bottle, and work as a team to defeat the enemy pirate who has stolen the keys to their treasure. Also, you have to purchase tickets in advance.
Kids Party Cruise: NYC
NYC Kids Party Cruise is a fun family event. You can celebrate your child's birthday and enjoy the NYC Skyline. They have a ton of activities included with their ticket like music, face painting, etc.
Statue City Cruises: Jersey City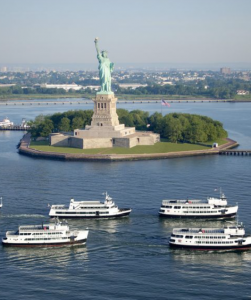 Are you looking to take the kiddos to the grounds of the Statue of Liberty National Monument and the Ellis Island National Museum of Immigration? Check Statue City Cruises. This would be the perfect cruise for beautiful views but also an educational trip for the kids. Statue of Liberty Museum includes three interactive galleries that tell the Statue of Liberty National Monument history. Buy your tickets here.
The Beast: NYC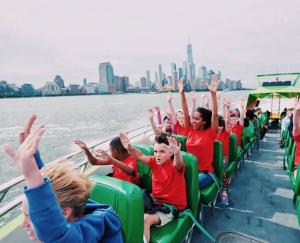 If your family's objective is to get a bit wet, then The Beast is for you. This is a super fun ride filled with high adrenaline. It is a 30-minute speedboat tour that goes out into New York Harbor, zips past the beautiful skyline Reach heart-pounding speeds while twisting, turning & skimming toward Lady Liberty. 40? OR TALLER: You have to be this tall to ride.
Fun Time Crabbing: Ocean City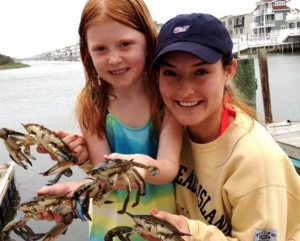 This is such a fun and unique boating activity in New Jersey. Fun Time Crabbing is not a boat rental business. They are a charter service that supplies you with a Captain, crew, a state-of-the-art boat, and all the gear you will need to catch your crabs. Each boat goes out for 3 hours. Also, reservations are required.
Jersey Shore Whale Watching: Belmar 


This fun activity is about an hour away from Jersey City. Enjoy the day while kids watch whales! Jersey Shore Whale watch the original best and fastest boats to get you where the whales are, don't worry. They are not scary fast! They are fast enough to get to where we have whale sightings. Additionally, they have a 90% success rate with finding whales, and if you don't see a whale, you get another trip free!
Skimmer – Salt Water Marsh Safari: Point Pleasant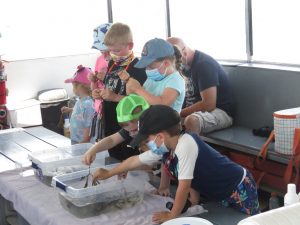 Join us on board "The Skimmer" for a truly unique adventure on the beautiful back bays of Cape May County with the family. Their highly experienced crew will guide you as you discover the amazing nature of the pristine and protected salt marshes that are part of the Cape May Coastal Wetlands Wildlife Management Area. Additionally, you will be amazed by the amount of wildlife that a salt marsh can support. Over 400 species of birds, more than 300 species of fish, and even more marine invertebrates inhabit New Jersey, and many of them call the salt marsh their home. Buy tickets online today.
Updated July 5th, 2022