Sprinkler Parks in Jersey City + Hoboken
Summer brings fun outdoor activities for kids! One of the best things to do with kids is spending time in a sprinkler park or one of the city pools on scorching days. We have gathered a list of the Sprinkler Parks in Jersey City + Hoboken. A few of them are in Hoboken as well. Time to enjoy the season changing by keeping your kids active outdoors!
Jersey City Pools
Pavonia Pool
914 Pavonia Ave
Pavonia Pool is located in the West Side neighborhood of Jersey City.
Pershing Field Pool is located in Pershing Field Park. It is an indoor pool starting at 3.5 feet to 12 feet deep. We are a 6-lane pool, 25 meters (1 lap) distance. A small Parking lot is available. Photo ID and proof of residency are required by all patrons 18 & older at each visit.
Daily Fees for JC residents:
Weekdays: Adults $3, Child (17&
UPDATED POOL HOURS OF OPERATIONS:
Monday-Friday
7 am-10 am Adult Swim
10:30 am-11 am Swim Lessons
11 am-3 pm Family, Swim
3:30pm-5:30pm Swim Lessons * No public entry*
5:30 pm-7 pm Family Swim
Saturday & Sunday
12:30pm-2:30pm Family Swim Session 1
3 pm-5 pm Family Swim Session 2
*CLOSED ON CITY HOLIDAYS
Lafayette Pool & Aquatic Center
303 Van Horne St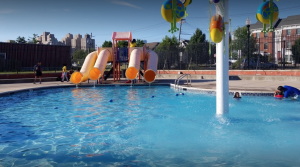 Lafayette Pool's location is convenient to downtown Jersey City and Liberty State Park. The pool offers a kiddie pool with water features, a slide, a larger pool, and a snack stand.
The facility has two pools:
The main pool goes from 3.5 feet to 9 feet.
Kiddie Pool goes from 0 feet to 3.5 feet.
*This facility is a Jersey City Residents Only entrance. All individuals 18 & older must show a current photo ID & proof of residency before entering the facility. Examples are as follows:
Current Driver's License w. jersey city address OR Employee ID, State ID, driver's license with different city address or passport w. utility bill. Electronic or hard copies can be shown before entry.
Schedule
June 26 to September 6
Monday-Friday
7 am-9 am Adult Lap Swim
10 am-12 pm Family, Swim
1 pm-3 pm Family Swim
4 pm-6 pm Family Swim
Saturday & Sunday
12 pm-2 pm Family Swim Session 1
3 pm-5 pm Family Swim Session 2
Holiday
12 pm-2 pm Family Swim Session 1
3 pm-5 pm Family Swim Session 2
September 7 to September 26
Monday-Friday
7 am-10 am Adult Lap Swim
4 pm-6 pm Family Swim
Saturday & Sunday
12 pm-2 pm Family Swim Session 1
3 pm-5 pm Family Swim Session 2
Pershing Field Pool
201 Central Ave
Pershing Field Pool is an indoor pool that is open all year round. Parking is available on the street or in the lot. Parking lot and street parking are available.  There is also a children's playground with a water sprinkler on-site
Schedule:
Monday – Friday 7 am – 10 am (Adults only)
11am – 3pm (Everyone)
5:30pm – 7pm (Everyone)
Weekend Hours:
12:30pm – 2:30pm (Everyone)
3pm – 5pm (Everyone)
JC residents: $3 Adult $2 children under 18 (during the week). $4 Adult $3 Children (Weekend)
Non-residents: $4 for children and $6 for adults (during the week). $6 for children and $8 for adults (Weekend)
XCEL Athletic Lifestyle(Membership/Classes)
125 Marshall St 7th floor, Hoboken, NJ 07030
Sprinkler Parks in Jersey City + Hoboken
If you're not up for bringing your kids to a pool, they can still have fun with the water splash pads we offer at several public parks in Jersey City! All sprinklers are open daily from 11 am to 7 pm.
Van Vorst Park
257-287 Montgomery St, Jersey City, NJ 07302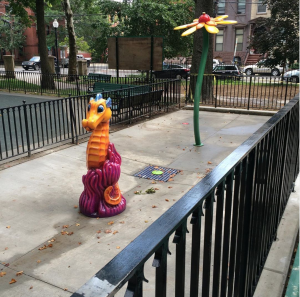 Van Vorst Park is the centerpiece of the downtown Jersey City neighborhood and historic district that bears the same name. Called "one of the most formal of Jersey City's parks," Occupying the entire rectangular city block between Montgomery Street, York Street, Jersey Avenue, and Barrow Street, Van Vorst Park is in the heart of downtown Jersey City. They have an excellent playground for kids with swings and a sprinkler area to enjoy in the summer, which will be open every day. Kids over two wear face coverings and limit their time so others may use the equipment. It will be available from 9 am-7 pm.
Hamilton Park Splash Pad 
25 West Hamilton Place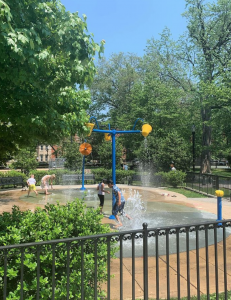 This water playground is on the smaller side, but your little one will have a blast. The sprinklers are on from 7:00 AM – 10:00 PM. The splash pad is fenced in and features in-ground sprinklers and buckets of water dropped from overhead. Hamilton Park is nestled in the heart of downtown Jersey City and offers a large playground, tennis courts, dog runs, a basketball court, and lots of grass on which to play. Bonus: the Hamilton Park area of Jersey City has tons of great food options!
Newport Green
700 Washington Boulevard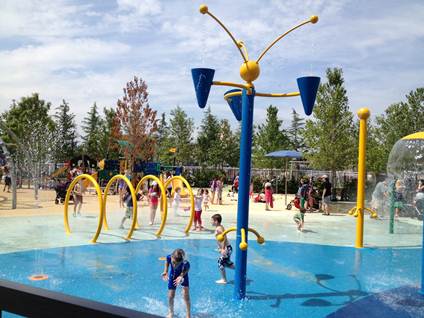 Newport Green is a unique little park! Not only does it offer a fun sprinkler area, but it also has a large and modern playground — complete with something for kids of all ages. This park also boasts a small carousel that's a massive hit with the younger kids. A small sandy beach with umbrellas completes this downtown oasis. Parking can be an issue, so follow the rules posted on signs along the streets. Also, remember pets are not allowed at Newport Green. Pets are permitted at several other parks, though. Check our list here! 
Enos Jones Park
237 Brunswick St, Jersey City, NJ 07302
This small park has a cute sprinkler area in the playground. A whale, dolphin, and seal squirt water, and kids have a space to run around and play while cooling off. The playground is right there, so kids can run from one to the other, plus the entire area is gated. A small, pretty community garden project is on the corner of the site. The park also offers a skate park for those who love to ride their scooters on ramps! You can walk around the entire park, and it's usually a nice quiet walk. Feel free to bring dogs! This park is within walking distance of the more significant Hamilton Park, so it can quickly be done if you feel like hitting two in one day. Stop by a local (kid-friendly) eatery like Carmine's on Brunswick and 7th for a sandwich or sit at an outdoor table at the White Star for burgers and fries.
Berry Lane Park
1000 Garfield Ave, Jersey City, NJ 07304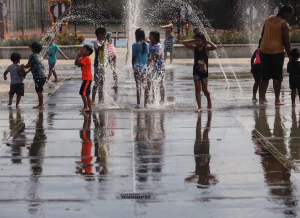 A playground named Berry Lane Park is now open in the Bergen-Lafayette section of Jersey City. It is right across the street from New Jersey Transit's Garfield Avenue Hudson-Bergen Light Rail station. They have a sprinkler park and a beautiful playground perfect for all kids. The splash pad is on an automatic timer and is set to open from 9 am-8 pm, seven days a week. It's such a fun sprinkler Park in Jersey City + Hoboken.
Pershing Field Park
201 Central Ave, Jersey City, NJ 07307
Pershing Field Memorial Park is a large park full of fun activities for residents and visitors. In addition, they have a playground and splash park area that kids can enjoy. Pershing Field is a city square, and the park is located in the Heights of Jersey City.
JC Riverview Fisk Park
498 Palisade Ave, Jersey City, NJ 07307
Riverview Fisk Park is a beautiful park located at the edge of the Heights. Riverview is located on Palisade Avenue. The park contains magnificent views of the New York City Skyline, the Hudson River, Verrazano Bridge, and George Washington Bridge. In addition, they have a playground perfect for all kids with a splash pad!
Boyd McGuinness Park
Corner of Duncan Avenue and Kennedy Blvd.
The Boyd-McGuiness Park, also known as the "Best Little Park In Town" at Duncan Ave and Kennedy Boulevard, is an oasis for seniors and children. The newly renovated two-acre park is now twice its original size: children's playground, splash pad, checkers/chess tables, and more. The splash pad is open from 11 am-7 pm.
Arlington Park
Btw Grand Street and Arlington Avenue, Jersey City, NJ, 07304
Small urban park featuring lots of open green space, a playground, basketball court & picnic tables. This year Arlington Park opened up its new and improved basketball court. They have a splash pad as well!
Bayside Park
480 Garfield Avenue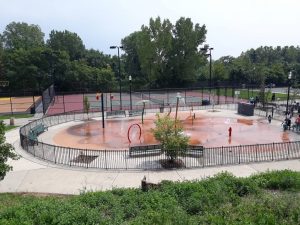 They have a sprinkler park, playground, basketball court, and more. Enjoy a picnic here during the week as they have enough space for all. The splash pad is open from 11 am-7 pm.
Sprinkler Parks in Hoboken
For you who live in Hoboken, there are four parks in Hoboken that offer sprinklers for the kids to cool down! They are open daily from 11 am – 5 pm all summer long. Check our list of options below: 
Church Square Park
4th Street and Willow Avenue
This newly-renovated park includes a sprinkler area, brand-new playground equipment, swings, and even an area dedicated to toddlers. There is also a dog run, so feel free to bring the dogs. Hoboken Public Library is right across the street, so you can pop in for storytime if you feel too hot. Finally, don't forget to stop by Sweet for what some consider the best cupcakes in the area!
Jackson Street Park
Jackson Street and 1st Street
This park is tucked away in a quiet area of Hoboken. After you wear yourselves out, walk down to the original Hoboken location of the famous Grimaldi's on Clinton and 2nd Streets and grab a slice of what is hailed, by some, as the best pizza ever.
Madison Park
Located on Madison Street and 3rd Street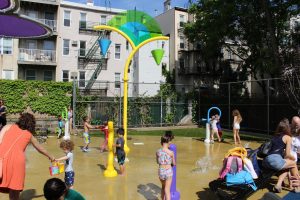 Hudson County awarded the City of Hoboken a $500,000 grant for improvements to the Madison Street Park Playground through the Hudson County Open Space Trust Fund. Additionally, the project began with the public process in January, followed by a concept design approved by the City Council in February and Construction Contract awarded in October. As a result, Madison Street Park will reopen on or around April 15, 2019.
Elysian Park
Hudson Street and 10th Street
Close to the waterfront, this location allows you many options to walk around with your little ones. Take a walk to Shipyard Park or Castle Point Skate Park. For dog lovers, there is also a fantastic dog run! This area has countless cafes and pizzerias, so take your pick and enjoy!
For more information on Hoboken parks and splash pads, call 201-420-2012.
Both in Jersey City, there are several options for families to enjoy the nice weather outside. Whether you're in the mood for a nice walk in the park or if you're prepared to get soaked in the pool or sprinkler, there are options for all families! After staying active, make sure you grab a bite to eat; there are many options for food indoors and outdoors.
Updated May 23rd, 2022