The Best Fall Getaways in New Jersey
New Jersey gets a whole different feeling in the fall. The yellowish-orange colors peak during autumn, making any short trip a picturesque and memorable experience. Furthermore, now that the summer rush and crowds are over, the fall season is perfect for mini trips. You can explore all the major attractions, charming towns, and historical sites. In addition, New Jersey is abundant in parks with lovely scenery that also offer various activities. So, if you have an itch to travel this season, here are the best fall getaways in New Jersey.
The list of the best fall getaways in New Jersey
Once you decide on a long-distance trip through New Jersey, it's crucial to get ready properly and make sure you have everything you need. Some of the essentials to have with you in the car should be snacks, food, and water, spare clothes, a first-aid kit, a spare tire, personal documentation, and so on. 
With the list of things you need for the trip complete, make sure you pick some of the must-see destinations for a relaxing seasonal getaway. We gathered the information and created a list of the best fall getaways in New Jersey to help you plan your trip!
Vernon 

for a classic autumn experience

Barnegat Light

for relaxing walks and fishing

Mullica Hill 

for antique lovers

Cape May

, a shore town with a rich history

Princeton 

with historic sites, museums, and good places to eat out

Asbury Park

offers numerous activities

Hoboken 

with perfect views of Manhattan skyline

Trenton 

with important historical sites and museums
1. Vernon
If the fall season is your choice to visit New Jersey, make sure you add Vernon to your list. You can enjoy scenic rides, go hiking on the Appalachian Trail, boating on Wawayanda State Park, or golfing. Then, after a busy day, you can relax in some of the highly-rated restaurants in the area, such as The Lamp Post Inn or the Hawk's Nest.
If you plan to stay for a night or a couple of nights here, we recommend getting accommodation at Alpine Haus Bed and Breakfast Inn. The views this place offers of the Pochuk Mountains, especially during fall, are breathtaking. Enjoy the scene while eating breakfast, delicious homemade cookies while drinking your morning cup of tea.
2. Barnegat Light
Even though autumn is chilly for swimming in the ocean, Barnegat Light is a popular fall place to visit. You can fulfill your daily step count by walking to the top of the Barnegat Lighthouse and enjoy the peaceful views, or you could try fishing at the jetty. The town also has an Eco-Trail that offers scenic views of the ocean and the dunes. After a busy day, you can take a beach drive and choose among various excellent restaurants.

3. Mullica Hill
If you are an antique lover, Mullica Hill is the place for you. Main Street has more than thirty antique shops. The 3-floor Old Mill Antique Center can also be found on Main Street. The entire town of Mullica Hill is a designated historic place. The Civil war era houses are now homes to different shops, boutiques, and restaurants. Furthermore, there are two main local events here – Civil War Weekend with battle recreations and Ghost walk, usually held on October 13th, that shows the haunted history of this town.

4. Cape May
As the weather gets cooler, not many people visit the beach. That makes flocks of birds arrive instead. So make sure you bring your binoculars to this rural town. 
Also, if you want to get more active and enjoy walks or bike rides, this place allows you to forget about your car while visiting restaurants, stores, and attractions within walking distance.
A popular fall event held here is the Victorian Weekend (October 5th-9th). Events include the Cape May Wine Trail, a night of Victorian, Parlor Games, Murder Mistery dinners, private home tours, and many more.
5. Princeton
Princeton is a town that requires multiple visits or one longer one. Once you visit all the important historical sites, you can check out the Asian art collection at the Princeton University Museum. The popular fall event is the JazzFeast held on September 17th. The event features the performances of some of the top jazz names in the world. 
6. Asbury Park
Asbury Park is a coastal town with plenty of restaurants with diverse offerings, rich nightlife, and grand hotels. You can enjoy shows at the Paramount Theatre or catch a live performance at The Stone Pony. Also, don't miss the Silverball Museum, where you can try your hand at classic pinball games in retro arcades, and the Paranormal Museum.
7. Hoboken
Hoboken is located on the Hudson River and offers excellent scenes of the Manhattan skyline. Additionally, during your fall visit, you will enjoy walking through charming tree-lined streets with splendid autumn colors. 
Make sure you check out the Hoboken Historical Museum and Barsky Gallery to see their latest exhibitions. In addition, Washington Street has numerous unique stores and boutiques for you to shop at. However, if this isn't your thing, you can enjoy strolling along the Hoboken Waterfront, breathing in the clean air, and soaking in the views.
8. Trenton
Trenton is the state capital city, and it has a lot to offer for history lovers and explorers.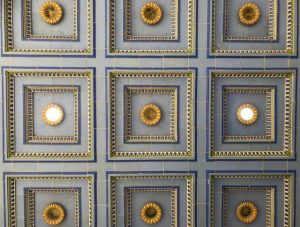 New Jersey State Museum features 4-in-1 museums, a planetarium, a natural history collection, a fine art collection with more than 12,000 works, and an impressive gathering of archeology, ethnography, and cultural history artifacts.
Final thoughts
New Jersey has numerous places worth visiting, and we hope our list helps you choose some of the best fall getaways in New Jersey. However, suppose you plan to make your visit a little bit longer, be sure to check out some of the best places with your kids. Enjoy!
Author Bio:
Angie Sims used to work in the traveling industry for 6 years, and now she works in the relocation industry. For the last 3 years, she has been specializing in helping people with their domestic and international relocation. She is also a full-time mom and a part-time blog writer. From her own experiences, she writes about traveling and moving with children on her blog.