Best Tri-State Area's Weekend Getaway Ideas
Planning a weekend getaway near New Jersey. Unfortunately, traveling far has been nearly impossible this year. But, luckily we live in Jersey City, where some fun places are safe to travel to New York, Connecticut, and of course, New Jersey offers opportunities for pretty much any kind of holiday. From farmland and mountains to oceanside towns and busy urban centers, you can spread your visits over a couple of months and experience a variety of different short vacations without ever leaving the tri-state area. To help you decide, here is our pick of the best tri-state area's weekend getaway ideas.
Lake George, NY
Lake George stretches for 32 miles in the heart of the Adirondack Mountains. Georgia O'Keefe made its breathtaking vistas famous, but there is nothing quite like seeing them for yourself. Besides incredible natural beauty stretching as far as the eye can see, Lake George has a lot more to offer. Mini-golf courses, classic rollercoasters, craft beer breweries, and lake cruises – there is something for everyone. 
It's a year-round tourist destination, so there is plenty to do even when visited on a rainy fall weekend. Once you figure out your lodging, check out all of the attractions and make a loose itinerary. Things change almost day-to-day right now. Therefore, it is best to find up-to-date information about what's available right before you go.
Burlington, NJ
Many people equate New Jersey with its long beaches, boardwalks, and water sports – the summertime, essentially. However, historic towns like Burlington prove that New Jersey can be fun during winter as well. Over 300 years old, Burlington is one of the perfect tri-state area's weekend getaways for a history buff. In addition, the historical society organizes walking tours which you don't want to miss. 
If antiquing is more your speed, you will not be disappointed. Burlington is one of the favorite spots for any antique enthusiast in the know. Charming inns and bed and breakfasts, delicious restaurants, and beautiful nature make Burlington a perfect weekend getaway year-round.
Chester, CT
Fall is just around the corner, which can only mean one thing for Connecticut. It is bound to be teeming with hikers and other outdoorsy types in the forthcoming months. Chester is the perfect weekend getaway for anyone looking for a quaint small town to provide an escape from the hustle and bustle of a big city. Walk down its charming main street rife with cafes, shops, restaurants, and galleries. There is also a choice of spas if you really want to hammer the relaxation point home. Finally, for everyone wishing for a more active holiday – you can easily rent bikes and ride around exploring the area. Isn't this a perfect weekend getaway in New Jersey?
Saratoga Springs, NY
Saratoga Springs usually draws a huge horse racing crowd. These days, however, there are no races to watch. Besides, Saratoga Springs is a fun place to visit regardless of whether or not you're interested in thoroughbreds. It is enjoyable to visit if you like spas. The Saratoga Spa State Park is famous for numerous mineral springs sprouting pretty much throughout the place. You can go on a self-guided tour of the springs and easily learn about their healing properties. There are also plenty of museums if you wish for a change of pace and a little history and culture during these most relaxing weekend getaways.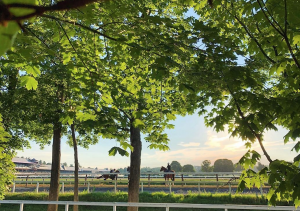 Cape May, NJ
Cape May is one of New Jersey's finest beach towns. It found its way onto our list of the best tri-state area weekend getaways because it can be a great opportunity to catch these few remaining rays of sunshine. If you choose a bright weekend in autumn, you can still have a lot of fun there, even without swimming or other water-related activities. The ocean air alone is worth visiting. It will refresh you and provide a welcome respite from the stuffiness of city life. In addition, the nearby town of Green Creek is home to the Jersey Shore Alpacas – an alpaca farm that allows its visitors to meet and feed these charming creatures during what they call Open Farm Saturdays. Plan a Perfect Weekend Getaways near New Jersey.
Mystic, CT
Mystic had a long history as a bustling seaport, so most tourist attractions reflect this fact. The Mystic Seaport Museum offers you the chance to explore its maritime exhibits, climb onto antique vessels, and even visit the shipyard. The Mystic Aquarium is particularly fun for children as it is home to so much unique marine life – from penguins to beluga whales. 
If Mystic sounds vaguely familiar and even glamorous, you might be thinking of Mystic Pizza, the late 80s film starring Julia Roberts. If this is the case, we have great news for you – you can grab a slice from this famous pizzeria and see what all the fuss is about.
Traveling during the pandemic
Traveling at the time of the coronavirus pandemic has proven to be quite tricky. There are no surprises there, really. Most people's summer plans fell through for a variety of different reasons, so everyone is feeling the itch to travel this fall and winter, at least for a weekend getaway. As a result, the world has been opening up again slowly, though this doesn't mean that danger is behind us. 
Be thoughtful and careful when planning your trips, even if you aren't traveling far. If you come up with a list of attractions, you would like to visit or activities you want to do, always check if they are available close to the date of your trip. Try to keep social distancing as much as you can, bring a mask and hand sanitizer with you and follow instructions. You'll remain safe and able to enjoy one of these tri-state area's weekend getaways to the fullest. So, where are you planning a Weekend Getaway near New Jersey?
Author Bio: Angie Sims
Angie Sims used to work in the traveling industry for 6 years, and now she works in the relocation industry. For the last 3 years, she has been specializing in helping people with their domestic and international relocation. She is also a full-time mom and a part-time blog writer. From her own experiences, she writes about traveling and moving with children on her blog.