15 Things To Do In The Tri-State Area This Winter
The cold winter weather can discourage you and your little ones from getting out and having fun. However, the Tri-State are, which includes New Jersey, New York and Connecticut are winter wonderlands full of fun activities for the whole family to enjoy! Here's our list of the Top 15 Things To Do In The Tri-State Area This Winter!
New Jersey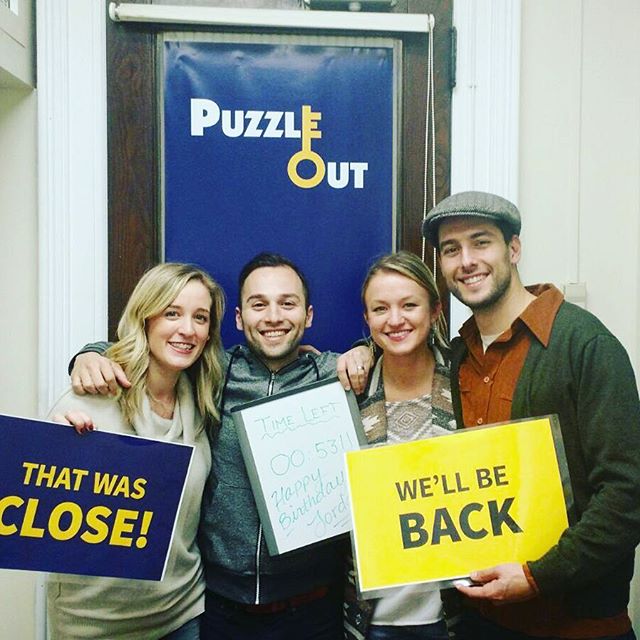 Puzzle Out: Escape Room Jersey City
317 Grove St, Jersey City
Escape from a haunted mansion or break codes to earn your freedom with Puzzle Out: Escape Room Jersey City. Puzzle Out is a fun and challenging live escape game in NJ with locations in Hoboken and Jersey City. This is a great time to gather a group of your loved ones to test your quick quit and creativity. You and your team have 60 minutes to complete your mission–find clues, solve puzzles, and escape!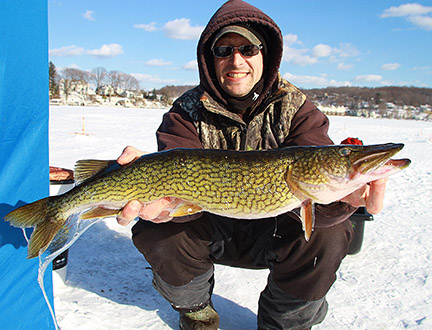 Ice Fishing on Lake Hopatcong
Hopatcong State Park, 1 Lakeside Blvd, Hopatcong
Lake Hopatcong was originally created as part of the Morris Canal, a 90-mile waterway that ran from Newark to Phillipsburg and was the chief means of transporting coal, iron and zinc across New Jersey in the 1860s. However the lake is a great place to ice fish. You heard that right! January and February are ideal times to enjoy setting up your fishing rob and enjoy the tranquility that comes with being in nature while waiting for a bite on your line! Obviously, winter weather patterns play a major role in the amount of time there is safe ice in any particular year so make sure to do your research before you go!
Prudential Center
25 Lafayette St, Newark
Want to catch a game or sing along to your favorite artist? The Prudential Center is an amazing venue to see a sporting event or concert! The Prudential Center is easily accessible by care or train! Luckily the Prudential Center is easily accessible by train and car, with ample parking available. Home to the New Jersey Devils and the Seton Hall Pirates, there's never sports lull during the winter season! Prudential Center also opened its GRAMMY Museum Experience where you can take a walk through an impressive timeline of GRAMMY winners, history and moments!
The Lakota Wolf Preserve
89 Mt Pleasant Rd, Columbia
Walk on the wild side with The Lakota Wolf Preserve! Explore and learn about some of the world's most amazing animals through their educational Wolf Watch tours where you will be surrounded by 4 different packs of wolves. The only way to see the wolves is to join a Wolf Watch tour which are offered twice per day, every day except Mondays. Wolf Watches begin at 10:30 a.m. and 3:00 p.m. Registration begins 1/2 hour before tour start times. Each Wolf Watch tour is 60-75 -minutes long and tours cost $15 for adults and $7 for kids up to 11 years, old plus tax. They only accept cash and checks! Please call ahead during the winter season to assure the weather permits your visit!
New York
The Rink at Rockefeller Center
600 5th Ave, New York
Make some figure eights in the most famous ice skating location in NYC! The Rink at Rockefeller Center is an outdoor rink visited by people from all around the globe each winter. The rink is open daily with 8 sessions from 8:30am through midnight. The rates varied from $25 to $32 depending on standard, holiday or peak time, and $15 per child under 11 years of age. Skate rentals are $12.50. Want to step away from the traditional and touristy rinks? There are plenty other places to skate in New York as well as New Jersey!
Museum of Modern Art
11 W 53rd St, New York
The Museum of Modern Art or MoMA, celebrate creativity, openness, tolerance, and generosity. They're committed to sharing the most thought-provoking modern and contemporary art which you can explore the art, ideas, and issues of our time. There are so many ways for you and your family to enjoy art together. Kids and adults engage in lively discussions and fun activities while looking closely at modern masterpieces and cutting-edge contemporary art for free!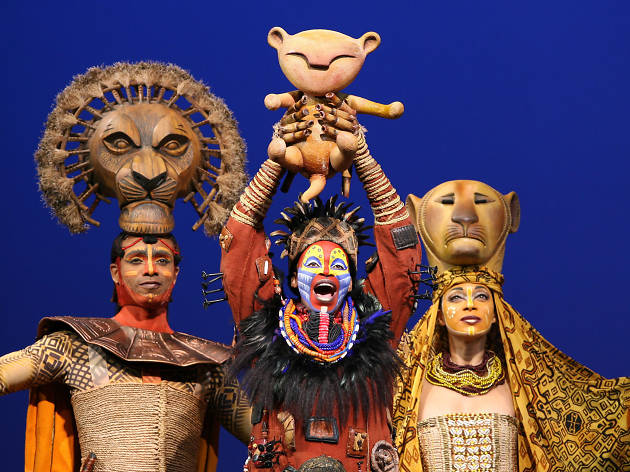 Broadway Shows
Sings, dance and marvel at the magic of a New York City Broadway play or musical! Create a memory that will last a life time with the different types of performances fit for the frequent musical goer or for first timers! Your family can enjoy the wonders of Aladdin, hear Simba roar in the Lion King, get in on the magic of Harry Potter and The Cursed Child and so much more!
Madison Square Garden
4 Pennsylvania Plaza, New York
New York Knicks, New York Liberty and Rangers fans will already know that Madison Square Garden is one of the famous arenas to visit! It also transforms into the premier stage for musicians, comedians and many other performances! Located right by New York Penn Station, it's a simple commute to and from the city!
Winter Village at Bryant Park
Bryant Park, New York
Bank of America Winter Village at Bryant Park is Manhattan's winter wonderland. Enjoy the Holiday Shops, The Lodge by Urbanspace, and The Rink, the centerpiece of Winter Village and New York City's only free admission ice skating rink. The Rink and The Lodge are open 8am-10pm daily through March 3 and the Holiday Shops are open through January. You can catch the B,D,F,M or A subways which drop you off right at the park's entrance. Time Square is also a block away!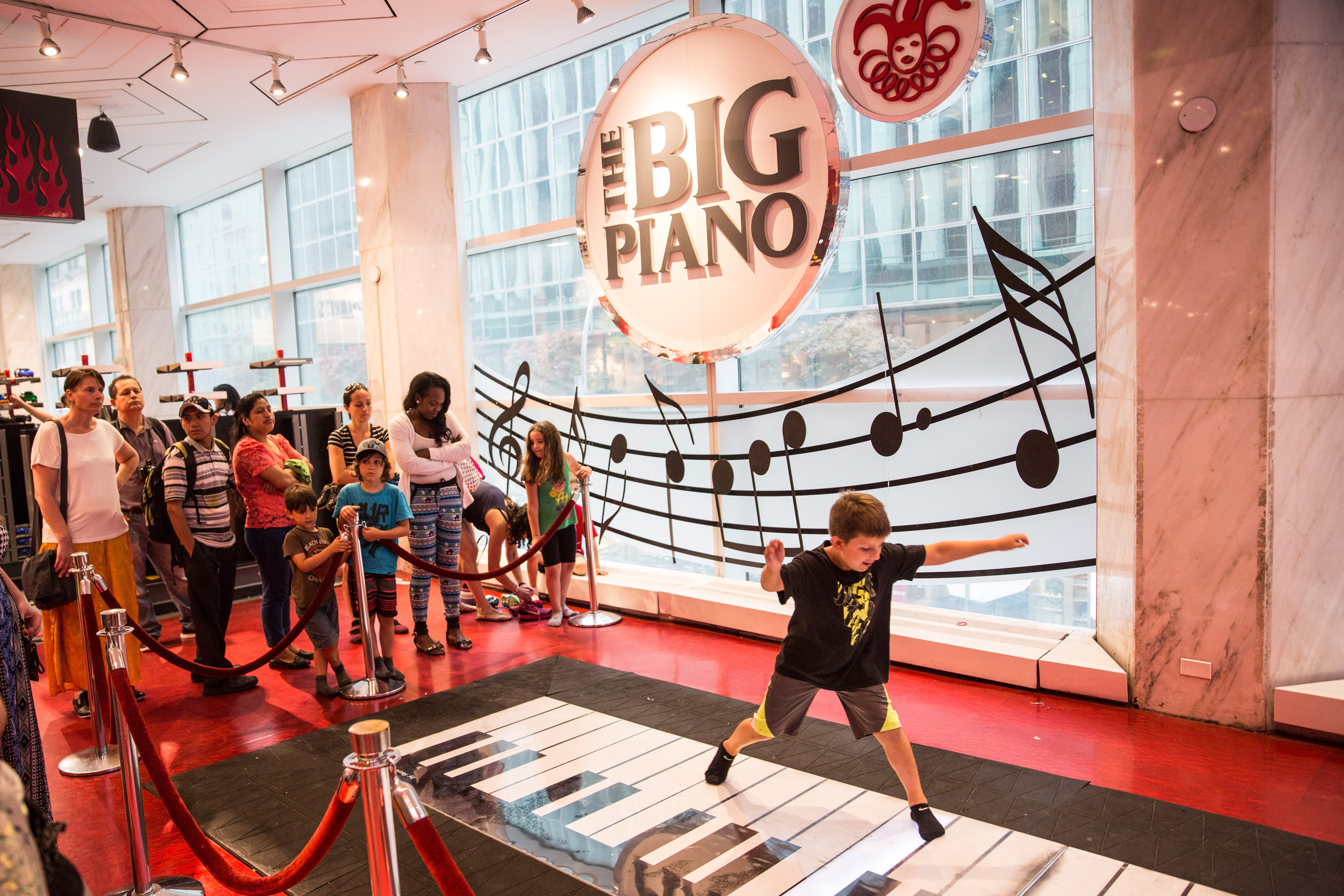 FAO Schwarz
30 Rockefeller Plaza, New York City
The classic toy store makes a comeback with its new location after toy store giant closed its doors in 2015! Marvel at the famous clock tower and play a tune with your feet on the iconic "Big Piano." The store's non-holiday hours are 9 a.m. to 8 p.m., Monday through Saturday and 11 a.m. to 7 p.m., on Sunday. The holiday hours, which begin Sunday, December 9 and go to Saturday, January 5, will be 9 a.m. to 9 p.m., Monday to Saturday and 11 a.m. to 8 p.m. on Sunday.
Holiday Train Show at the New York Botanical Garden
2900 Southern Boulevard, Bronx
All aboard! The Holiday Train Show at the New York Botanical Garden will be an experience to remember. Enchanting model trains zip through a display of more than 175 New York landmarks, each re-created with bark, leaves, and other natural materials—all under the twinkling glow of the Enid A. Haupt Conservatory. Ticket prices vary based on age and time of visit! Marvel at G-scale locomotives humming past familiar sights such as the Brooklyn Bridge and Rockefeller Center on nearly a half-mile of track.
Connecticut
Grace Farms
365 Lukes Wood Rd, New Canaan
Grace Farms is situated in the northeast corner of New Canaan, CT. The expansive 80-acre landscape is one of the last remaining large parcels of open space in Fairfield County, now made available to the public by Grace Farms Foundation. Explore Grace Farms, a welcoming new place for people to experience nature, encounter the arts, foster community, pursue justice, and explore faith, designed by the Pritzker Prize – winning architectural firm SANAA. Partake in a 90 minute tour around the beautifully designs area. Grace Farms also has a basketball court, library, dining area and stage area for events!
Pez Visitor Center
35 Prindle Hill Rd, Orange
Come see and experience the PEZ brand in person! See the largest, most comprehensive collection of PEZ memorabilia on public display in the world, PEZ motorcycle built by Orange County Choppers, the world's largest PEZ dispenser, viewing area into our production area, PEZ trivia game, retail area, interactive historical time line and much more. Learn about the brand that has been inspiring and innovating since 1927!
Connecticut Science Center
250 Columbus Blvd, Hartford
With more than 165 hands-on exhibits, as well as a state-of-the-art 3D digital theater, four educational labs, plus daily programs and events, the Connecticut Science Center offers endless exploration for children, teens, and adults. From physics to forensics, geology to astronomy, visitors have the sciences at their fingertips. The Science Center offers exciting tools to help educators and parents bring textbooks to life. Creating unforgettable experiences with science motivates students and visitors of all ages to enthusiastically embrace science at school, at home, and in their communities.
All of this fun can make someone hungry! There are plenty of places to eat to fill you up after the winter activities! Looking for more ways to have fun even after the holidays are over? There are several events and activities right here in Jersey City!
Updated December 19th, 2022