ICE SKATING RINKS IN AND AROUND JERSEY CITY
When it comes to looking for a cold-weather activity that will suit the whole family, you might sometimes feel like you're on thin ice. However, ice skating is a great way to get active and to bond with your family during the winter! We put together a list of Ice Skating Rinks in and Around Jersey City just for you! In case you get hungry after, check out these yummy food options. From burgers to vegan options, there is something for everyone.
New Jersey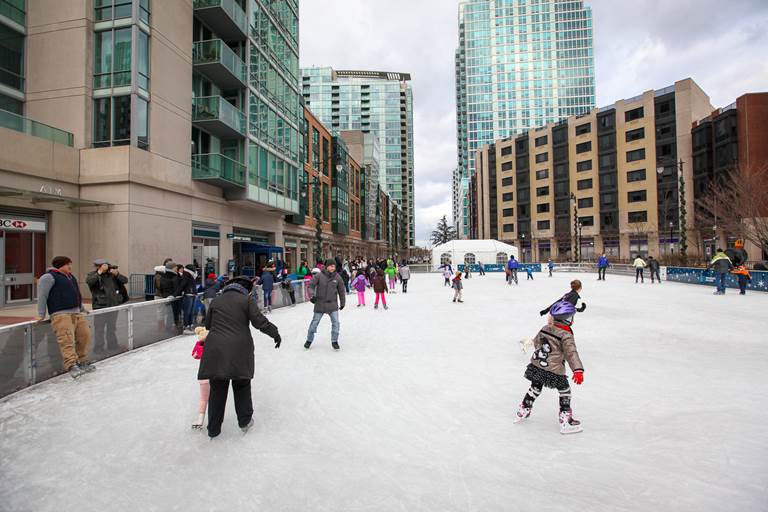 Newport Skates(Delayed Opening)
95 River Drive, Jersey City
Phone: (201) 626-7465
Opening November 15th for the season. This rink is very close to Newport mall and it definitely one of the best Ice Skating Rinks in Jersey City. Admission is $8 and skate rentals are $7. Newport Residents and tenants get a discount of half-price daily admission with proof of residential or employee ID card! Once you pay, you can skate all day, which is nice if you live locally or have kids that need a lot of time on the ice! Face masks will be required and tickets have to be pre-purchased.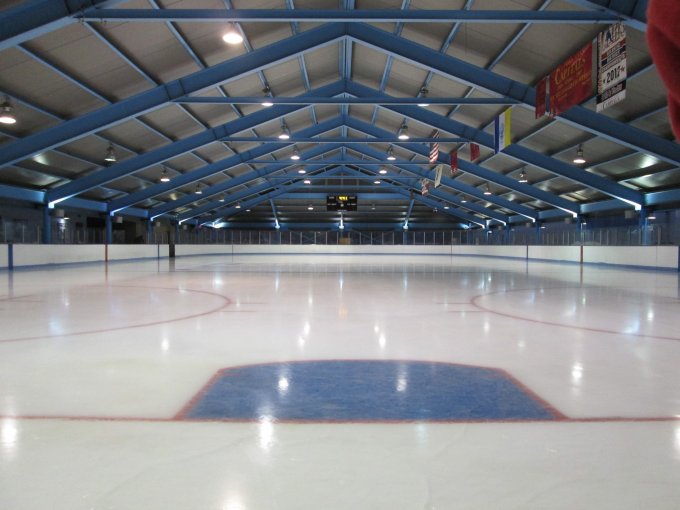 807 Summit Avenue, Jersey City
Phone: (201) 547-4392
Pershing Field Ice Rink is a local favorite and is located in Jersey City Heights. They have a special admission fee of for Jersey City residents! $3 for adults, $2 for kids and $1 for senior citizens. If you don't live in Jersey City it will be $5 for adults, $3 for children and $2 for senior citizens. They offer two types of skates, figure skates and hockey skates.
669 Avenue A, Bayonne
Phone: (201) 858-5850
Located on the campus of Bayonne High School and the shores of the Newark Bay,  the Richard Korpi Ice Rink is a state of the art facility rivaling any multipurpose athletic complex in the area. The cost for non-residents is $10 per session and includes skate rental. Bayonne Residents are $3 for kids, $5 for adults and $4 for skate rentals. There is limited free public parking offered.
560 Northfield Avenue, West Orange
Phone: (973) 731-3828
This fantastic, recently renovated, the indoor rink is only about a 30 minutes drive from downtown Jersey City. It boasts two rinks, a skate rental area, a food concession area, locker rooms and more! It is located not far from the Turtle Back Zoo. Public skating session hours vary, so be sure to check the calendar here. Rates are $9 for adults and $7 for children 16 and under. Skate rentals are $4. They offer skating lessons, hockey lessons, and various programs, check their website for details. On-site parking is available.
Buchmuller Park: 150 Plaza Center, Secaucus
Phone: (201) 330-0273
The Town of Secaucus' Ice Rink on Plaza Center Road provides skating opportunities during open sessions, rentals, and hockey leagues. The rink is typically open from October to April. The rink is also used for other activities in the off-season. Admission is $3 and skate rental is $2! Regular hours are Thursdays and Fridays from 7:30 PM – 9:30 PM, Saturday from 1:30 PM – 3:30 & 7:30 – 9:30 PM and Sundays 3:00 PM – 5:00 PM & 7:30 – 9:30 PM! Times are subject to change so just give them a call before you go!
One Park Drive, Roselle
Phone: (908) 298-7849
The newly renovated Warinanco Sports Center, formally the seasonal skating rink, has expanded to a beautiful 11,000 square foot facility open to the public year-round! The Center is located about 25 minutes from Jersey City and features brand-new event and meeting spaces, a pro shop, and is home to the Warinanco Café! In winter months, the skating rinks hosts nearly 50,000 guests and is perfect for date night, skating lessons, or to attend local high school hockey games. Children and seniors over 62 can skate for $5 while adults skate for $6. Rentals are $5!
New York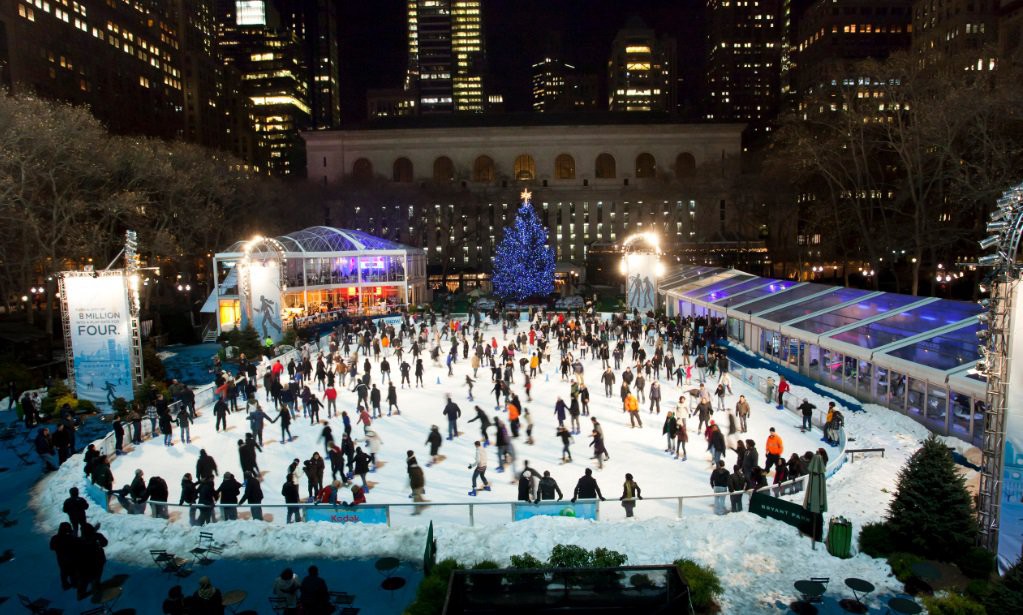 Bryant Park, NYC
Phone: (212) 768-4242
Bank of America Winter Village at Bryant Park is Manhattan's winter wonderland. Enjoy the Holiday Shops, The Lodge by Urbanspace, and The Rink, the centerpiece of Winter Village and New York City's only free admission ice skating rink. The Rink and The Lodge are open 8 AM-10 PM daily through March 3, 2019. This 17,000 square foot rink features free admission ice skating, high quality rental skates, and free skating shows, special events, and activities. Getting there is easy just take the Path to 33rd street and hop on the B, D, F, M, 7 Subway to 42nd Street.
Booking your visit
Online booking required for all skaters.
Tax and a processing fee will be added to each ticket.
Skaters with their own skates must book online in advance.
Non-skating chaperones will be allowed on a limited basis to accompany young skaters, or a visitor with a disability. Other non-skaters will not be allowed entry into ticketed area.
600 5th Ave, New York
Phone: (212) 332-7654
Of course, we had to add one of the most famous ice skating locations in NYC, this outdoor rink is visited by people from all around the globe each winter. Opening on November 21st, in the heart of Midtown, steps from Times Square and the Theater District, The Rink at Rockefeller Center is a New York City tradition that everyone can enjoy. The rink is open daily with 8 sessions from 8:30am through midnight. The rates varied from $25 to $32 depending on standard, holiday or peak time, and $15 per child under 11 years of age. Skate rentals are $12.50.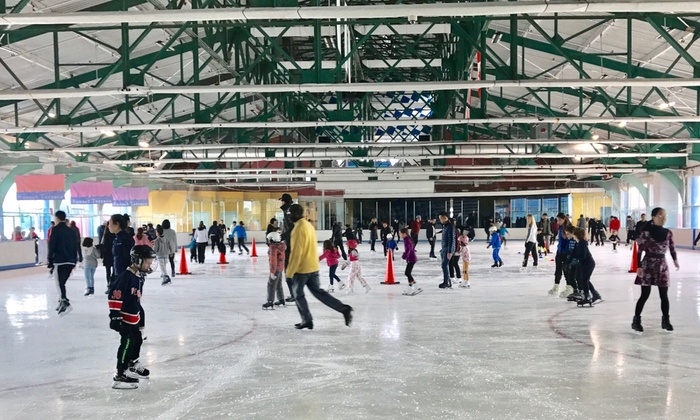 61 Chelsea Piers, New York
Phone: (212) 336.6100
Sky Rink is a year-round indoor ice rink since that has been around since 1969. This twin-rink facility, located on Pier 61 at Chelsea Piers, operates seven days a week, welcoming skaters of all ages and ability levels for general skating sessions, figure skating, ice hockey, league play, birthday parties, special events and more. Everyone can skate for $12 per person and skate rentals are $6! They also offer helmet rentals for $6! Registration will be required. Read more of their COVID protocols here.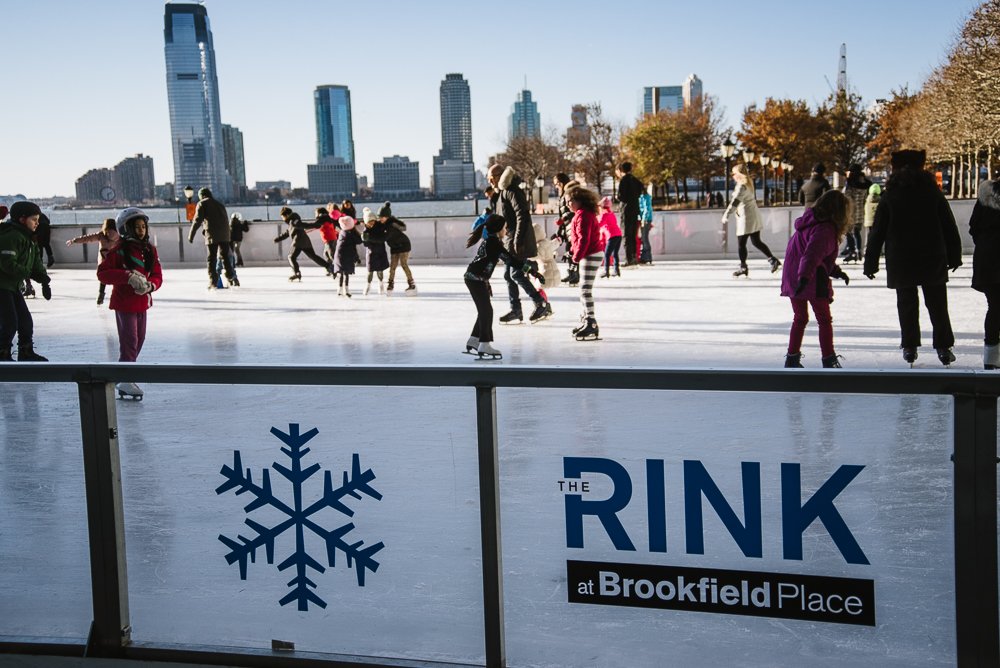 Three World Financial Center, 230 Vesey St, NYC
Phone: (347) 843-9503
Located on the Hudson River Waterfront, it is open from Monday – Friday from 1:00 PM to 8:30 PM, and on the weekends from from 10:00 AM – 9:30 PM. The rink offers programs such as Learn to Skate, Mommy/ Daddy & Me, Kick Ice Hockey Fitness and Corporate Skating Events. Single sessions of 90 minutes are $15 and skate rentals are $5.
Looking for more exciting winter-themed fun for  you and your family? We have so many options for you to choose from!