Best Places To Play Mini Golf Near Jersey City
Summer is here and we know families are always looking for new and exciting things to do. Nothing screams summer like mini-golf! It is the perfect activity to do with the family and kids. Luckily, there are a ton of mini-golf places that you can visit near Jersey City.  If are interested in some other fun summer activities, take a look at our lists of local playgrounds, zoos, and aquariums, or check out a local outdoor waterpark! 
Monster Mini Golf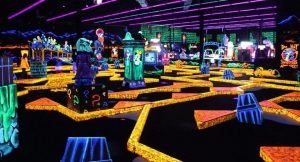 Monster Mini Golf is a unique and quirky type of family entertainment! They put a fun twist on things that go bump in the night with their monster-themed décor featuring fun-loving, animated monsters. With over 20 locations in the United States, there are several options in and around New Jersey. They have locations in Paramus, Cherry Hill, Edison, and Fairfield.
Pier 25 Mini Golf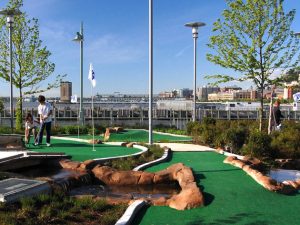 Play mini-golf in Lower Manhattan's Back Yard! Mini-Golf is just $10 for adults and $5 for children! Mini-Golf Parties are a great way to reserve space to play with your group. Pier 25 also offers a snack bar to grab a bite while you enjoy playing golf. Your kids will love Pier 25's playground with swings, lots of water features, and things to climb on. Check out their board games and enjoy some family fun in one of the Pier's seating areas. Take in the cool breezes and the Hudson River views at the end of the Pier which extends a thousand feet past the edge of the shore! For more information, you can call, (347) 756-5813.
Essex County Mini Golf Safari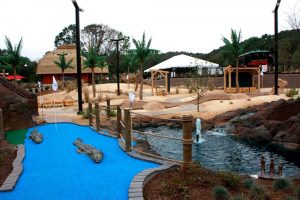 Now open for the season! Located on the corner of Cherry Lane and Northfield Ave in West Orange, NJ, the Essex County Safari MiniGolf is an award-winning 19-hole course. Experience a taste of Africa as you putt around a life-size gorilla, hippo, and many other African creatures. Kids will have the best time here! Food Concession is closed for the season. Vending machines are located around the hut to the right of the Ticketing Windows. The course is located right next to the Turtle Back Zoo and on the edge of the South Mountain Reservation.
The Golf Zone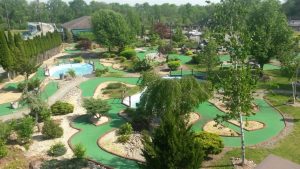 Enjoy a day with the family at The Golf Zone that is about an hour away from Jersey City! Enjoy 36 holes of beautifully landscaped terrain at The Golf Zone's championship mini-golf course. They have a ton of other activities for the kids such as a driving range, an HD Golf Simulator, paintball, batting cages, and more. Sign up for golf clinics or camps if you're looking to improve your game.
Paramus Mini Golf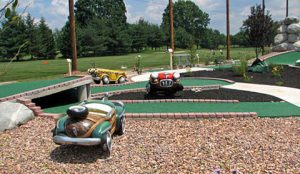 Paramus Mini Golf is now open! Enjoy a day of mini golf at affordable prices. The Fees 2020: $5 Children, $8 Adults and $5 Seniors (62+).
Hole In One Miniature Golf (Temporarily Closed)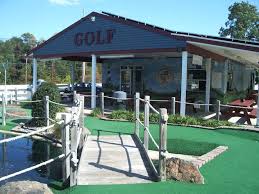 Spend a fun day with the kids at Hole in One Minature golf. It is about 50 minutes away from Jersey City. A mini-golf course adorned with greenery & waterfalls, plus a snack bar serving thin-crust pizzas. 
Scotch Hills Mini Golf
South Hills Country Club features an 18-hole miniature golf course. The course wanders around streams and stepping ponds with small shrubs and trees accompanying them, with a picturesque waterfall as the centerpiece. It is about 45 minutes away from Jersey City and perfect for all ages. Pricing starts at $4 and they also are available for birthday parties.
Hyatt Hills Golf Complex
Only 30 minutes away from Jersey City, Hyatt Hills has miniature golf. The beautifully landscaped 18-hole miniature golf course, known as Mt. Hyatt, boasts a picturesque waterfall, wandering streams and stepping ponds. There are 18 holes, 9 of which are handicapped accessible. The generous, playable greens bring together the elements of both chance and challenge, making play enjoyable for all age groups! The mini-golf course, located near the clubhouse and driving range, is easily accessible for children and families. It is also available for birthday parties and other special occasions. To schedule miniature golf tournaments or parties at Mt. Hyatt 18-hole course please stop by the restaurant and fill out a form to hold your date.
Updated July 28th 2023