Drive-Thru Zoo's On The East Coast
Take the whole family out on an animal-filled experience with our beautiful drive-thru zoos. Enjoy a wide selection of everyone's favorite critters. An amazing weekend getaway with socially distanced activities for the kiddos! For those with a longer trip down, the weather and the gorgeous Jersey greenery make for a relaxing scenic drive. You can even make it a weekend getaway! 
Please make sure to call and confirm each zoo before visiting as availability can change daily. 
Six Flags Safari(Open)
Drive-Thru Zoo's On The East Coast
1 Six Flags Blvd, Jackson Township, NJ 08527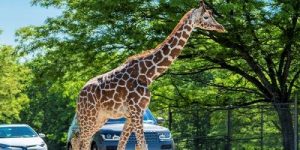 Six Flags Wild Safari Drive-Thru Adventure now open from the comfort of your own car! HOT TIP: Plan your visit on a weekday for the best reservation availability. You will have to make an online reservation before your visit of course. Six Flags Safari boasts 1,200 animals from all parts of the world. The drive itself takes you very close to the animals while being entertained and informed by guides the whole way through. Camp Aventura is the main stop on this excursion. It offers opportunities for different activities like ziplining and seeing exotic animals up close. This kind of trip is bound to be a great bonding experience for the whole family, regardless of age.
Brookhollow's Barnyard(Reopens in May)
Drive-Thru Zoo's On The East Coast
301 Rockaway Valley Rd Boonton, NJ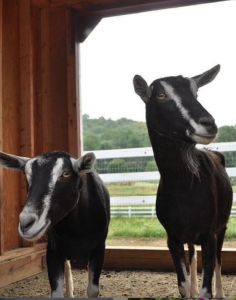 This drive-through farm is about 50 minutes away from downtown Jersey City. They have small animals like ducks and bunnies to large farm animals such as goats. They have a walkthrough and drive-through experience every day. At the moment, you have to purchase tickets online before you visit. Tickets are released every morning at 10 am for the following day's availability. Drive-through tickets are $15 per car on the weekends for an hour long. Walkthrough tickets are $5 per person age 2 and older. EVERYONE (age 2 and older) MUST HAVE AN INDIVIDUAL TICKET TO COME IN. Tickets are nonrefundable nor exchangeable so plan accordingly. In the event of rain, they will remain open for ticket holders. Read more on their website. 
Space Farms Zoo Museum(Open)
Drive-Thru Zoo's On The East Coast
218 County Road 519 Sussex, NJ 07461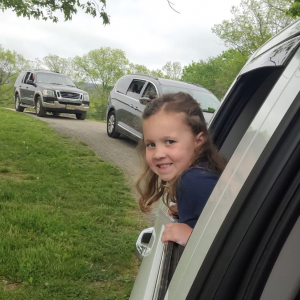 Space Farms Zoo in Sussex, NJ is home to over 500 live wild animals. They are offering a fun drive-through tour on Wednesdays. Explore the most popular zoo animals. Space Farms Zoo is home to many big cats: African lions, black leopards, South American jaguar, cougars, lynx, bobcats, and Bengal tigers. Space Farms has the largest private collection of North American animals in their natural surroundings, in the United States. Additionally, you have to reserve in advance on their website. The tickets are $25.
Lake Tobias Wildlife Park(Open's April 2nd)
Drive-Thru Zoo's On The East Coast
760 Tobias Rd, Halifax, PA 17032
At Lake Tobias Wildlife Park, there are plenty of options for family fun. It is around 3 hours away so you can make it into a fun weekend getaway! Their self-sustaining family-owned park is committed to introducing you and your family to a wide variety of exotic and familiar animals that you can observe, touch, and even feed during your visit. The biggest change for this year is their safari tour which is now a Drive-thru Safari with your own vehicle. Click here for more info on the drive-thru safari.  They are open from 10 a.m. to 4 p.m. Additionally, enjoy a safari across 150 beautiful acres of rolling hills, pasture, and woodlands, where you'll see rare and exotic animals from around the world. The price for the drive-thru will be $7/person ages 3 and up. You may do the drive-thru without purchasing admissions to the park.
Action Wildlife(Closed)
Drive-Thru Zoo's On The East Coast
337 Torrington Rd, Goshen, CT 06756
Action Wildlife Foundation will be open Friday, Saturday, and Sundays from 10:00 am – 3:00 pm. Only the drive-through will be open. The museum is closed. The admission price will be $5.00 a person. (Cash Only). Action Wildlife is about 2 hours say from Jersey City. Your safari section is 18 acres of open land where different animals roam.
It was created so that the animals in this area would have a nice open space to act as natural as you would see them in the wild. As you drive around the outside of the fenced-off area keep your eyes open for our herds of Fallow Deer, Japanese Sika Deer and White Tail Deer. They like to hide among the tall grasses, in between the rocks and trees and near the fences. Sometimes all you can see are ears flicking or antlers sticking out of the grass. Keep a lookout for the Emu in this area as well. They love to play and chase each other.
Pittsburgh Zoo Zoofari(Opens May 27th)
Drive-Thru Zoo's On The East Coast
7370 Baker Street Pittsburgh, PA 15206
Visit the Pittsburgh Zoo & PPG Aquarium from the safety of your car with this limited-time Zoofari Drive-Thru fundraiser guided by a themed audio tour! This fundraiser will help to raise funds for its Emergency Operating Fund. Tickets are $60 per vehicle / $50 for Members vehicles. In addition, all tickets must be purchased in advance online. This drive-thru zoo is over 5 hours away so keep that in mind. If you are visiting that area or want to make a fun weekend trip out of it, it can be great!
Southwick's Zoofari Drive-Thru Tours(Opens in April)
Drive-Thru Zoo's On The East Coast
2 Southwick St, Mendon, MA 01756

Guests can now enjoy a guided tour of our 200-acre zoo from the comfort and safety of their car at Southwick's Zoofari! These 45-minute tours take place after their normal hours of operation, so they provide an amazing opportunity to observe species that are more active around dusk. In addition, an audio tour is also available to download or stream. Information is subject to change. Click here for current visitor information.Wednesdays and Mondays Tour Entry Times: 4:30pm, 5:30pm, & 6:30pm. Southwick Zoofari is about 3 hours away from downtown Jersey City.
After enjoying a safe and socially distanced drive-thru zoo, disconnect from the world and get rid of your stresses on a camping trip with the family. Enjoy countless activities in nature such as biking, hiking, or swimming in a nearby lake.
Updated: March 22nd